This year at Agenda, Witness This cruised for hours in search the brands that really stood out. After quite a few rounds through the massive warehouse at the LBC Convention Center, there were five different brands that left a strong impression. We made our way back to each of those booths, introduced ourselves, and took a closer look, our goal was to hear a bit of their story, their inspiration for the line and where they are headed.  These following five brands were our stand outs for the show.
We featured Lifetime last year and here they are on our top five list again. Going into the show, we knew we were going to hunt down their booth. We had our expectations pretty high after seeing last years line and with this brand we assure you, they continue to raise and set the bar when it comes to premium lifestyle apparel. We met Mike Wilson this year, Mike is from Vancouver and manages sales in Canada, it was very cool to have him show us the line, pulling his favorite pieces off of the rack. "Let me show you this waxed canvas we are working with now!" His excitement is a solid indicator of what this brand means to the people who represent it.
Seeing Lifetime's Fall/Winter 2012 line makes us miss the Pacific Northwest. You can see influence from Vancouver BC, where the brand was founded; canvases, flannels and sweaters woven from deep earthy colors (orange rust, Vancouver Island rain forests dark greens, foggy lake blues). The perfect mixture of outdoor ruggedness and city culture politely declares "distinguished gentlemen but I know my way around the shop and in the woods." Practicality and longevity is equally important with Lifetime, this brand makes apparel that last a long time. We purchased a chambray button-down two years ago and it looks just as good as the first day we put it on in the store. It's a tough world out there for apparel brands, we see them come and go in a unpredictable economy, but we are certain that Lifetime is here to stay.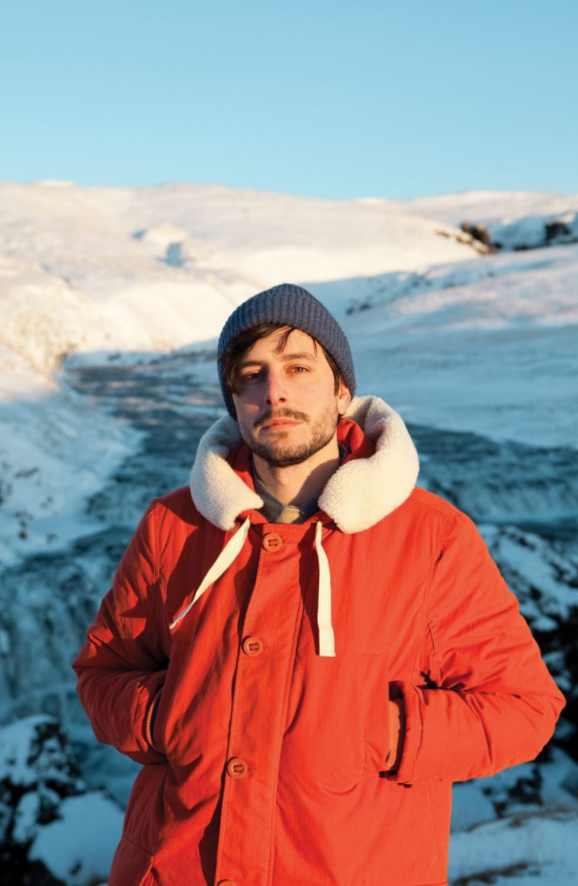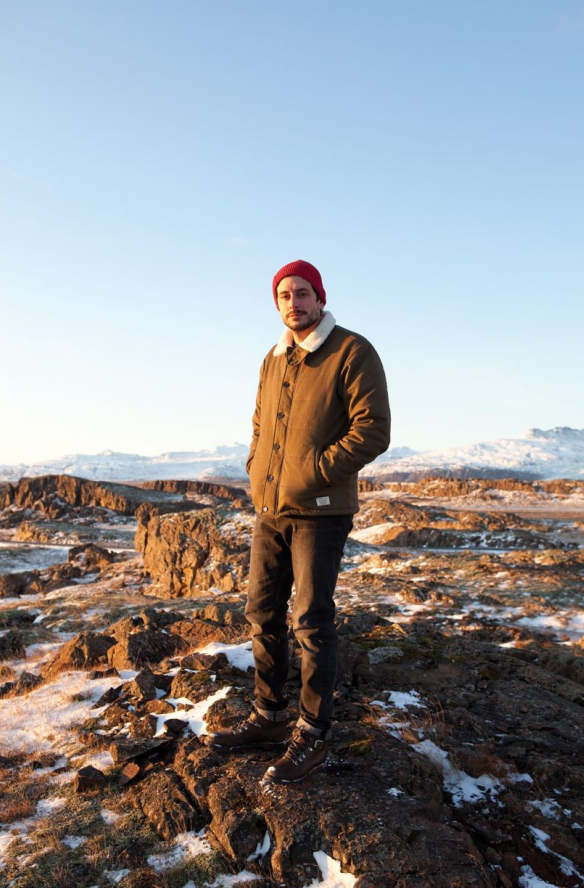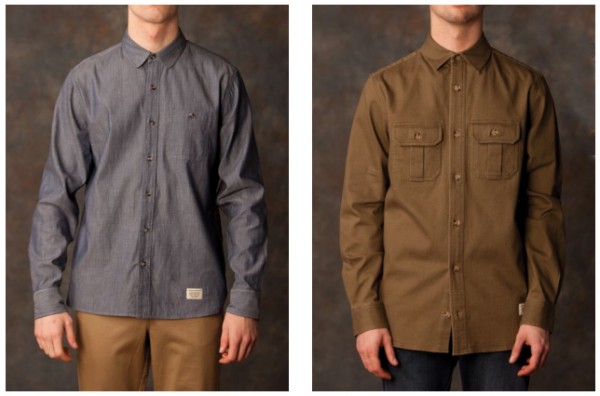 It was impossible to look past the colors purposefully and perfectly scattered among graphics and materials hanging in Wellen's booth. Wellen was founded by Matt Jung in 2007 and since then has grown to be a proper surf apparel line, gracing forward indy surf retailers such as Surfindian, Thalia, and Shelter to name a few. Wellen also finds it's place in trend-setting boutiques such as American Rag. Matt showed us a bit of his upcoming line and it's impressive to say the least. Pastels make their way in, along side lots of perfectly complimentary colored graphics and prints that push the line into a art driven, yet easily wearable line. There is a playful flavor that resonates with Wellen, whether it is the friendly approachability of the Matt and his team or the designs themselves that speak "sun, waves, and not taking life too seriously."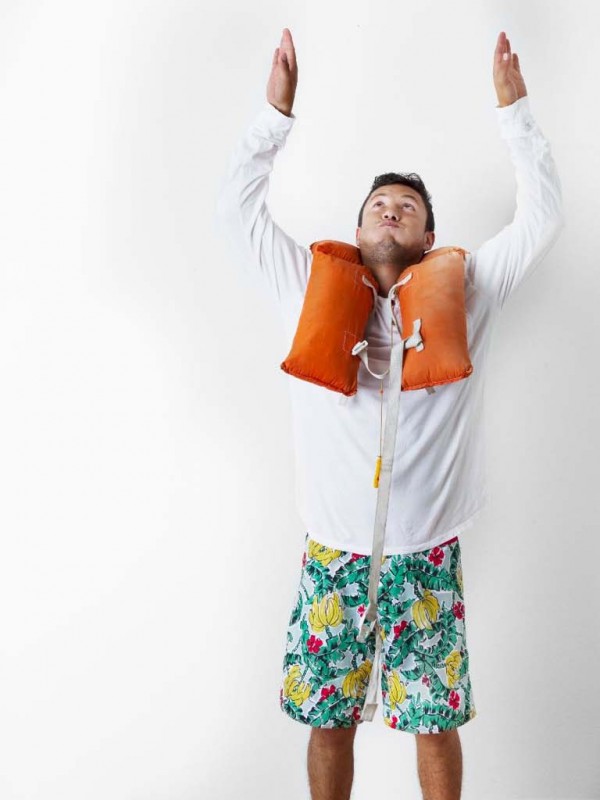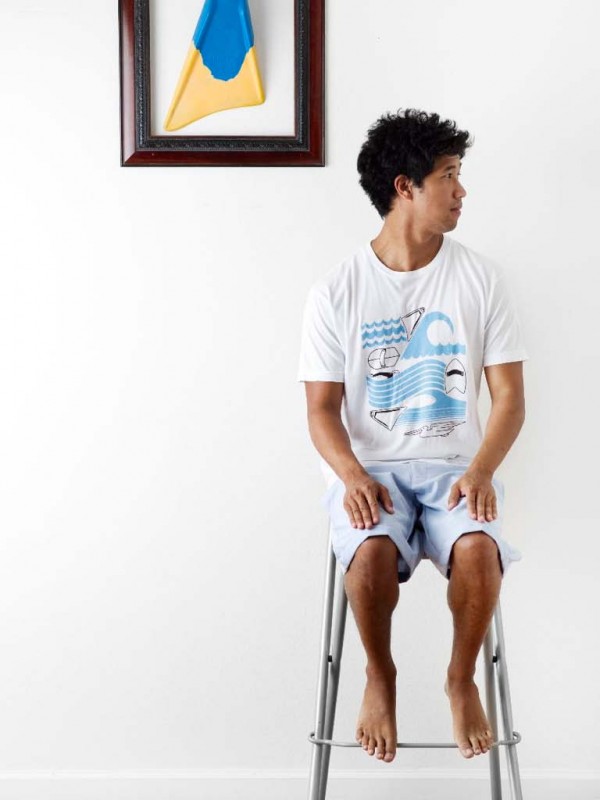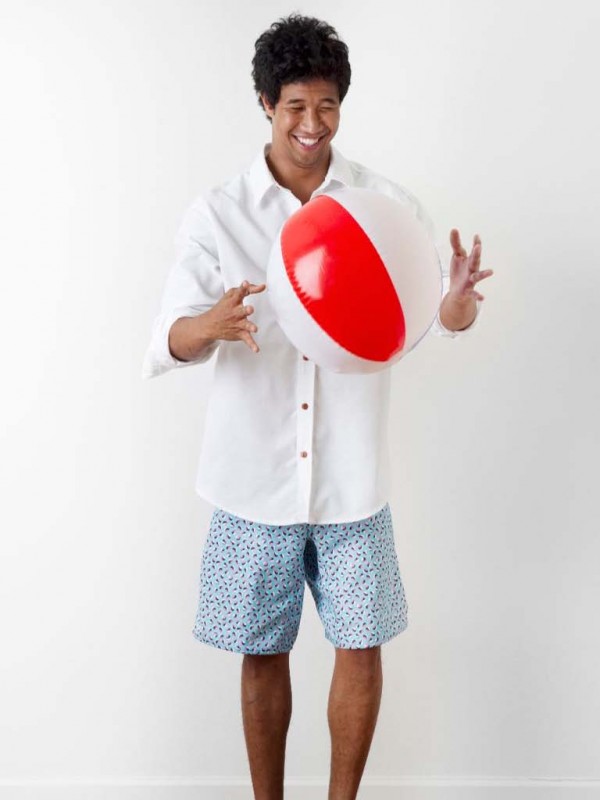 "Made in USA" is de-bossed beautifully on a leather patch of the first bag we pick up. It feels good to hold something made here at home, and every time we see it, we wish more people did it. Will Leather Goods is more than just Good, it's smart, sophisticated, premium, durable and nostalgic. The nostalgia comes from the story we hear from Madelyn Krevitt, who is manning or should we say womanning the booth when we come by. She tells us about the founder William Adler who started WGD selling belts on the boardwalk in Venice Beach, CA. Bill took inspiration from western culture (saddles, gun hosters, and cowboy belts) and after he started WGD in Eugene Oregon in 1981, he began the production of hand made leather products such as belts, bags, wallets and other small accessories. Now the "Adler Family Co." is embossed right below "Made in USA" as a reminder that you can expect solid, classic, rugged yet stylish, made in America product from Will Leather Goods.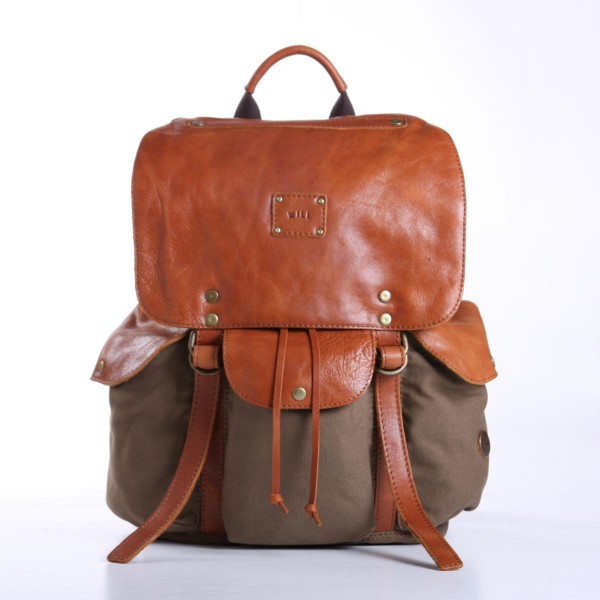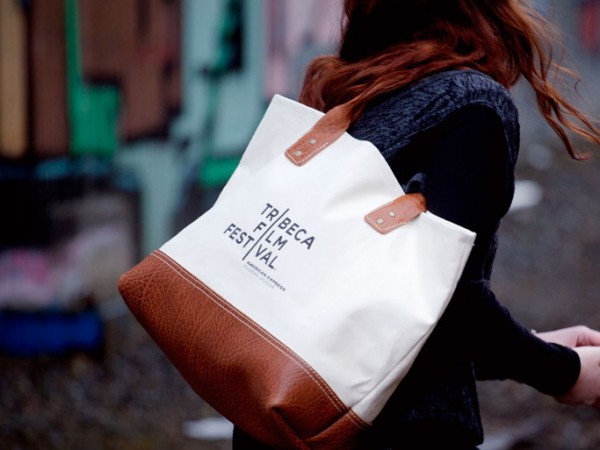 _

Will x Tribeca Film Festival from Will Leather Goods on Vimeo.
We had been familiar with Makia, but before this show, hadn't taken the time to really check out the line in it's entirety. We have to admit what pulled us into the booth was a warm invitation from Geoff Nishimoto and Camille Dizon from 722 Figueroa (LA showroom and marketing agency for Makia). After having Geoff show us the line it was hard not to get excited. The confident yet wearable colors found on the jackets brought a few themes to our attention.
1. Durable and Stylish: The idea that with Makia's jackets you can see that they are durable and very well made, forged from the fjords of Finland, well, designed at least. The confidence that you can take these jackets down back-country pow lines all day, then put on your best going out gear, throw the jacket on top and you look incredibly sharp instead of looking like a little kid hanging out in your snowboard coat in a bar.
2. We took note of the hardware. In the past it seems that  big buttons have been reserved for hi-fashion designer sweaters and jackets that don't necessarily speak to durability and ruggedness, but here we see them used in a way that works the opposite, they compliment the clean silhouette of the apparel and invite classic European detailing into the mix. Overall Makia understands how to make modernistic apparel for a guy who thrives on being outdoors and still wants to look polished.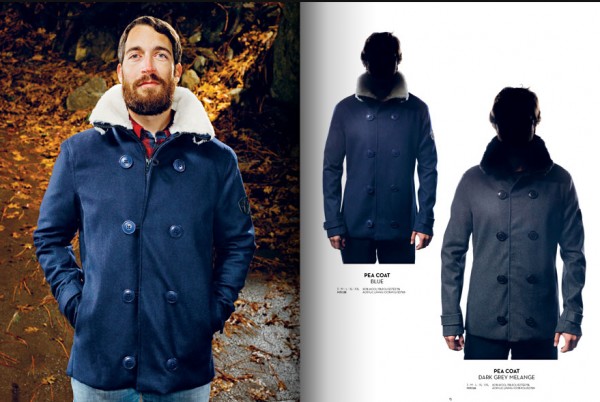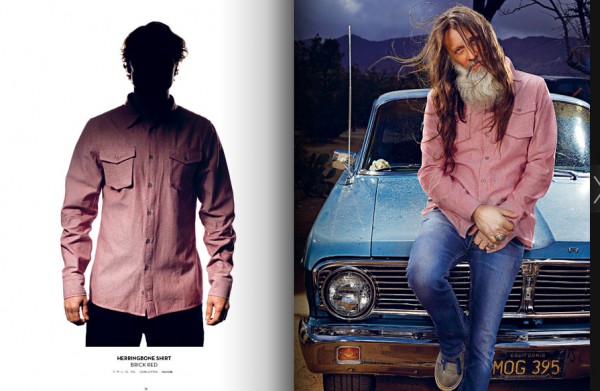 Publish is on another level. We are so incredibly excited about this Southern California brand and in our minds it sits as one of the top  clothing brands at Agenda. We had the special opportunity to speak with their Creative Director Mike Huynh about the line and he walked us through the pieces. Each silhouette is dialed, the cut is sophisticated but still true to a casual fit. Where Publish stands apart from the others is it's attention to detail, everything from the embroidered feather that graces the backs of some of the knits and a few jackets, to the sharp buttons and trim, speaks of a attentive designer. The materials also need to be applauded, a vest we pulled out of the rack, had three different materials constructed into one. The result is a far from bland apparel line that is impossible to overlook. Publish is also consistently pushing forward on the  comfort side. With the release of their Jogger Pant y0u can tell they have had fun with the concept but have stayed true to what they stand for. We can't wait to comes out next from Publish because so far they have been beyond impressive.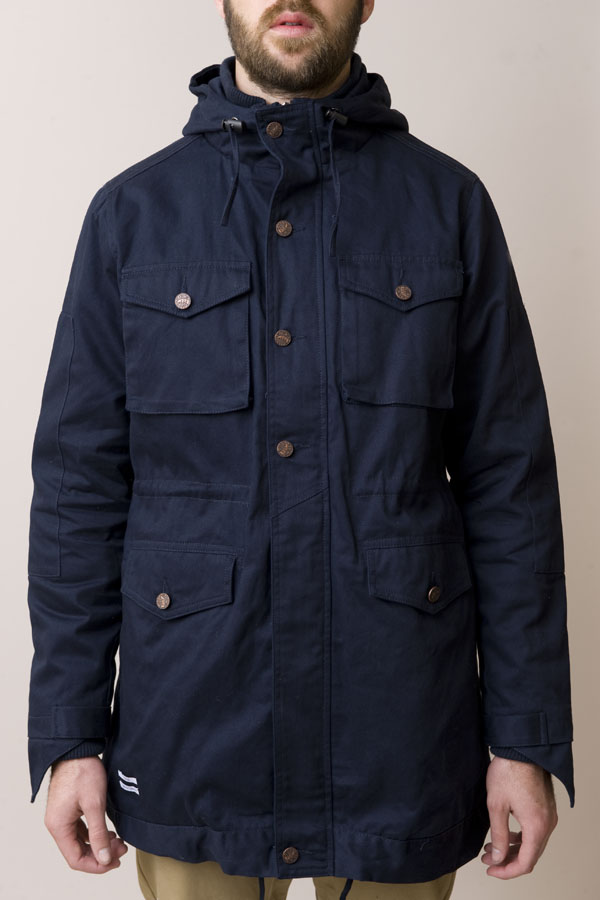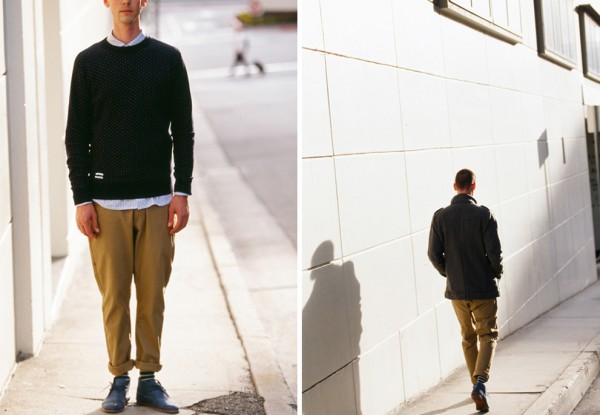 Note: By no means are these brands chosen because of hook-ups or advertising incentive. Instead we approach these shows with an open mind and let the product speak for itself. The brands we feature are here because they've inspired us and we want to wear their gear. Thank you so much for reading.