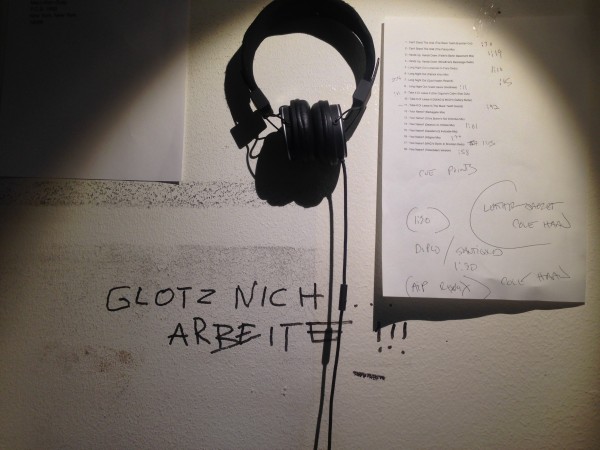 Images courtesy of Philipp Vogt and Shelley Pellegrin.
—
The air is filled with a blend of cigarette smoke and incense as I step into the studio rooms of
Marc-Alan Gray that are residing within the public-bath-turned-night-club halls of STATTBAD in Berlin Wedding.
The place is a known playground for artists, and it shows. Peaches' Berlin studio is set up next door, and the entourage is coming and going, partly sharing the creative space with my host, rooms piled up with what bears witness to creative minds on the loose, paintings, sketches, art-in-the-making.
"It's a lot of who you know." Marc-Alan lights up a cigarette. We are chatting about success in the creative field. Marc-Alan knows the music business, that much is for sure. "A solid ten years" in the industry as a DJ/producer and you can tell, even as the layman that I am. His age, however, remains a mystery to me (it has become kind of a private joke between us that I keep trying to find out while Marc-Alan keeps telling me to mind my manners).
"I think two kind of people make it in the creative business. One would be guys who put out that immense body of work. That's not me, you know, I am not shitting out music. And then you have the kind of person who's just really good, and maybe they are hiding, unknown, and they do like a couple of really good things, and then somebody who understands talent is like 'holy shit this is pretty good stuff, this needs to have a home'. Then you have your whole life to make your first album, and your first hit, and you have another year to make your second album."
House music is pumping on the stereo as I squeeze my lemon slice into the ice-cold Corona Marc-Alan asked me to bring.
I am wondering out loud what kind of learnings a DJ veteran would share with people working in the creative fields. "In the music business I would say do as much work as you can and don't get caught up in the small details. Put the stuff out, get it out. You are free, go, little child of mine. Sometimes you think 'oh I want to save this', or 'I want to sit on this', and I think that's the biggest mistake. So put a little work out, defining who you are and what you are doing, and then… somebody relates to that and they latch onto it, and then, you know, you have a catalogue. How many writers… how many painters have had a hundred paintings before they ever had a show."
On his screen Marc-Alan shows me a folder with songs he produced. Some names catch my eye as I read them. Wamdue Project's Chris Brann is a close friend and collaborator. Marshall Jefferson. "One of the godfathers of Chicago house", I am being instructed when my face shows an obvious lack of musical wisdom. Robert Owens, Paddy Boom from the Scissor Sisters, and, ummh, you kidding me – Andy Rourke from The Smiths? "He's done vocals and played bass on three or four of my records."
Not bad, buddy. Not bad at all.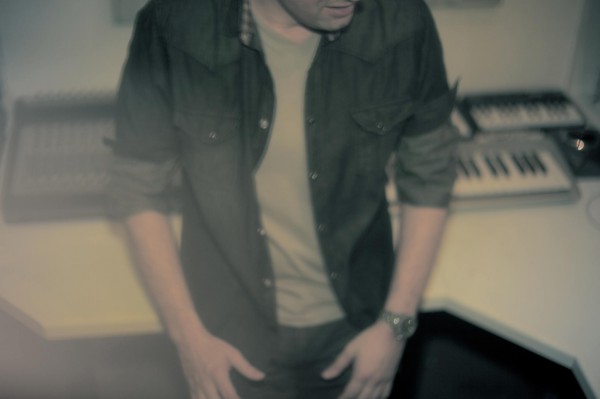 I wonder how all these songs came together. "Kind of a Miles Davis approach. I wish I was but I am not of the mental programming to go to the studio with five songs completely written from front to back. I don't work that way. So my inspiration is random, that's a bit of 'the moment' and a bit of 'in my mood'."
Marc-Alan's productions are refreshingly different from what you hear on most Berlin dancefloors these days. "It's indie dance. That's how Americans who love to categorize music with a label would call it. Somewhere between the XX and… whatever." His time in New York seems to resonate intense memories, and you can tell his work was inspired by the city that never sleeps. "I kinda got back into indie again, rock was having a moment in New York, and I was like 'Give me the Strokes, give me Interpol…' and we were having a really good time in New York for a minute. And than it started to mash again, to warp again, and then it became clubby indie stuff again, like Scissor Sisters, these guys came on the scene."
There goes another cigarette.
I realize I'm talking in a foreign language to a true New Yorker club DJ, all the while still figuring out what exactly that means. "I have a hard-time being linear with art. I have a hard time putting things in boxes. I mean, first and foremost I'm a DJ. I mix. BPMs don't matter. Styles don't matter. I come from a frame of mind where you don't play the same bpm, don't play straight bangers all night in a row because nobody goes to the bar and buys drinks. Think about the truth to that. Don't be scared to play an abstract record, or don't be scared to play a mellow record, or a moody record that will clear the dancefloor. Don't be scared to clear the dancefloor because they will head over to the bar and buy drinks. Then you get them back on the next jam. Those things are a bit different if you are hangin' out at Berghain."
Marc-Alan's live sets are fun rollercoaster rides, and have only one mission: everybody dance. "Me going to Berghain and listening to 130 bpm for four hours blows my mind, I'm amazed by that but I'm like 'wow I need a little bit more of a neurotic, non-linear journey'," Marc-Alan says. Versatile in style ranging from Disco to Funk, Indie rock, Hip-Hop to Deep House, he knows how to play with the audience and set fire to the dancefloor just when you need it. "I've come to a frame of mind of music to where it's an up and down. I am a New York club DJ. Anything goes."
Marc-Alan Gray is a busy bee. 300 to 400 new releases find their way through his ear canals each week, he tells me, and I am beginning to look forward to the mix he is about to release on WITNESS THIS.
Witness Marc-Alan Gray in the mix for WITNESS THIS.
[soundcloud url="https://api.soundcloud.com/tracks/146299890″ params="color=ff5500&auto_play=false&hide_related=false&show_artwork=true" width="100%" height="166″ iframe="true" /]
"I do radio shows a lot…" Marc-Alan says while I open up two more Coronas, "…and those are the hardest gigs ever coz you're going in there, and there's no crowd response. You are staring at an engineer who's probably not paying attention to you, probably texting his girl-friend. And so I think back to what has worked on the dance floor. It's gutteral."
And what about Berlin, I ask him. "Being over here has influenced me back into really being into house again. Cause there's some really good music in Berlin. Really good underground stuff, man. You have good clubbing, good places." And what about Berlin paralyzing creative productivity as many artists admit after a year of non-stop-partying in Germany's capital? "A double-edged sword for sure", says Marc-Alan.
I feel inspired as we take the elevator downstairs, descending into the depths of the abandoned public bath and into the Boiler Room where we are swallowed by a thundering bass and a crowd going mental.
—
Marc-Alan Gray grew up in Manhattan, NYC. He worked his way up DJing the dancefloors of clubs such as Limelight before exploring the European shores where he played the likes of fabric, Ministry Of Sound, and legendary Titanic in Moscow a little further east.
Catch him monthly for his roaming party Blah!Blah!Blah! at one of Berlin's most infamous hedonistic temples, the King Size, if you manage to sneak past the bouncer. Or witness him live at one of his summer dates in New York, Oslo, Budapest, Amsterdam, Stockholm, Miami, Breda, and Washington D.C.
He is producing and releasing music on Defected Records and Loveslap. You can check out and buy his stuff here on iTunes.
For event dates and music updates follow Marc-Alan Gray on facebook or Soundcloud.