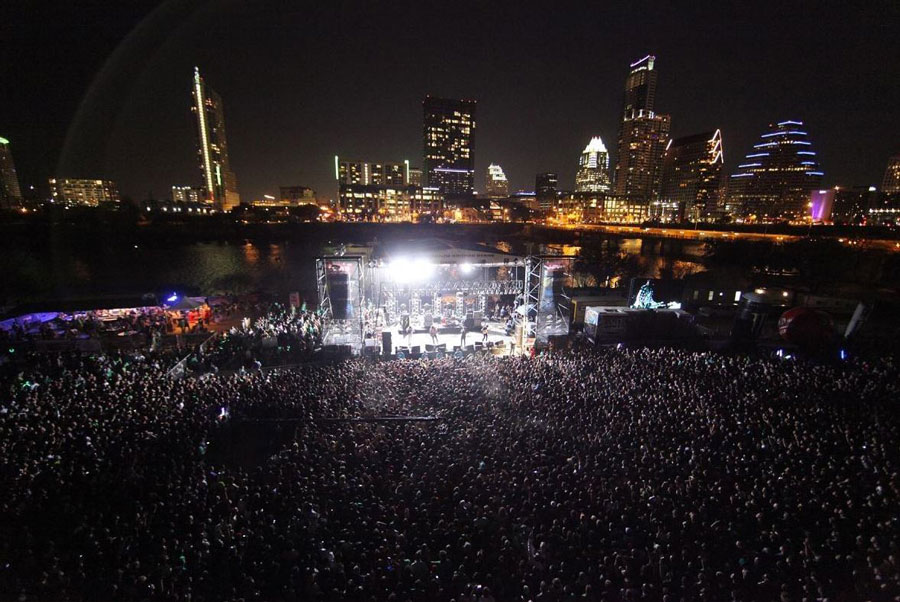 Well folks, festival season has officially begun. For those of us who were lucky enough to attend, last week was Austin's South By Southwest (SXSW). It's actually a three week affair, each week having a different theme: interactive, film and finally music. We lathered up the sunscreen, threw on our cowboy boots and packed up the car in the hopes of hearing some of our favorite bands and discovering some new ones.
Unlike any festival I've attended, SXSW does not happen in just one area/venue. It's spread out all over town, making coordinating friend meetups and seeing all of your favorite bands almost impossible unless you have the exact same taste in music or if you're lucky enough to see a few of your favorites at the same venue. Thank goodness for the pedicabs that take you from venue to venue (within distance reason), otherwise getting around would've been a logistical nightmare. Also unlike any festival I've been to, everyone was kind and appeared to be in a jovial mood. Folks actually smiled at us, bouncers let people in even if the photo on their badge didn't look exactly like them, people were chatty and even happy in line. I didn't come across any crazy drunkards or have any of the potential normal festival issues like disgusting bathrooms or a hard time seeing the performers because of the crowds. It was about as smooth and pleasurable as can possibly be. Bravo Austin!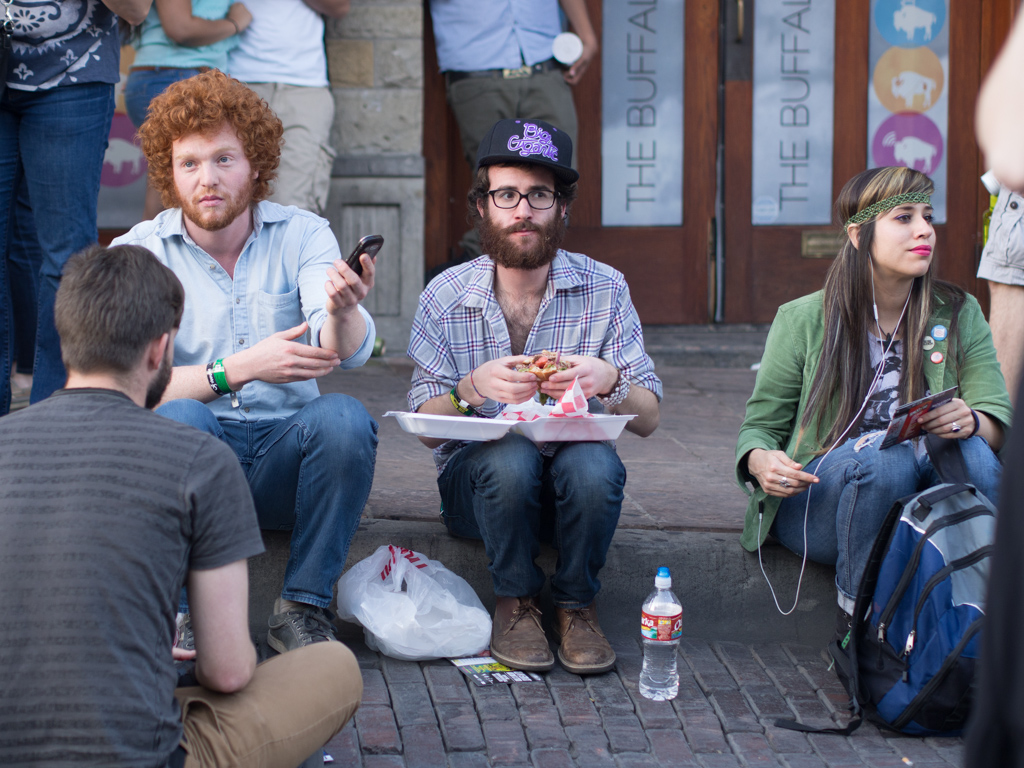 photo by Peter Tsai

photo by Peter Tsai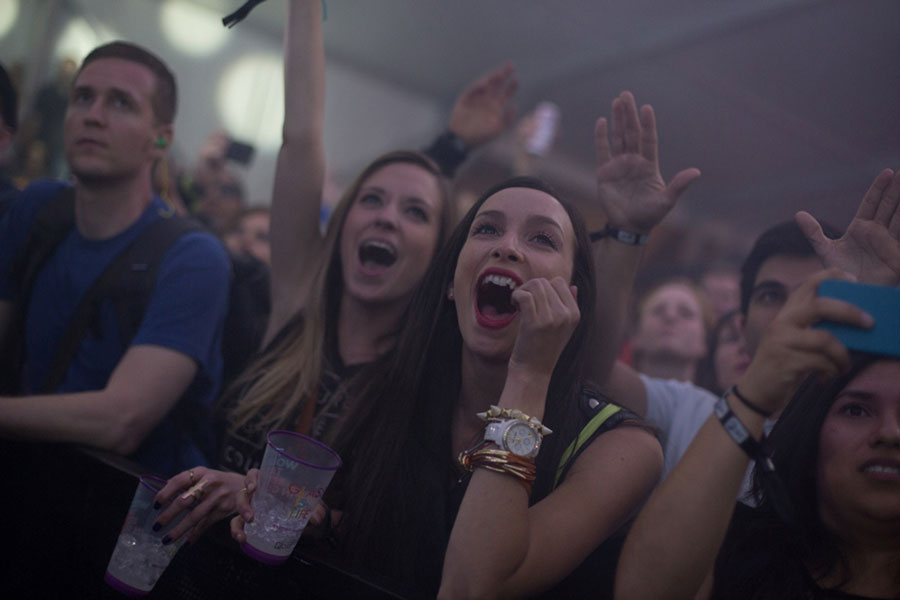 photo by Peter Tsai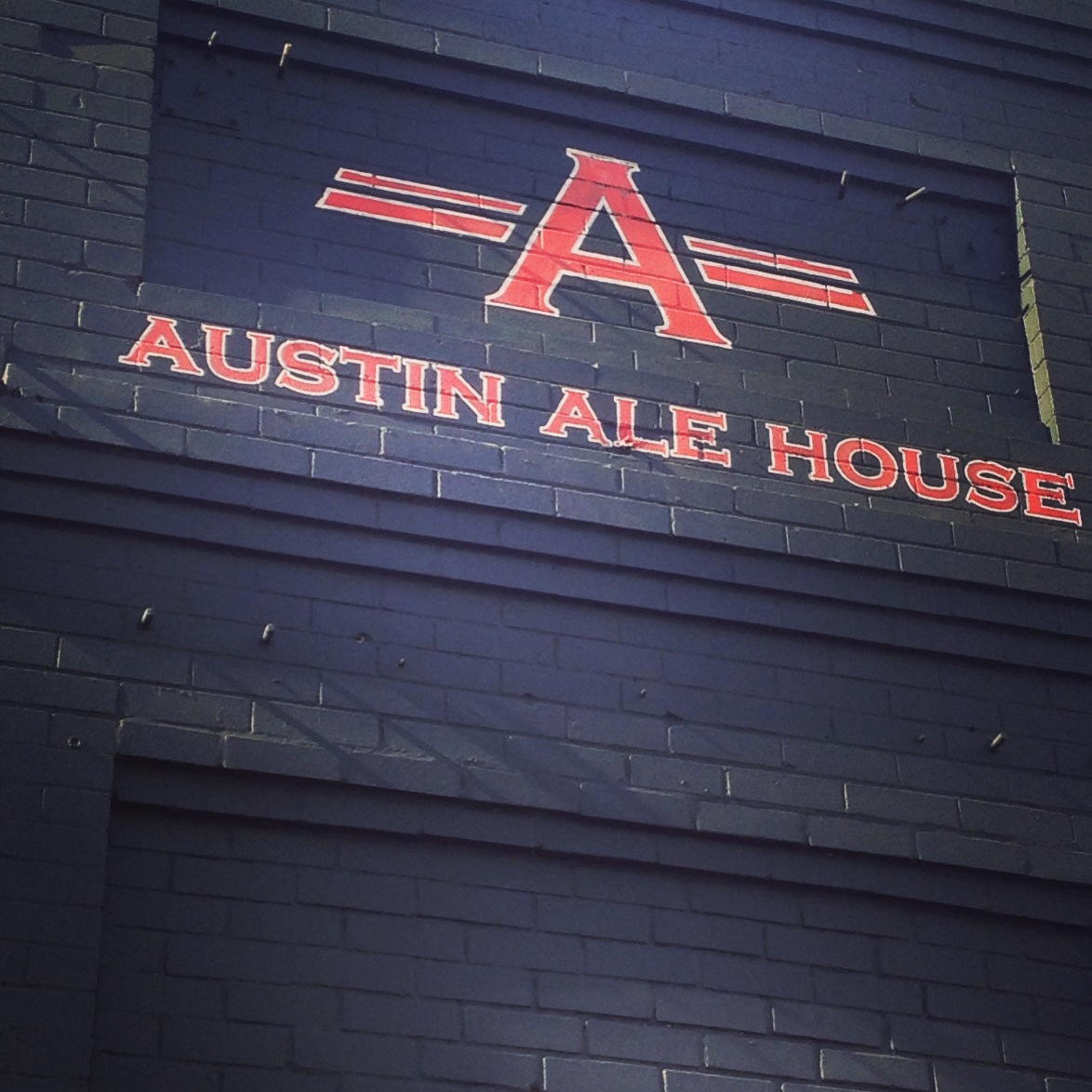 And now, onto the music. Note: these are the highlights ONLY. Trust me we'd be here for days if I commented on everything.
Highlights Day One:
We got in pretty late Tuesday but in time to catch Matthew Dear's dj set followed by Nicolas Jaar. Matthew Dear is a favorite of mine and I was excited to see what he could do on the decks. It was pretty upbeat and danceable and he even added some of his signature vocal riffs on top of a few of the tracks. Jaar, however, was much more ambient in sound and put out a much slower, ethereal vibe. I was impressed by the technicality of his performance but to be honest, I was hoping for more of a first night blow out dance party.
Highlights Day Two:
Lord Huron was off the charts amazing. They played at the ACL Moody Theater venue to a barely visible crowd. I couldn't believe how many people were NOT there, considering I was amongst several who felt they had one of the if not THE best album of 2012. They were so fun to watch, so tight in sound and harmony. They treated us to every song off the album and a few others I hadn't heard before, making it my favorite live band performance show of the week. I say 'live band performance show' because what was to follow later that night was another favorite of the week, but of the electronic dj world, Flight Facilities. It was the best dj set I've ever seen. Mixing Hot Chip's 'Flutes' with their moody track 'Clair De Lune' and Daft Punk's 'Da Funk' with their banger hit 'With You' were highlights of the night. They also treated us to some personal favorites like Todd Terje's 'Inspector Norse' and Peter and The Magicians 'Twist,' while also cranking out their hits 'Crave You' and 'Foreign Language' (Jess Higgs actually came out and sang it live). Overall, it was THE dance party of the week and we left grinning ear to ear. I will never miss them if they come to town again, period.

Lord Huron – Austin Town Hall

Jesse Woods
Highlights Day Three:
An Austin local took us to an unofficial SXSW day party and it absolutely rocked. I was blown away by singer songwriter Jesse Woods and his accompanying cellist Jonathan Carbin. This was a perfect example of this festival's charm. Up until that afternoon, Woods was someone I had never heard of but immediately researched the minute I got home and now, as a result, I'm pretty sure a Witness-This interview is going to be in our future. Additionally, we heard that there's a stunningly beautiful video for "Tumbleweeds" coming out soon and from what I previewed, it's definitely something you'll want to check out.
After that relaxing day party, we got the insider scoop that THE Stevie Nicks could be performing at Stubbs alongside Dave Grohl and the Sound City Players. Sound City is an absolutely amazing documentary about the old recording studio and the epic albums that were recorded there (artists include Tom Petty, Nirvana, Fleetwood Mac, Johnny Cash, Ric Springfield along with hundreds of others). When the facility went under, Grohl purchased the most revered and wicked piece of equipment from the studio, the Neve board. Every single one of the legends had used this board when they recorded there. The coolest bit is that he invited all of these artists back to his studio to fire up the Neve again and record a brand new album. How rad is that? The result was a stunning doc and album and subsequently a stage at SXSW to hear all of this new music. Stevie Nicks did show up and did she show up. Not only did we get to hear her latest song with Grohl but she also played three Fleetwood Mac hits, Dreams, Gold Dust Woman and an acoustic performance of Landslide with Grohl. BLOWN AWAY.
After this, we wandered to check out Brothertiger, who rocked it at Lamberts and then later a few more bands but honestly, nothing could top Stevie Nicks. It wasn't just a live performance highlight, it was a life highlight.

Stevie Nicks Photo by Ultimate Classic Rock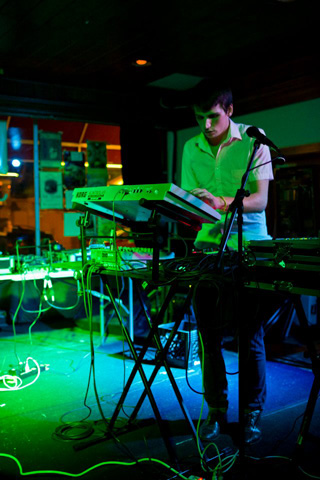 Brothertiger Photo by Mush Records
Highlights Day Four:
After a slow morning, we ended up at the Rolling Stone day party where we were treated to the most moving show of the week. Charles Bradley. This guy is 100% a reincarnation of James Brown. He dances, yelps and sings EXACTLY like him. But his story. Oh my goodness, his story. He has struggled his whole life, been unjustly fired, suffered extreme heart wrenching losses, been homeless, the works. All through this adversity, his love of music and singing stayed with him until the day he was discovered at age 64 (SIXTY FOUR!) by a record exec. From that moment he's been performing for enthralled audiences all over the States. His music is so moving, his message is so hopeful and empowering, his dance moves are so…..utterly fantastic. He moved us all to near tears by the end of the show and even came out to the audience to deliver hugs to anyone who wanted one. Ah-mazing show. If you have the chance, please support this beautiful soul.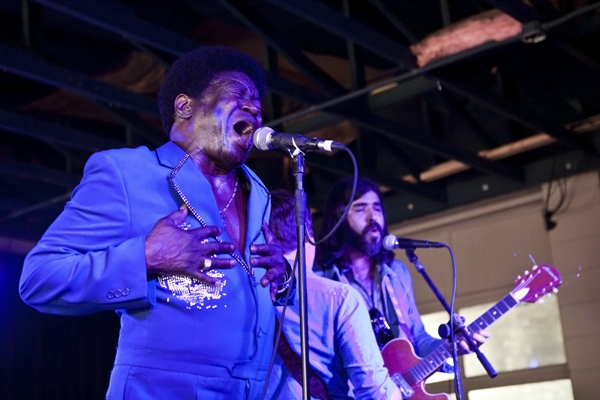 Charles Bradley Photo by Rolling Stone
watch Charles Bradley SXSW post show interview HERE.
Highlights Day Five:
We caught a few shows during the day, including Houses at Mohawk and a few others at Empire Automotive but the highlight was kicking it at Austin Ale House. The guys from Venice Ale House have opened up a shop at 301 W 6th street and it was awesome to see it in full swing. Venice local and Hotel Cafe booker Dan Davis had hand picked all of the music for the week and when we walked in it was bumping. A final stroll along the best music street in America and we were officially knackered.
Overall, this festival rocked. The music was both current and legendary. Prince and Justin Timberlake battling it out for best secret show Saturday night is a perfect example of how this festival welcomes in the new players while paying homage to the old. Lord Huron followed by Stevie Nicks. Flight Facilities followed by John Fogerty. Foxygen and Sinkane followed by Tribe Called Quest and Flaming Lips. It worked brilliantly and satiated all festival goer's needs. We probably missed over 1000 shows but those that we did see, we absolutely loved. I'm sure everyone who went had a completely different experience from everyone else, but guaranteed equally as awesome. In short, we'll be back next year.
–By Lindsay Colip
Lord Huron Live