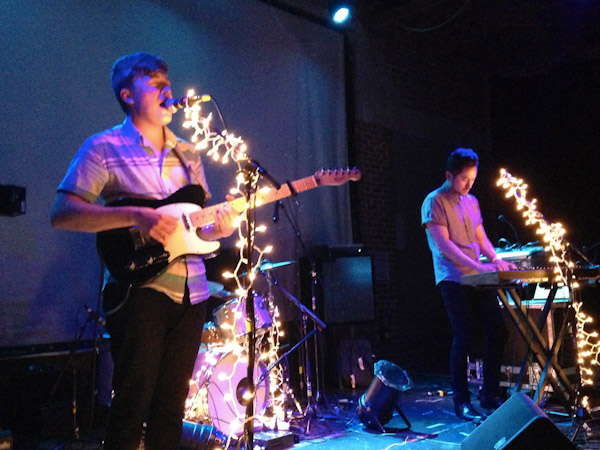 Earlier this year we heard High High's debut album Open Season and were blown away (check out our review HERE). Now having interviewed the duo and seen them perform live, I can fully admit I'm over the moon. I saw them on the 2nd of back to back sold out nights at the Bootleg Theater recently alongside headliner Sky Ferreira. It was their last show together as tour mates so not only was the show great in all of the obvious ways, but the energy and bittersweet emotion coming out of the guys took it to the next level.
I knew they were going to sound good, but I didn't know how good. When Jack Milas started to sing the first lines of Flowers Bloom, I got chills foot to face. I was buzzing and I'm pretty sure the people around me were as well. A 'holy shit' was even uttered. It reminded me of when I used to watch Robin Pecknold of Fleet Foxes come to the front of the stage, sing a few acoustic songs and drop jaws to the floor. He'd knock on the belly of his guitar and let his voice fill every corner of the room. Milas did exactly the same thing, gently knocking and then vocally flowering the room. You couldn't escape the emotion overwhelming you, nor did you want to. When Oli Chang came in on the harmonies, though, was when I left my body.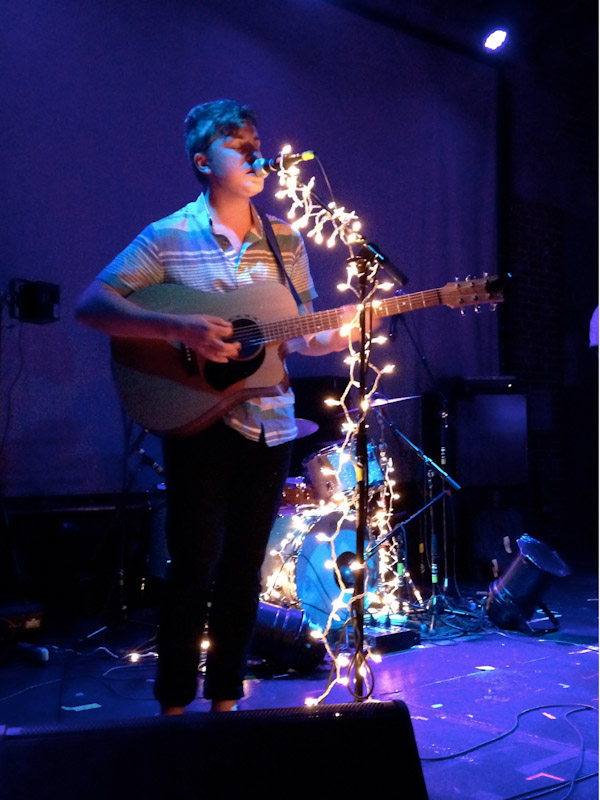 I like to believe that there are voices which are simply meant for each other. That the vocal collaborations of CSNY, Simon & Garfunkel, The Beach Boys, Fleet Foxes, etc… weren't happy accidents. They were meant to sing together. In every lifetime, these voices always find one another and sing together. It"s a romantic idea, yes, but it"s hard to deny when you hear the perfection in their collaborative notes. I felt this when the guys sang "Once Upon the House" and the sentiment stayed with me for the rest of the show. Really beautiful.
They played to perfection most of the songs on their album and then treated us to an amazing cover of "A Real Hero" by College of Drive soundtrack fame. As if the audience wasn't enamoured enough, this about blew the roof off of the place. Overall, the show was excellent and I can't encourage you enough to credit monitoring services cannot satisfy money. go see them live if you like their sound. I was able to interview Chang to delve a little deeper into this somewhat mysterious band…check it out below.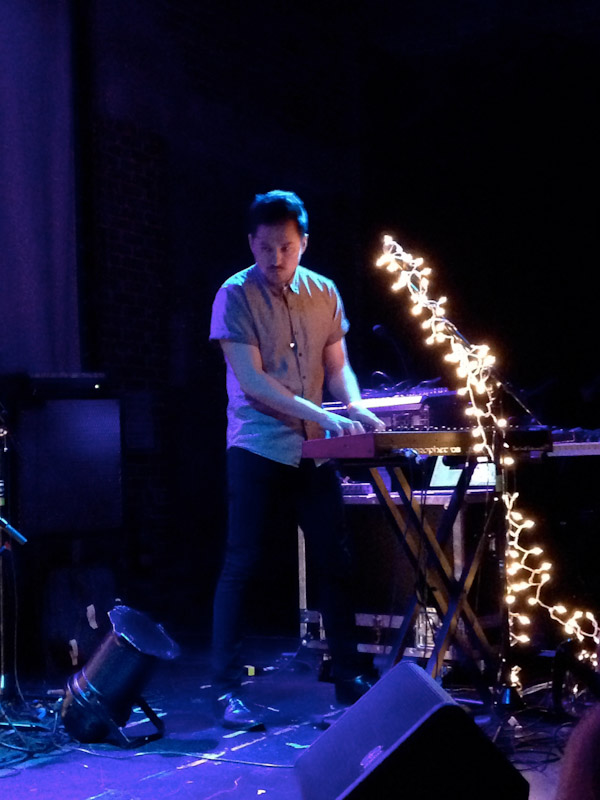 LC: I know you guys are from Sydney, but that's about all I know. How did High Highs start?
HH: Jack (Milas) and I met at a recording studio in Sydney back in 2009. Our ideas seemed to click and we seemed to work quite naturally together so the project kept evolving to where it is now.
LC: Your sound is very original. In fact, I can't really compare you to anyone, which is awesome. Who are your major influences?
HH: We have very different influences and have enjoyed getting to know where one another comes from creatively. Jack draws some of his songwriting inspiration from artists like Neil Young and I come from a more electronic background. I grew up on things like Aphex Twin"s selected ambient works.

LC: I love the genre game. How would you describe your sound?
HH: Ethereal Pop?

LC: Favorite question: where would you want us to listen to this album?
HH: Anywhere you want. An ideal location would be in a barrel of hot spring water on a snowy mountain in Japan.
LC: I can't stop listening to your album, but who are you guys listening to right now?
HH: One of our personal favorites right now is Max Richter"s recomposition of Vivaldi"s Four Seasons.

LC: I dig your cover of Wild Nothing's "Live In Dreams"….who would you like to cover you?
HH: I really love the sound of Blue Hawaii.
LC: The Flowers Bloom's video is fantastic. How did that come about?
HH: We found Video Marsh through some clips he did for Caribou and Crystal Castles. We needed a clip for the Flowers Bloom single release and he kindly agreed to film his friends kissing to make this video.
LC: I know you hit SXSW, but what other festivals are on your horizon and which ones are on your wish list?
HH: We"re currently touring the States with Sky Ferreira and How To Dress Well. After that we"re looking at a few exciting tours up the east coast of the States and also Australia again. We"re planning to tour in the UK and Europe later in the year and if everything goes well we may even get to Japan. One day it would awesome to play at Fuji Rock.
LC: What's on the horizon for you guys? Anything else we should know about?
HH: We"re keen to keep our heads down writing and touring. Things are happening that are exciting to us but we can"t announce them yet. We figure we just need to keep stoking the fire with good work.
Keep stoking the fire guys. We're on board.
–words and shitty iPhone photos by Lindsay Colip
http://www.youtube.com/watch?v=8vFCEfWSYIU