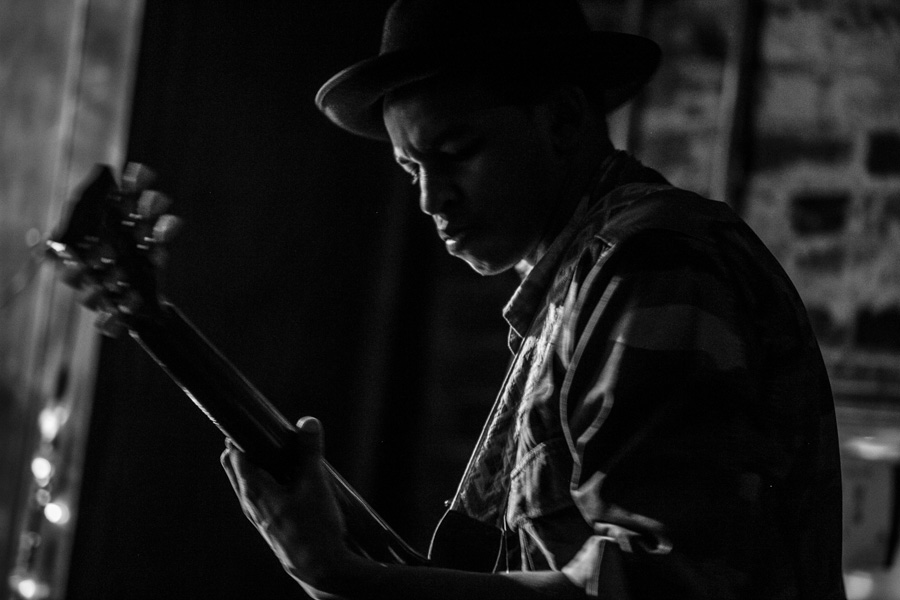 You know those sticky moments when the person in charge of music at a house party starts to lose the audience? Maybe they played 'Tom's Diner' and got a few cheers but then took that as a sign to play an hour of their one hit wonder favorites? The crowd gets antsy, people start needing air, drinks. Have you ever had to take over and save the day? I have. A few times. My go-to band and self titled album, Cymande, has always been the life support to a dying party. This record front to back is flawless, warming, easy on the ears and overall feel good central. I have resuscitated events for years with this gem and now I can officially put it to bed, for a new album has surfaced. An artist (and specifically with his latest album) has successfully taken the Universally pleasing sound of Cymande and made it fresh and current. I wasn't surprised to find out Cymande is a big influence on this artist as well. And who is this artist that has dethroned the Universal Kings of Feel Good? Sinkane.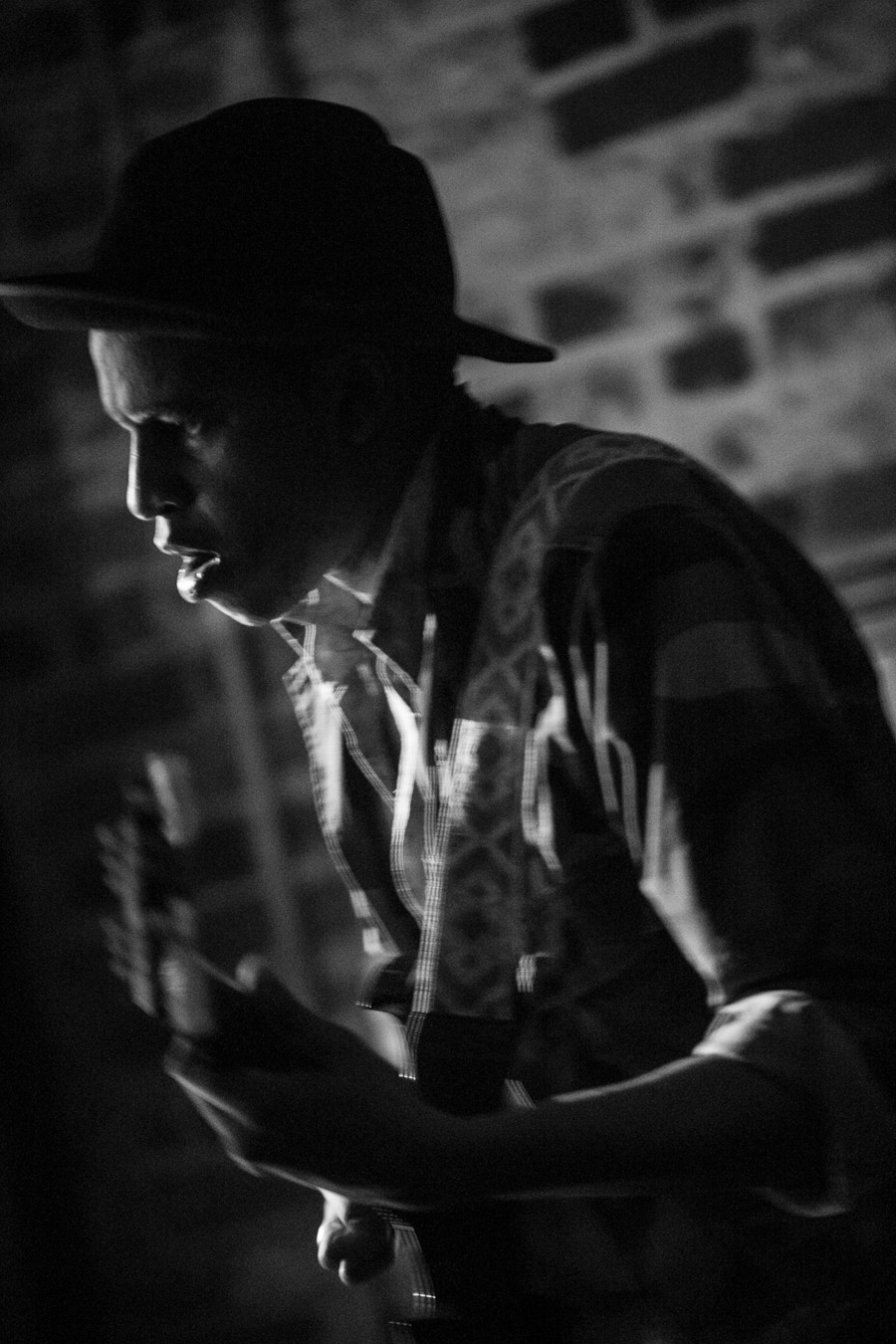 Sinkane, aka Ahmed Gallab, is from nowhere or everywhere depending on how you look at it. Born in Sudan, with stints in Ohio and New York and countless tours throughout the USA and every continent except Africa and Antarctica, he's a patchwork quilt of a guy. It is his eclectic history of never living more than 4 years in one place, of traveling the world, of honoring his roots and of making bold decisions, that makes his sound so rich and complex. I've heard his sound described as simply "feel good music" and on the surface, I agree wholeheartedly. But below the 1970s-blaxplotation-island-hopping-psychedelic-feel-good-funky-afro-beat-world-rum-rock is an undercurrent of hardship, isolation and raw human emotion. It's beyond fascinating to me that while feeling so alien and alone, Gallab wrote an incredibly heart warming and inviting album. This latest album, Mars, is almost perfect. My only complaint is that it is only 34 minutes in length.
I sat down with Gallab at the legendary Frolic Room when he came to LA to play (alongside Toro Y Moi) at The Henry Fonda Theater. It might have been the whisky flowing or the Bob Marley on the loud speaker, but we were instantly in flow and delving into all things music and Mars-both planet and album. Here is an excerpt from our chat.

_________
LC: How did you get started with this project?
Sinkane: After I graduated from University, a few of the bands I was playing in started winding down and I was trying to figure out exactly what I wanted to do…if I even wanted to play music anymore. I decided I wanted to do my own record. I had never done it on my own, I was always the drummer for someone else.

LC: Drums. Is that the instrument you started with?
S: Yeah. So, I called a friend of mine and asked him to engineer this thing I wanted to do. We recorded the first album which is called Color Voice and I asked the band if they wanted to back me if I booked us a tour…. and I did it strategically to play in Columbia, Missouri so we could run into this record label. It ended up being pretty successful. I got signed. The record came out a year later and within that year the band evolved and then I got this amazing opportunity to play with Caribou. So I went on tour and gained this amazing amount of knowledge from them and came home and recorded another album. I started playing with Of Montreal very shortly after and then moved to NY and started playing with Yeasayer. During that time of living in NY, I worked on the album, Mars. When the touring cycle ended with Yeasayer, I had finished the album so I started shopping it out to friends and people. One thing led to another and now I'm here.
LC: How did you get hooked up with DFA?
S: Literally, a year ago almost to the day, March 1st, I digitally released the single "Runnin" on bandcamp. It got a lot of attention and a month later Jonathan Galkin from DFA sent me an email saying he really liked the track. He asked me if I had any other music so I gave him the whole album. He really liked it so he came to see us play and that was it.
LC: Who plays with you now?
S: Jason Trammell plays drums, he's a friend of mine who I met playing in Yeasayer. We both played in Yeasayer together and both left for this. Mikey Freedom Hart is guitar and keys and sings a little bit of back up and Ish Montgomery is bass.

LC: How do you create your music? What's your process?
S: I really enjoy doing it on my own. I spend a lot of time with my laptop conjuring up a lot of different ideas in one session. I usually start with my phone. I'll record a melody that I wake up in the middle of the night or in the morning with and dump all of those ideas into my computer. I'll spend a lot of time testing different things, basslines, guitars, but I always start with the drums first. For Mars and for the new music I'm writing, I send my stuff to Greg Lafaro and he works on them as a co-producer and editor with me. I'll spend a lot of time on my own and then send stuff to him and we'll go back and forth like an editing process. We do a lot of revisions, we talk things out, we discuss what we want to talk about in a song. It's a pretty intense and cerebral process.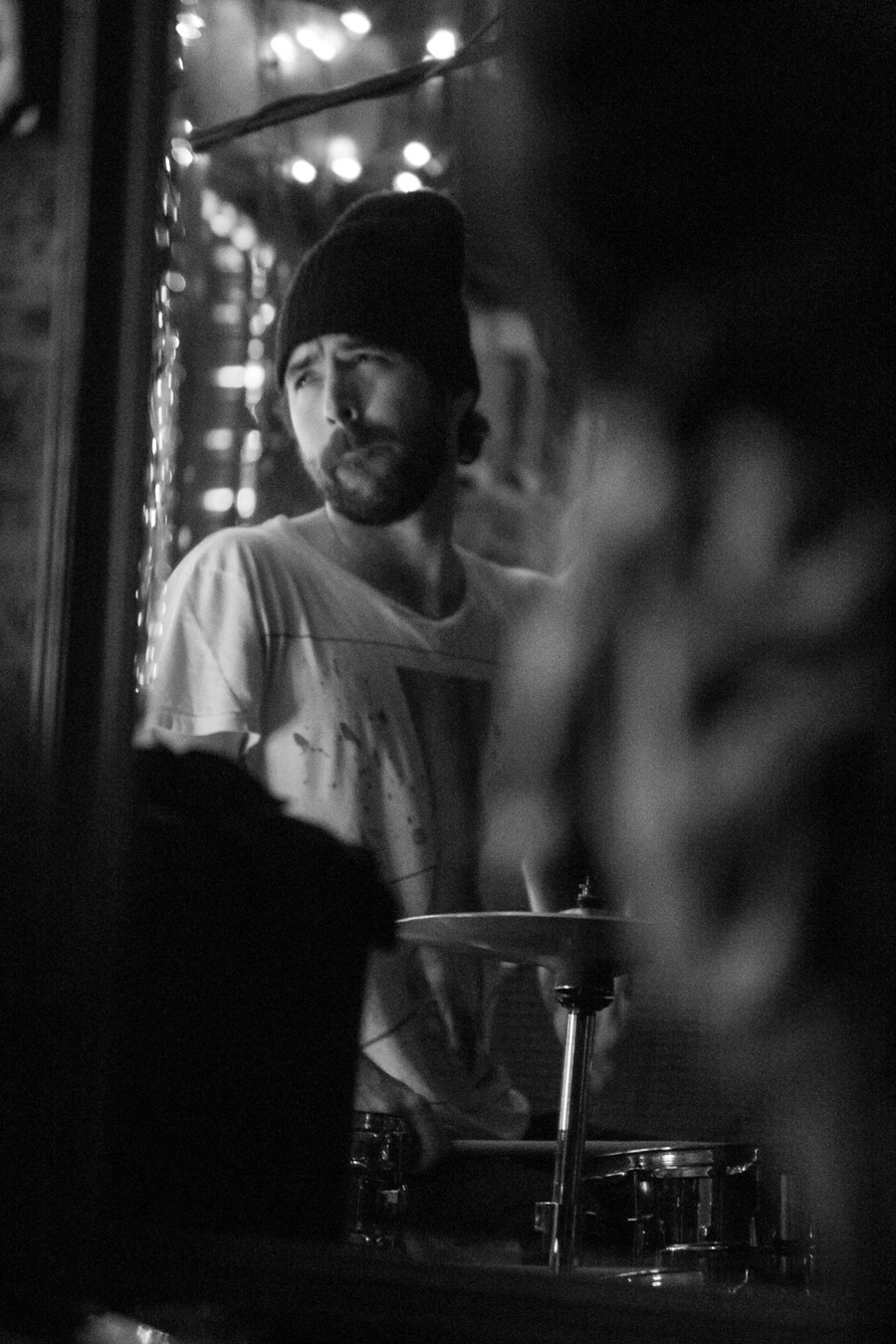 LC: How did you come up with the name Sinkane?
S: It began as a misheard word from a Kanye West song from his first record. The song is called Never Let Me Down and he talks about Joseph Cinque (who led the Amistad rebellion) and when I heard it, and the line is "I wanna give us 'us free' like Cinque," I misheard it as "Sinkane" and in my mind I created this idea of who this Sinkane person was. I thought to myself, they must be talking about this monolithic African God who exists in textbooks in African History classes in college. I told myself I was going to look it up and I never did and then when I finally did, there was obviously nothing written on it. It was totally fabricated in my head.
LC: What about the album title Mars?
S: When I moved to NY I was in a really tough place. Coming out of touring with Of Montreal was not easy for me. It was a pretty rough, emotionally draining tour and I finished playing with them in Dec 2008, the last show being our performance on the Dave Letterman Show. I took a cab to my sister's place that night and decided I was going to live in NY. Soon after I got asked to play in Yeasayer and I was 25 yrs old and I felt really strange. I was moving to this really big city, this foreign place and I felt like a foreigner. Specifically, the social atmosphere, the social nomenclature I was involved in was totally weird to me. It was something I'd only read online in Pitchfork and stuff and all of a sudden found myself in it. I didn't know how to deal with it very easily. I remember writing that album from a really desolate, isolated spot. I didn't have any friends, all the people I'd met in NY were so established as New Yorkers and with the NY bands and they weren't really interested in taking on new friends. So I was online and working on the album and I looked up on some stuff on space. (he pauses and smirks) I'm obsessed with space. I found some stuff on Mars. It's so commonly used as a metaphor for being alien and out of place and it just clicked. It made sense to me and then shaped everything. It's this universal place where anyone can be who they want. People who are uprooted or isolated or different can come 'there' and not be alone. That's all I've ever known. I've never been anywhere more than four years. I've always been a different person among my friends and whatever community I'm involved in. I mean even among my family I feel really different.
LC: Where do you want me to listen to this album? What am I doing?
S: I'm really interested in the idea of truly Universal music that can be understood and appreciated and felt and loved or hated in any environment. I have a problem with recording because whenever I record I want the music to sound really good when you listen to it. I like to make really rich and vibrant sounds. So, I guess it's a home record. The last song on the album, when I was recording the song and when I was having that NY experience, I saw myself on this isolated, desolate post-Apocalyptic beach with a Cantina, similar to Mos Eisley from Star Wars. It was a very vivid experience I had and it translated all the way to the album cover where I'm on that beach. The point of that picture is that no one is on that beach, no one is there. So when I listen to the album, I think about that. A tropical place, wide open, happy. But that said I would hope you could listen to it anywhere. At home, in the club, at work.

LC: Did you ever see the movie High Fidelity? Remember the scene where John Cusak says "I will now sell 5 copies of the Three E.P.'s by the Beta Band" and he turns on the song and everyone in the store is bopping their heads, feeling the music? Remember that scene?
S: (laughs) Yeah.
LC: That is this record. I put your music on in the car and everyone, without me saying a word, is all of a sudden bopping their heads and feeling good.
S: (still laughing) That's flattering.
LC: Just like the movie, someone will inevitably say "Who's this?"–"Sinkane."–"It's good."–"I know."
S: I'll take it, ha!
LC: So what's next?
S: Touring a lot, recording some more. This album, in my head, is 2 years old. I finished it over 2 years ago but now that it's out and people are hearing it for the first time, it's been given a new life. The live show is exciting, we're playing a bunch of new songs. Really I just want to get to a place where I'm always working, whether it be playing shows or recording and not have to get a real job when I get home.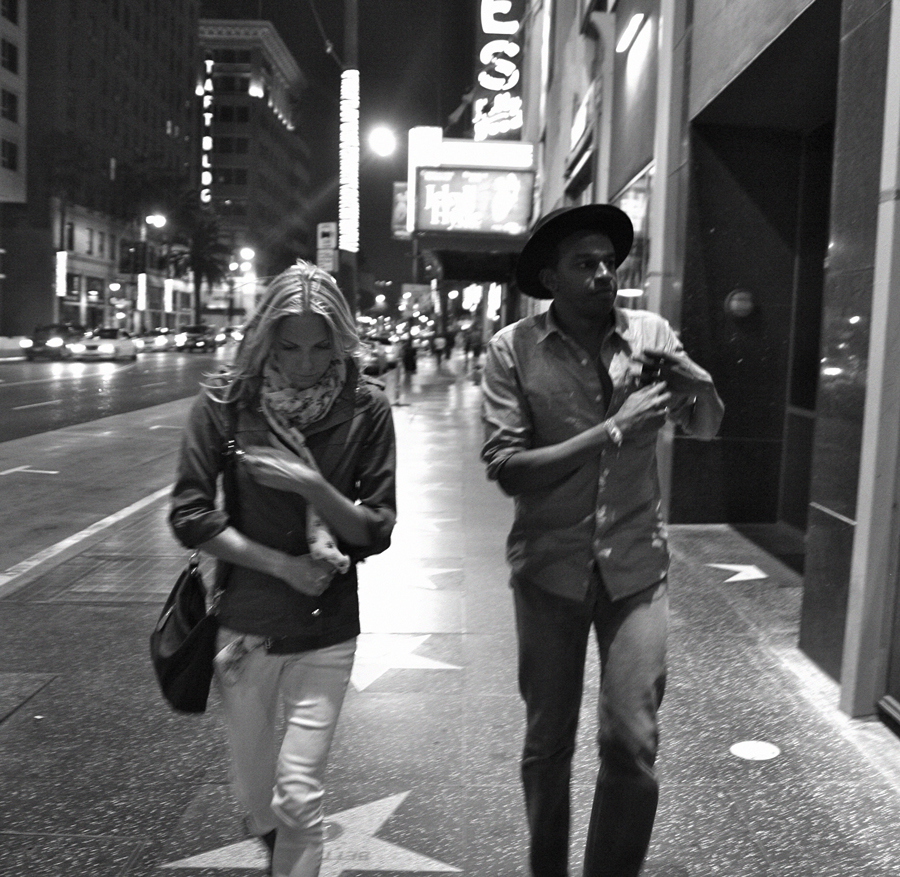 –By Lindsay Colip
–Photos by Douglas Heine and Waltphoto
–Special thanks to Ben Walter
For more info on Sinkane and where he's touring, check out:
myspace.com/sinkane
facebook.com/SinkaneRa
soundcloud.com/sinkane