Image courtesy of news.sos48.com

When we saw that Citizens! were playing at The Media Club here in Vancouver, we jumped at the opportunity to snag an interview with them. With a capacity of only 150, the venue is as intimate as it gets (unless you're literally moving the show into your garage). At the Media Club, sold out shows are a sweat fest and the perfect way in which to experience a show in its true and honest form – up close and personal.
Within a year of forming, Citizens' were signed to Kitsuné (home to Whitest Boy Alive, Cut Copy, Yelle, the list goes on) and their debut album, "Here We Are" (May 2012) was produced by Franz Ferdinand's head man, Alex Kapranos – impressive feats for such a fresh young band. Even without knowing much about their sound, it's clear they have something to share.
They're boisterous, care-free and highly interactive on stage. The audience instantly feels at ease as they play in a very care-free 'we-dont-give-a-fuck-if-we-haven't-slept-in-a-week' kind of way. This band seems to have a clear idea of who they are and where they'd like to go and it's all been set into motion before they even seem to know what's hit them.
We caught up with them right after their show in Vancouver, and despite a very aggressive touring schedule, it's clear they're still buzzing and ready for more. They were more than happy to chat wit hus and excited to share a glimpse into how it is it all began, the whirlwind of this past year and what's in the store for the band in the future. Check out an excerpt from the interview below…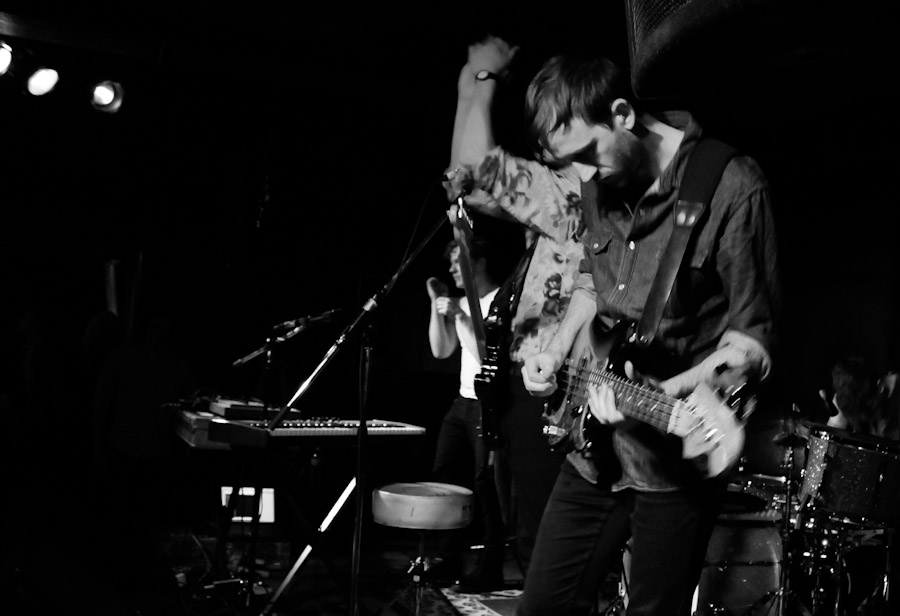 WT: You're on the last leg of your very first N. American tour, you've just done 5 shows in a row with only a couple nights off and 9 shows in a row before that – How are you guys feeling? Have you had a chance to let it all sink in?

C: I mean…no, not really. It has all been kinda quick – touring America is really tough and a lot of bands break up. It's like going back to square one and it's long drives. But we've gotten to the end of it now and we couldn't imagine being less busy. Because it's been such a quick process, we really don't know any other way. We don't wanna go home. We had a break over Christmas and we weren't doing anything band related for nearly a month and it was just too long. We were all so eager to get back at it.
WT: How does touring in North America compare to touring in Europe or the UK?
C: There are more people at a lot of the gigs than in London – it's a lot nicer, you have a lot of bigger cities in North America. In the Europe, apart from certain countries where we're popular, we're still kind of a 'big city' band. If you go to smaller city, people don't really know about us so there might not be many people at the show. And in the US you have tons of communities with alternative music scenes whereas in the UK you have London and I think we're still caught in the 90's when it comes to pop music.
WT: Do you have one single highlight from the tour?
C: Sold out show at The Echo in Los Angeles, hands down.

WT: You've recently been signed to Kitsuné, quite an influential European label – was this something you guys sought out actively or did they come to you directly?
C: We started sending demos around and Gildas (Gildas Loaec, creator of Kitsuné) was just really into it straight away. We met a bunch of producers and Alex (Kapranos) was the one that had the most enthusiasm. And to be honest, most people you meet in music are really depressing and cynical. Labels, producers and all these people and they just tell you, 'The industry's fucked but if you do this, this, this and this then you might be able to make it work.' And then sometimes you meet people that just have a real love for it and Gildas is just one of those people and we've got a really powerful relationship with him.
It was weird…I think maybe because we kind of had a different approach to it – we just wrote a bunch of songs and recorded them at home and we weren't playing gigs or anything. It was just that we had a vision of what we wanted the band to be about. And then we thought, we've got all of these demos and now what are we going to do with them? So we started sending them to as many people as we could, asking them to hand them out and that's how it ended it up in Alex's hands and that's how Kitsuné heard it and immediately they wanted to put the demo of 'Let's Go All The Way' on one of their compilations. And we'd never even played a gig. We didn't even have a band name! I think it's Kitsuné 10 or 11, and the first song on it is 'Let's Go All The Way (Demo Version)' and where the band name should be it's just blank.



WT: Where did the name Citizens! come from?
C: Do you know the band, Art Brut? Well he's just a really cool and interesting guy and we were talking to him one night and he was like 'I think citizens would be the best ever band name,' and he's obsessed with comic books and he said he'd seen this picture of a character reading a newspaper in some comic that said 'citizens'' – I thought it was a bit of a shit name when he suggested it but then it was like a visual thing as well and well, it just worked.
WT: In your documentary, The Nature of Pop, you say that you say that people take pop less seriously than other genres of music – do you still think that's true?
C: Ya, I think bands do. It was definitely a thing at the time when we started that people kind of frowned upon it a little bit – but I think it has changed a lot in the last few years, people are a lot more open to it and the definition of pop music has changed – it's more respected. Essentially, we were thinking back to the likes of David Bowie.
WT: Is it that you don't think that people take you seriously?
C: Not that they don't take you seriously but they don't think it's cool. People just want to be cool.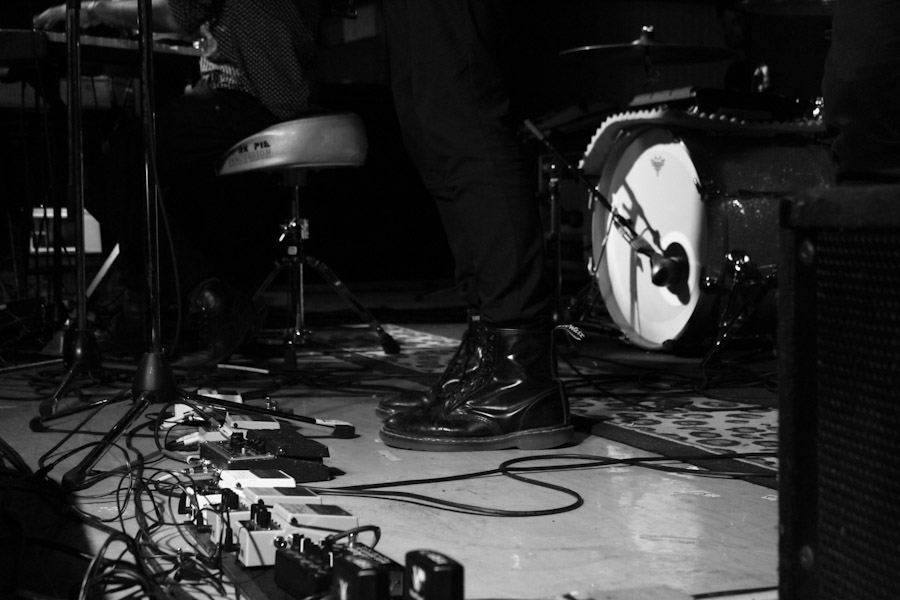 WT: You guys have a couple really popular remixes done by Gigamesh and Goldroom (also signed by Kitsuné), do you guys have a personal relationship with them and what are your thoughts on the whole remixing thing?
C: I only know Gigamesh through Gmail chat – he's always on! I think it's really interesting take on the song. It's really nice, it's a compliment. I'm a DJ as well, so I'm really into it.
WT: What's something people don't know about Citizens!?
C: Well we're actually kind of working on some stuff with a DJ at the moment who I've liked for years so I'm really excited – Lindstrom. You know him? It's still early days but it's really nice when people you like want to work with you.
WT: Is there one venue or place in the world where you dream of playing someday?
C: Ya actually…we really love playing in France. The South of France has some incredible venues in small towns that are really well funded and they bring in some amazing talent. Especially this one place in Toulouse, Le Bikini. There's a pool and the venue manager does a cheese and wine tasting before you go on stage.
WT: Ok last question before you hit the road – Is there one place, assuming I'd never heard your album, that you would want me to hear it for the very first time?
C: I think driving…in the summer. I can picture you right now- you're driving along the coast..scenic route..alone…blaring it and singing…I've never tried it, but I'd also like to listen to it blaring while driving around Berlin at night.
[soundcloud url="http://api.soundcloud.com/tracks/35756195″ params="" width=" 100%" height="166″ iframe="true" /]
Words & Interview: Nissa Rhodes and Michelle Sundvick
Photos: Nissa Rhodes