(Image courtesy of www.electric-banana.co.uk)
We briefly mentioned Local Natives early back in 2011 when they were just entering the limelight and the boys have had a massive couple of years since then. A last minute decision to catch the show last night at the famed Commodore Ballroom, I checked out their tour schedule online and saw a list of 'sold out' shows up and down the coast. I hopped on my bike and nabbed one of the forty tickets released at the door. Three hours later, I walked out totally speechless, buzzing and sweaty.
You know you're at a good show when you're about to pee in your pants and you don't want to go to the bathroom nor could care less about the the coat-check line you'll be standing in afterwards. Playing for over an hour an half, they began with tracks from their new album Hummingbird, an album dubbed as having a slightly 'darker' sound, they effectively mixed in crowd favorites from their 2010 album, "Gorilla Manor" lending to a beautifully sculpted journey through all ranges of their sound. The tracks I had previously associated with more subdued settings were transformed into head boppin', foot bangin' epic sing-alongs. Music truly intended to be experienced live.
The band's dynamic and energy transcends to the audience – their show is tight, concise and perfectly executed. A slow build, by the end they had us jumping up and down and shaking our fists in the air. What has been described as 'psych folk', their sound is a blend of well balanced three-part harmonies, massive guitar riffs and melodic, perfectly calculated reverberations. Even after an epic finish to a third encore the crowd wasn't able to let them go. Chanting their name, nearly seven long minutes later we were rewarded with yet another mind boggling fourth and final finish. Expectations completely surpassed, I fell in love with favorite tracks yet again and many others for the very first time.
Their success is well deserved and they've set the bar high for the show to beat thus far in 2013. If you haven't done so, check out their new album and catch them live as soon as possible.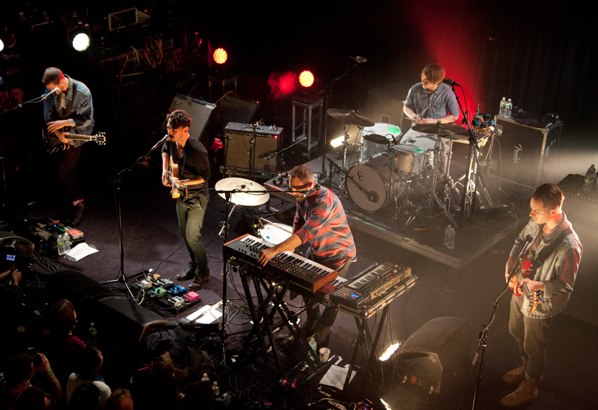 (Image: houselist.bowerypresents.com)