Upon watching CARVED IN MAYHEM for the first time, the first thing that popped into my mind was that it reminded me of my favorite short film of last year, NOSTALGIA.
It was the characteristic dark voice and rhythm of the narrator Johnny BANG Reilly which I had recognized. I got in touch with Dan Walser from the production company to clarify. It turns out the director of Carved In Mayhem had discovered Johnny's poetic talent through that same bespoke film last year. But there was far more to the man behind the voice than everybody had expected…
The rest of this true story is so fascinating that I'll leave it to Dan to tell.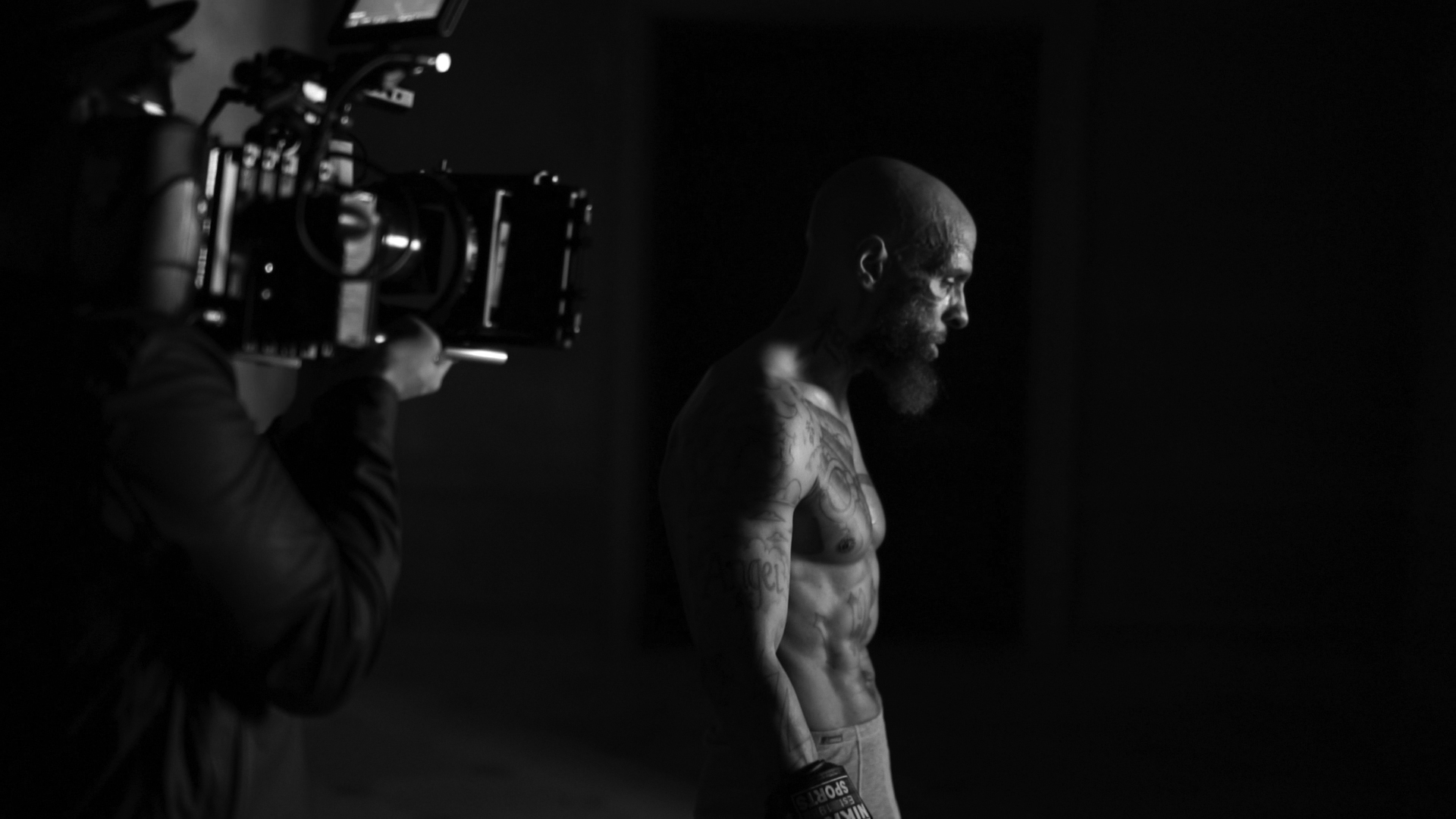 "Johnny Bang Reilly was, in his own words, "a child born into cigarette smoke, canned food, white bread, and beatings." His backstory began at the intersection of poverty and neglect; thrust out from a broken home to streets where survival was king and he was bound as loyal subject. But Johnny was a fighter in every sense of the word, so he hit back – self-trained, self-educated, self-preserved, and ultimately self-destructive. Armed with a body bent on destroying other bodies, Johnny daily breathed in hurt and exhaled hate. Hate for everything done to him, and everything he did to others. So to sedate the storm inside him, he gave himself over to drugs and booze, homelessness and incarceration.
For Johnny, life is a series of moments that demand a choice. Two paths. Light. And Darkness. The turning point came when, in a fit of calculated rage, Johnny decided to actually murder another man. He played it out a thousand times in his head, stalked, and stood at the very precipice of killing; and in that moment, an epiphany flooded in, that in killing this man, he was going to kill himself. So in that moment, he chose light. He chose to walk away. To start anew, even if everyone around him said it was too late. He wrote a new story.
Today, Johnny is a walking testament to the character that can be crafted out of chaos. At 52 years old, he has chiseled his body into the frame of a 20 year old. Not as a weapon for inflicting pain, but as a reflection of purity. He is a poet and activist, penning words that ascend to something bigger than himself. He is a father, replacing old wounds with fresh hope for the bloodline below him. And above all, he curates the art of light triumphed over darkness. And as Johnny would say, 'we are all the art, the art that vibrates the poem of the heart of our creator and provider'."
– DAN WALSER, Neighborhood Film Co.
"Johnny's story is about rising from the ashes no matter how late it might seem. It's a tribute to second chances, to the profound transformation that can come from one man deciding every single day to walk toward the good, even when society has labeled him the opposite."
Everyone involved in the film, at every level, sacrificed greatly to see it come to life. There is no client here. No brand behind it. No commercial payoff.
Every year, while they create films for brands, Neighborhood Film Co. apprentice formerly incarcerated adults during an 8-month paid apprenticeship. Equipping them to be high-level project coordinators with a versatile skill set that can translate into many different work environments. The goal is nothing short of complete, holistic life change.
Watch the TED talk by Neighborhood's founder, Ricky Staub: Business Without Boundaries. We also recommend you to watch the unofficial prequel to C.i.M. called 'Nostalgia' to learn more about the story of Johnny.
CREDITS 'Carved in Mayhem'
—
A Neighborhood Film Co. Production
Directed by Dan DiFelice
Narration written/performed by Johnny BANG Reilly.
Cinematography by Khalid Mohtaseb & Dan Stewart
Production Design by Joe Sciacca
Visual Effects by Framestore London
Original Score by Luke Atencio
Color by Tom Poole + CO3
Sound Design by 1-Louder
Edit by Dan DiFelice