The playfulness-radiating producer and DJ Crussen and guitarist Åmalm are now releasing their first material online and it's a short film intimately capturing the duo reflecting on their work and performing their very first original track 'Droplets'.
"We've jammed and written music together since 2015 but only made six live appearances in Norway, Amsterdam and Tulum. As of now, we let it develop slowly and organically alongside our respective solo projects. By not pushing it we can easily maintain the pure pleasure of experimenting and having fun when we get together and hang out. The live shows have all come rather spontaneously when word spread about what we are up to."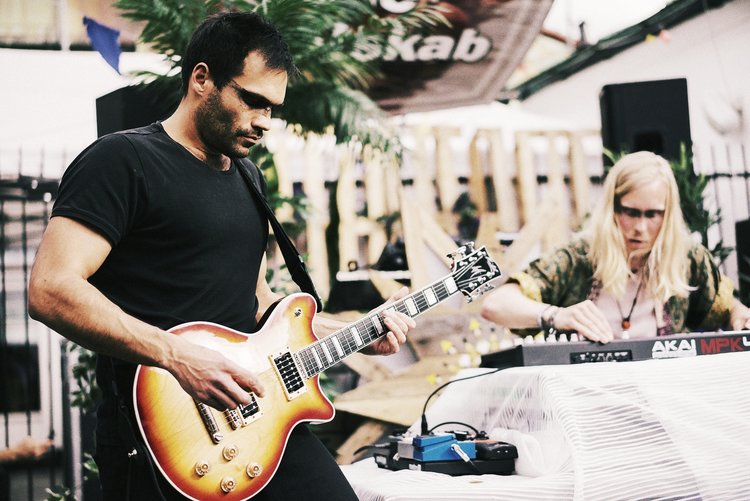 "This video is our first material made public and it is also the very first song we wrote and finished. It contains a lot of the things we love – electronic sounds, acoustic sounds, various and shameless genre flirtations, jamming, solos, mistakes and experimenting.
In the songwriting process, we try to stay curious and encourage each other to push our selves into new territories and try new approaches. It is essential for us to keep it playful and "say yes" to whatever one happens to play and grab little mistakes and quirks and use them as springboards for us to dive off of into unexplored grounds."
/Crussen & Åmalm
—
Marius Smith – Norwegian independent filmmaker describes the film –
"I really love to do projects like this. It's like putting a seed in the earth and the more love you give it, you'll eventually see it grow into something unique and original.
The main focus in this video was to make something trippy and experimental to support the musical vibe, as we jump between the live shooting of the melody and the musical performance scenes, and of course it needed to be an expression that could work for eight minutes. The footage is a mix of Crussen's studio and The Munch Museum in Oslo and it's also filled in with some zest from my own stock footage."