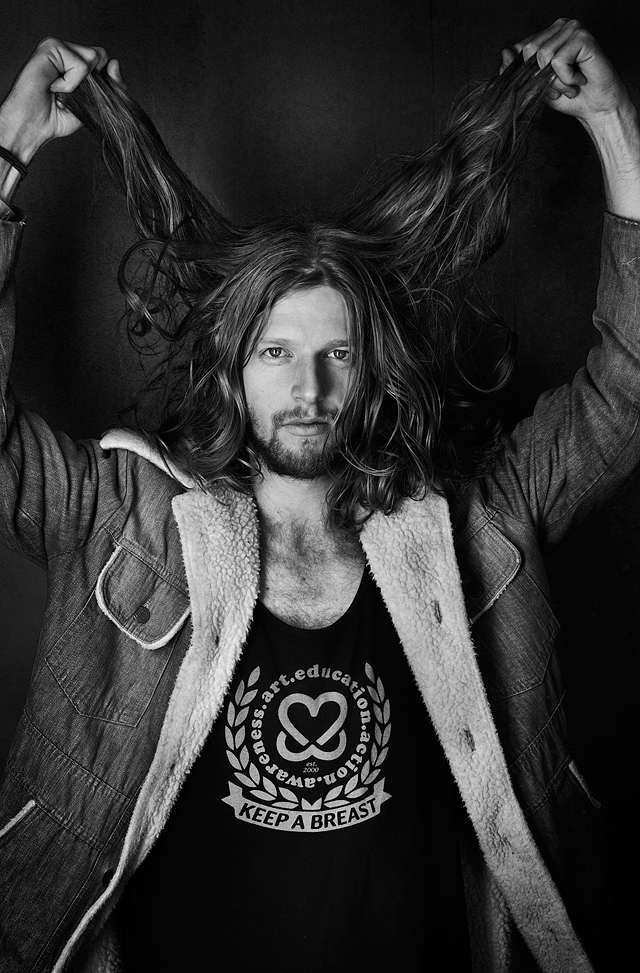 Image by Dean Bradshaw
Kith & Kell – Wilderness King – EP by Kith & Kell
Kellen Malloy is a producer, singer and songwriter living in Oceanside, California.
What's your drink of choice?
Jameson on the rocks.
Tell us about some of the projects you're working on right now.
My folk project Kith & Kell is where I'm spending most of my time right now, doing a kickstarter.com campaign right now to go along with releasing the debut EP that I'm really excited for – i've gotten a really uplifting response from people I've given it to. Also working on a DJ collab with my friend Cindy, we spin old disco loops and play live bass over them which should be really fun. Also a dance electro side project called Cream Abdul Jabbar that's on the back burner right now. Then just other composing work on the side to help pay the bills.
What's the worst clothing trend you've been a part of?
I basically forced my mom into buying me size 34 waist jeans when I was like 15….
What are you listening to right now?
Been putting on Simon & Garfunkel a bit lately. LCD Soundsystem's This Is Happening has been listened to about a dozen and a half times over the last month and a half. Really into the chillwave thats coming out lately with Washed Out and Neon Indian. Also M83's new track. Bon Iver, Bon Iver over and over and over again. Goin back to 2004 a lot lately with Arcade Fire's Funeral. Then just a bunch of old disco for the DJ project.
What group were you part of in high school?
Once a hipster always a hipster, hipsters 4 LYFE… haha nah… the 'non-group' maybe..? i dunno, i'm just glad schools over with – love you mom… 🙂 (35 year science teacher)
Who do you spend the most time with?
I'm a hermit… probably my roomates and my buddy Duncs up here in Oceanside.
Favorite song/artist?
I've tried and tried but I'm consistently incapable of answering this question…. theres just too many and I'm always evolving.
What does the word genius mean to you?
In terms of being an artist I think its really just honing your craft over hours, days and years to the point where talent, vision, influences, know-how, etc – just culminate into creating something really outstanding and something that genuinely represents who YOU are as a person.
Dream vacation?
A comfortable summer excursion through Europe.
What's the dark side of pursuing a career in music?
Nothing's guaranteed in this industry. At this point I often never know from where or when the next paycheck is going to come. Later on its more dealing with shadyness…
Have you had to sacrifice anything to get where you are?
Since moving to California, quite literally, if I don't need something I no longer own it.
What was the turning point in your career, and when did things start taking off?
Getting my first few big commercial composition jobs really gave me a big boost, but I honesty have not taken off from where I want to yet. I think I can say that its going to happen very soon and I've worked really hard at my craft over the last 2 years to have the confidence to say that.
What's next for you?
Making the move to LA in the winter, pursuing management and possibly a record label that will help me look forward to a full length in the next year and a half. To continue honing my craft as an artist. And just to have fun, I'm 25, I use to think that was super old, not so much anymore.
ON THE WEB:
HOMEPAGE www.kellenmalloy.com
TUMBLR beardsalwayswin.tumblr.com
TWITTER http://twitter.com/#!/KellenMalloy