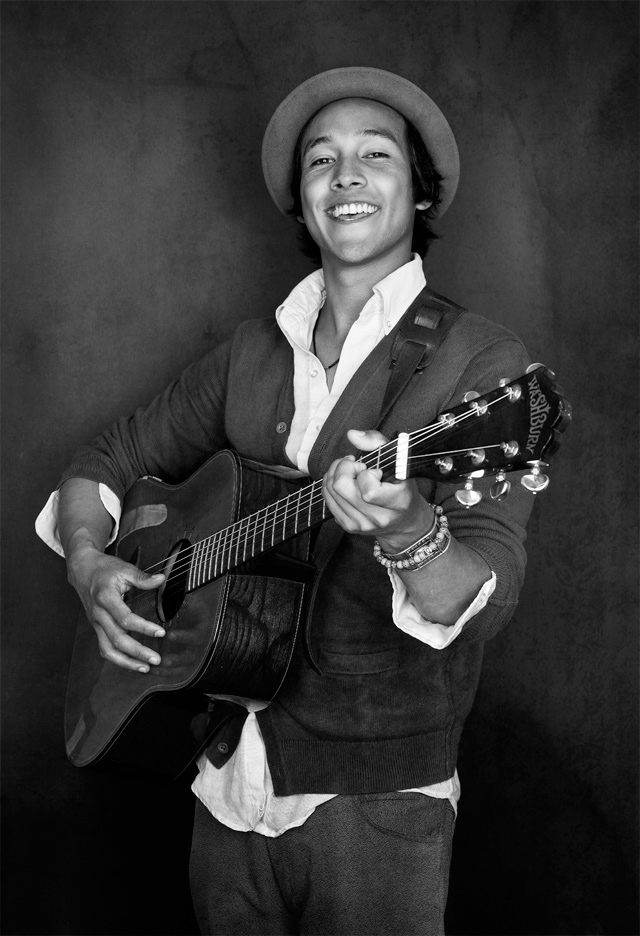 Tide Caught Fire by Vsal Moonwolf
Sam Luna AKA Vsal Moonwolf is a painter and musician residing in Los Angeles, California. We have had the good fortune to come across him in our daily meanderings for genius. These are his words…
Sam, tell us about your story.
I was born in a small town on the Navajo and Hopi reservation called Tuba City, went to school in Las Cruces New Mexico, moved back to Tuba City at the age of fifteen and then moved to Los Angeles at the age of 18.
I started this journey in the attempt to write a book about love and life and the pursuit of happiness. I realized though that at the age of twenty-one I had not lived enough life to take on such a project. So I began to travel again, along the way the things I wrote turned into poems more than anything else so I just continued writing poetry to document my path. When I got to Kenosha Wisconsin at the age of 23 I met some truly inspirational musicians that helped me begin to perform my poetry. The reaction I received encouraged me to hit the road again and share my words with as many people as possible. I returned to the midwest and finally decided to pick up the guitar and turn my words into song. I was always scared and thought I could never be as good as the musicians that I listened to every day. I realized that was the thing that holds all of us back. So in an effort to encourage others to believe in themselves I began to believe in myself. I played my first show three days after picking up the guitar and I haven't stopped since.
When did you decide music was something you just had to do?
I have always LOVED music my family bonded through it. I was just always afraid that I could never be as good as Al Green or Jeff Buckley or Nina Simone or all the other musicians I love. But on the day I realized its not about being better its about conquering your fears and joining the party I fell in love with becoming a musician. I will be in its pursuit for the rest of my life.
What were you doing before you decided to take music and songwriting to the next level?
Just about every job under the sun. Seriously – landscaping, construction, personal training, serving tables, bartending. I even worked at a Chevron just for the Chevron shirt.

Favorite musician?
Everett Thomas
Mac or PC?
Kraft

Describe how you come up with new material and song lyrics.
I dive into life and try to extract the marrow (hahaha). The process has changed over the years. I find the best songs come from saying the things that are near and dear to your heart. People know when a song is honest.
Is there one of your songs you're most proud of or that's your favorite?
The two I wrote for my parents, Duermete and Graciously Greeting.
Favorite musical instrument?
Tie between the sax and the violin and my dad plays a wicked air trumpet.
What's your favorite musical venue you've played in so far?
The beach. The ocean always roars with soothing applause.
Where would your ultimate dream venue be to perform and why?
I haven't found it yet. I feel like any opportunity to play music to make people smile is my favorite "venue" that can be a street a café, a hole in the wall bar in the middle of the desert or your couch.
What keeps you enthused in the musical industry?
The fact that its constantly changing so if there's something you don't like pick up an instrument, grab some friends and make a change.
Tell us about the dark side of pursuing a career in music.
Theres a lot of poachers out there, a lot of snakes a lot of people that will try and take the originality you struggle to create and try to turn it into ordinary by dangling dollar signs in your face.
What was your fallback career option if a career in music didn't work out?
There is no fallback. If you think for a second that you won't succeed you never will.
Tide Caught Fire -Sam Luna Live at the Mint from Secession Obsession on Vimeo.
Tell us aboout your kickstarter project
Here is a link to the kickstarter
So I am currently recording my first album, which I am so excited to share with everyone. I am also publishing my first book of poetry which I have been working on for years, so I am eager to finally share both of these with you. I am asking for everyone to be a part of bringing this project to fruition. I have a great group of amazing people willing to be a part of this project already. I am asking that together we raise at least $10,000 in the next 15 days. I will be playing music and promoting this all over Southern California.  Playing shows, festivals, I have several different blogs that are spreading the word, and will be doing some radio shows as well. I also am fortunate enough to have AMAZING friends all over the world that will be helping me spread the word to all of their friends and family.
The money that we are gathering together will fund studio time, production, mixing, mastering, printing, equipment, my first music video, promotional photoshoot and will also help fund a tour that will be promoting this project through over twenty cities! Taking all this into consideration you can understand that I have asked for the bare minimum to bring this project to life. The more money we can raise the better this project can be. I will be filming the whole process and tour and be releasing a documentary on the whole experience as well. My goal is to make as many people smile as I possibly can and share LOVE. TOGETHER, I BELIEVE WE CAN MAKE A CHANGE. No art no life.
The tour is an opportunity to say:
the day breaks and i am broken
with the new light of color
that reflects the depth of my soul
the night falls and i have fallen
from the grace that has been bestowed
life is fleeting and i seem to be in its persuit
seeking a treasure that can not be found with mortal eyes
and can not be posessed with an unclean soul
so im left wondering if all these things that ive done
all these hellos that go unnoticed
all these hours spent thinking of you
all this love that is misconstrewd
has my life been wasted on you'
have i indulged my being with the thought
that maybe one day youd see my light
all the while forgetting to let it shine within
have i wasted my life on you
have i lived in a fairy tale
believing one day my dreams would come true
have i believed a lie to think
that one day we would see an end to war
have i wasted my belief on you
all these hours that have amounted to days
and all these days that have amounted to months
and all these months that have amounted to years
and all these years that have amounted to now
this moment when i write these words to you
and all your hours and days and months and years
that have amounted to this moment as you read my thoughts
were not a waste and could never be considered as such
because we needed them to reach this moment right now
the moment we decided to become the change we wish to see
the moment we stood up and said
i am tired of the way of this world
i am ready for change
i am ready for love
i am ready to end hate
i am ready for peace
i am ready
i am ready
i am ready
are you ready
And finally, who is your favorite ninja turtle?
You already know. If you need a color it's orange.
Thank you Sam.
To find out more about Sam and his latest project, check out his website here and Kickstarter project here.
http://www.youtube.com/watch?v=1TfID_PbMFE