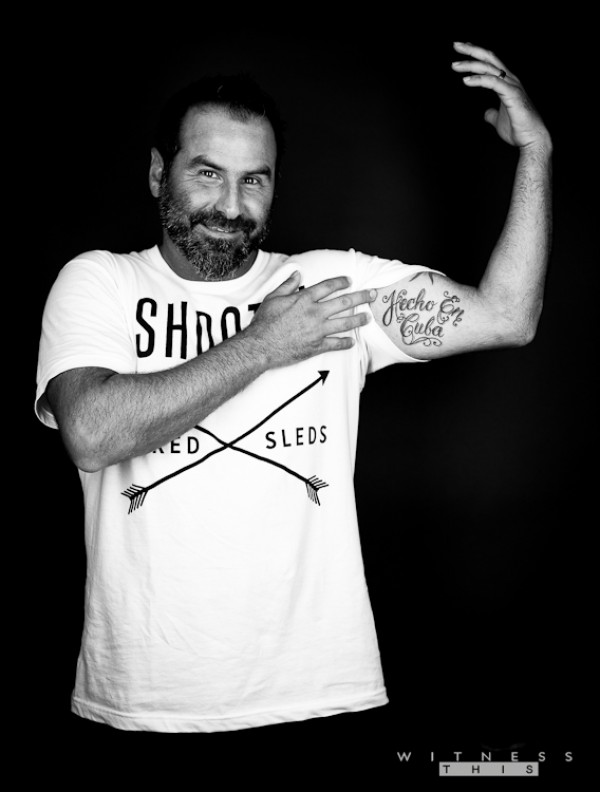 Tocayo works so fucking hard. Last year he was commuting from San Diego to Irvine to work a full day, then heading straight downtown to paint murals in El Camino till one in the morning. He did this for months, and it hasn't stopped there, he is constantly pushing his art in new directions and is at the forefront of the scene in San Diego. We feel so fortunate to be able to spend time with El Gran Tocayo talking about art and what inspires him.
His love for painting and his lifestyle is very evident as he walks us around his house talking about, art, surfing, his dog, and his beautiful fiance (not in that order). Tocayo is a Genius, and so is Juan Marante the character behind the infamous Tocayo.
What's your favorite time of the day to work?
Midday/late morning is my favorite time. I miss my freelancing days, I'd wake up, grab a latte, check the surf, poop, then paddle out if it was worth it or just start working and be done by 2 or 3 and then go for another surf. Those days are long gone but they are still in my head, hopefully one day I'll be successful enough to where I can do my own thing from home.
Can you tell us a little bit about your process? How do you start? What are the steps to completing one of your pieces?
First step of the process is the thinking about it part, I hate that part, especially if it's for a cheap client. I've learned to eliminate those out of my life, of course having a 9 to 5 helps turning down shit jobs pretty easy. Next step is loose sketches, then the tightening of the sketches and eventually the finished piece. That's for t-shirt graphics but the process is pretty similar for paintings too. I think long and hard, and procrastinate like a muthafucker til it's absolutely time to get shit done. For paintings now a days I've been experimenting with watered down acrylics and loose charcoal sketches on the actual surface I'm working on, then I leave all those shit drawings and subliminal writings (usually done at night when I've been drinking) on there for people to discover and then I paint the hero piece over it, and of course ink it, since my style is mostly comic driven.
If you had to be known for just one piece you did which one would it be?
Shit man, I don't know, I don't really have any favorites, but if I had to pick one I guess it would be one I gave my buddy Neko. It's a greaser dude form a band, imposing that he's the devil and he has some death figures around him. It's a big piece and has a  lot of dark, scary illustrations within it in pencil. I guess that one would be it, but I've taken that style and kept rolling with it so all my new stuff is starting to look like it, so who knows? Maybe I'll have another favorite tomorrow.

What do you usually listen to when you paint/draw?
Anything I'm feeling at the current time really, anything from 70's classic rock, to cheezy hip hop, like Chiddy Bang or Kanye. Or I'll just put Pandora on, it seems the stations get better at night for some reason. Am I crazy to believe that?
Is there someone whom has really influenced you in your painting?
So many people throughout the years, but at the core of it all, it always boils down to my hero's growing up and reading comics, like Tom Fowler, Todd McFarlane and Francesco Francavilla to name a few. But artists such as Barry Mcgee, Thomas Campbell and those types are so inspirational to me too!
What has been your favorite art show you've been a part of?
Wow, there's been some great one's, I've done 2 for Sezio that have had great turnouts and they we're in cool locations, one was a solo show at the Luce Loft right by Petco Park, that was rad. But my friend's Sean and Stacey threw the mother of all shows at a restored building in Bankers Hill, where all the rooms had a different artist paired up with a musician or DJ. Fucking genius! But there have been many other awesome one's that I just can't name for boring the reader's sake.
What are the good and bad parts of being an artist in San Diego?
The good part is, you live in San Diego, helloooo! This place is unreal. Sick neighborhoods, spectacular views, amazing weather, good waves, mellow people (for the most part) and yes… all this affects the way Art comes out. It's such an inspiring city, there are so many talented artists and musicians all around us. All you have to do is break your routine and drive down to the city if you live in North County and vice-versa, there is much more going on outside your bubbles that you can imagine. The only down side, if you want to see it that way, is this isn't a metropolitan city. So no, there aren't millions of people everywhere like say NYC or Miami or LA, so the art and music scene stays pretty mellow for the most part, with some occasional main stream attention from time to time. But I wouldn't trade it for any of those cities, I've been or lived at all of those places, exciting, but not for me.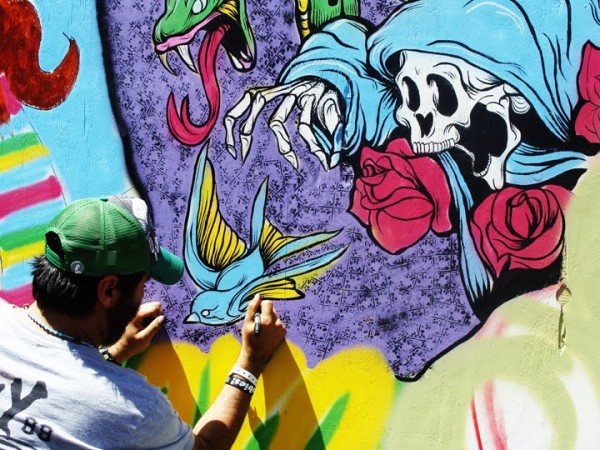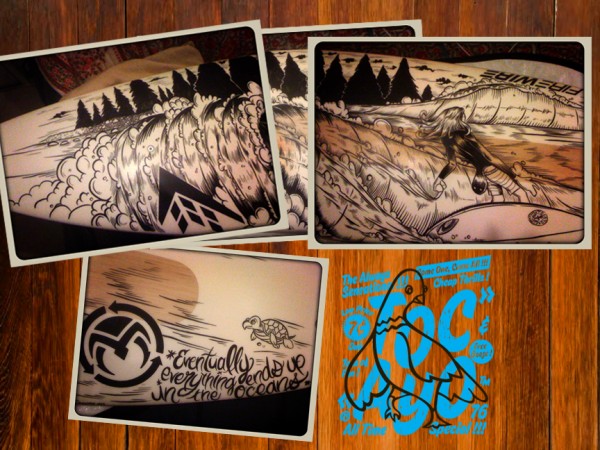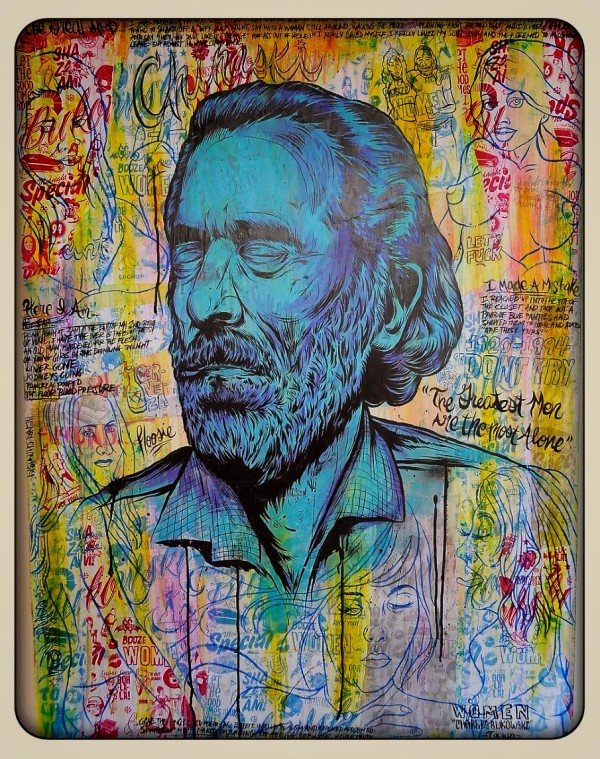 Are you currently working on any projects?
Yeah, always. I got a few mural gigs coming down the pipeline really fast. Also have a few art shows where I have to submit a piece or two for, so I'm staying busy. Also getting married soon, so that's exciting. Gotta stay busy man, if not you go mad. Idle hands do stupid things…thanks you guys, you're all fucking rad and I love hanging out with you whenever I get the chance. Thanks for wanting to put me on your dope blog. Take care and I love you.
see more of Tocayo's art here.
-WT
art by Tocayo
photography: Dean Bradshaw