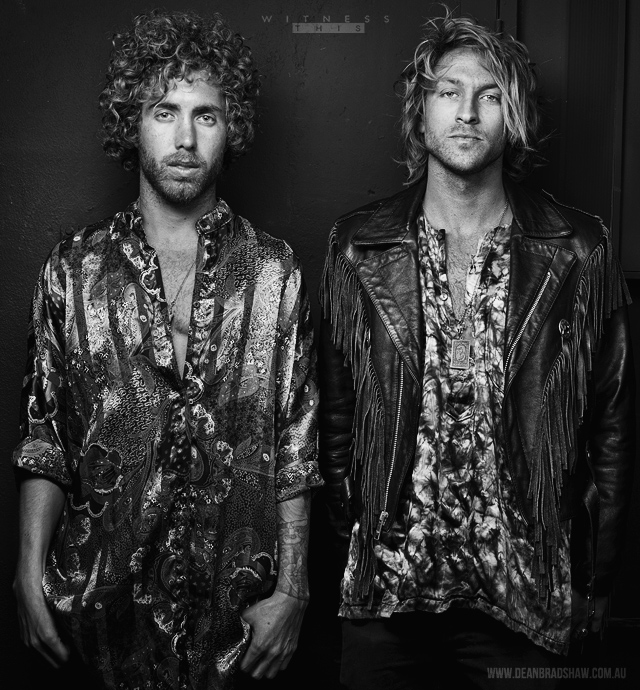 Left: Adam Winn (Hot Damm) Right: Chris Hess (Cookie Sugarhips)
Image by Dean Bradshaw
Boy You Need Jesus by Le Blorr
Le Blorr spawned from the sass of divas past and the acid trips of rock n' roll ghosts. The duo of Chris Hess (Cookie Sugarhips) and Adam Winn (Hot Damm) combine booty shakin psychedelic rock n' roll with a sense of grit and beauty that captures the hearts of their listeners.
_______________________________________________________________
WitnessThis: Where did it all start?
ADAM: In Jacksonville, Chris actually started first, recording songs on a laptop, with just a drum machine kind of thing, and he would send them to me. Then he started playing for a little bit with a guy named Travis, and then that fell out. Then Chris had a line of four shows coming up, and he called me and was like, "Hey if you have a couple days, you can try to learn all the songs and we'll play." We did it and it went really really well, and since then we've been playing together ever since.
WT: What do you think the worst clothing trend was that you were a part of?
ADAM: I remember in 9th grade my mom bought me a couple Tommy Hillfiger things. A nice shirt and jeans. You know the blue jeans, with the strap on the side. It was pretty bad.
CHRIS: I was a wigger until 7th grade. I was more of a classy wigger. I really liked playing basketball, and my friends were all like older black dudes. I would just try to dress like them. I also definitely wore jeans and flip-flops for a while, "jandles". "Jandles" was a pretty bad time in my life. (laughing)
WT: What's your drink of choice?
CHRIS: Tequila
WT: Are you working on any new projects?
CHRIS: We've been writing a bunch when we're home. The last EP we finished, a lot of the songs were written two or three years ago. I'm definitely excited to record some newer stuff. I wrote an erotic novella, and I'd like to have someone illustrate it. I might just draw shitty drawings for it (laughing), or make a short film…(pause) but that would run into the porno genre..s.o I don't know.
WT: Any sacrifices to get where you are at right now?
ADAM: I had to give up a job I really liked, it was my dream job, I was doing marketing for Nike. But when this was starting to get going more and more, I had to decide on one or the other obviously.  A couple girlfriends didn't hold, from being gone so much, but that's about it.
WT: What was the turning point for Le Blorr?
ADAM: Not the last trip, but the trip before to California, we met the guy managing us now, and the trip after that he got us a booking agent and started to build a team for us. His name is Rick DeVoe, and he's awesome. He gets along with us really well, surfs, he's just a really cool guy.
WT: How has the music scene changed since you got into it?
ADAM: I feel like it's always kind of changing. Right now the music I'm seeing the most is grungy surf rock. But I think it's cool how rock and roll does never die, its always there. I feel like that's what were based in, in rock and roll, and probably always will be. I also love when bands try new stuff and they don't stick to the same thing. We like to try all kinds of new things, but we always keep rock and roll as our core.
WT: What music inspires you right now?
CHRIS: Rythm of the Saints, Paul Simon, I kind of got obsessed with that for a while. Before when we were writing stuff for the EP, I was listening to more stuff like Death From Above, or Queens of the Stone Age. I've been listening to Tame Impala, and the old rock is always great as well.
ADAM: I feel like it's always changing. This past year I was most inspired by was Tame Impala. But if you go back and look at the band I probably was inspired by the most, it's always been Led Zeppelin and Radiohead, I'd say those are my two biggest influences.
WT: Adam, do you ever feel like you want a mic stand in front of you, to sing as well?
ADAM: Sometimes. Every once in a while I'll get up there and talk, and we've been trying to work on getting my vocals going, but we're not quite their yet. But we'll get their eventually.
WT: What has been the best venue or best show you've played?
CHRIS: We played with Cold War Kids, at House of Blues in Orlando. We've been going to that same House of Blues since we were both 14, to go to shows. That was one of the best feelings to play there, sort of a surreal feeling, that was both of our dreams to play there forever. And when we finally did, it was in front of a really big crowd..it was probably one of our favorite shows so far.
Find Le Blorr in the following places.