After seeing them enter to a sold out crowd at Great Scott in Boston a few weeks ago, I was fully prepared to write an article on the magic of Black Light Dinner Party. This secretive NYC group (they don't do interviews and say absolutely nothing of who they are on any of their 'bios') has released only 4 songs to date but whipped us into a frenzy for well over an hour. Favorite 'Older Together' was not even CLOSE to their best song and I'm beyond stoked for their new music to officially come out. Alas, something happened between that show and today and I can't ignore it.
Milo Greene happened.
Another band to blow through Boston while I was there. They played at The Middle East, a cool historical spot in Cambridge, and before that night I had never heard of these guys. Robbie Arnett, Graham Fink, Marlana Sheetz, Andrew Heringer and Curtis Marrero make up this ridiculously talented LA based group. As you've maybe noticed, Milo Greene is actually NOT in the band…the name comes from Arnett, who as a struggling musician made up the name to be his 'fictional publicist.' According to a cool article on NPR, Arnett said "Milo Greene came to fruition when I was going to college with Andrew Heringer, who's also a part of the band. We were in separate bands, and we wanted to sound a bit more professional. We wanted a booking agent, a manager, so we created a Gmail and starting sending people emails, calling people, on behalf of Milo Greene." I love this. "When you're calling on behalf of your own band, they kind of disregard you, but when you have someone speaking on your behalf, it helps." Well, it worked. They are playing bigger and bigger gigs (Lolla last weekend) and in fact just found out they'll be touring with not only The Walkmen, but also Wilco. Buh Bye.
I've had the self-titled album, Milo Greene, on repeat since my friend told me about these guys. The record as a whole is very grounding but has tons of movement. Think Vetiver meets Head and the Heart meets Mumford & Sons meets Blind Pilot. Their songs make you feel good. You want to step inside of them and have a sit for awhile. They evoke memories of a first kiss, yearnings for a lost love, reminiscence about a summer from your childhood. Lyrics are simple but gutting.
We here at Witness-This generally lean towards the very indie-electro-funky-shoe gaze-disco-pop-nu-wave-ish tunes. Today I hope to introduce something different. If you're already on the pulse of this band, I'd love to know your experience with their music. Where did you see them? Did you get the same 'something special is going on here' feeling when you heard their album? As you know by now, this blog at it's core, is about sharing, about community. So let's talk. Milo Greene…are you worthy of our attention? My ears say yes.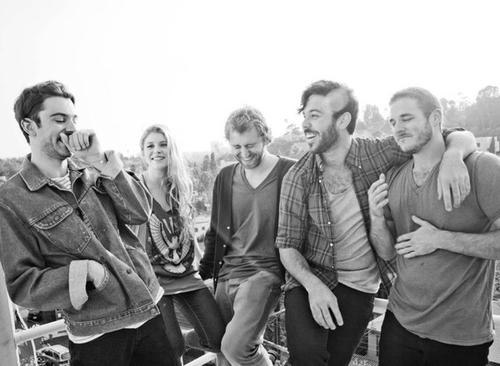 Check out Converse & Filter Presents Hometown L.A.: Milo Greene Video HERE