Words & interview by Philipp Vogt.
Image courtesy of Shot By Andres.
—
Do you know those nights? Those nights that, like a rare butterfly, you can catch maybe once every five years if you are lucky?
When you walk into that party… and you hear the first beats of the music. You look into the first couple of smiling faces. You can almost TOUCH the vibes and the connection. And there is this one moment when you know (you just KNOW) that it's gonna be a night full of magic… in which, upon thinking about it later, the time stood still, and the universe seemed to be in that perfect order? The night I first met Kiah Victoria was one of those.
A night out with Kiah Victoria.
We had been out dining altogether, and ended up dancing with our crew at Berlin's Ritter Butzke. One of Kiah's friends had told me during the course of the night that she is a singer. And in the morning hours, while Dejan from Cityfox was dropping an incredible afterhour set, we were dancing next to each other in front of the DJ booth. So I start playing around with her, asking if she would mind to sing along a bit. Thinking back now, I don't know what I was expecting…
And she begins to sing.
And.
She.
Be-
gins.
To.
Sing.
Not exactly the song she sang back then, I cheated. But my best shot to give you a faint idea of the goose bumps I had that magical morning. This is one of her latest songs published on the new EP 'Gravitate' that has just been released couple of months ago.
For Valentine's, WITNESS THIS is proud to be the first to release a brand new mix of one of Kiah Victoria's older tracks that was released for Valentine's one year ago to the date! Find it below along with an interview she gave me about music, love and life.
We bet our asses that we will hear more from this talented young lady in the years to come…
—
WT: Kiah, we met in Berlin. What is your memory of your time in that city?
Kiah Victoria: It's hard to consolidate all the different colors of Berlin. But my memory is sweet and strange and unlike any other. Berlin has such a mysterious quality to it while at the same time feeling so open and accessible. I must return.
WT: What are you up to these days?
Kiah Victoria: As of late I am completing my degree at the Clive Davis Institute of Recorded Music at New York University, performing in, around and outside of the city, writing new music and preparing to shoot two new music videos from my latest EP Gravitate. This week I'm playing World Café Live in Philly and Joe's Pub in NYC back to back (February 14th and 15th respectively). My first two shows of the year, I'm so excited!
WT: I hear different influences in your music ranging from hip-hop, soul, R'n'B to Trip-Hop, and electronic elements – how would you describe the style of it?
Kiah Victoria: My style is certainly a fusion of all the elements you mentioned with a focus on vocal arrangement and textures. Today I'll call it lush alt-r&b.
WT: 'Alt' as in 'Alternative'? Forgive me, I'm German.
Kiah Victoria: Haha, no worries. Yes, alt as in alternative.
WT: I understand you have been on THE VOICE, and the Broadway. Can you tell us a little more about it?
Kiah Victoria: I made the top 120 on Season 2 of The Voice and got flown out to LA for a month to prepare for the blind audition. It was all very exciting- Carson Daily came to my class at NYU and surprised me with the red envelope and everything. When Blind Audition Week finally came and my whole family was waiting backstage, the last slot on Christina's team filled moments before I was set to take the stage and I never got my chance. It was pretty tragic at the time, but the experience completely knocked me on my ass and made me realize that I do not need any third party organization telling me what my art is.
I starred in the Lion King on Broadway as young Nala when I was 9 years old and it was probably the most magical thing I've ever experienced.
WT: When did you know you wanted to be a musician for the first time?
Kiah Victoria: When I was 6 years old and I sang My Heart Will Go On for a church conference and I just remember feeling so content and so sure that I was exactly where I needed to be. My mom got me this blue velvet dress and I felt so special. It was actually the first time I got paid to perform. $80! Whoop. Over the years I have begun to more deeply understand the responsibility and importance of being an artist, no matter what the medium. I feel lucky to have that responsibility.
WT: How do you keep a voice like that in shape?
Kiah Victoria: Ah, the ever present struggle- how to protect the goods while being a young person and doing what young people do. I'd say routine vocalization and constant HYDRATION. Water is like God.
WT: Who have you been producing with?
Kiah Victoria: My main homies Tolu 'Toulouse' Adeyemo and Gian 'Gnyus' Bravo. Two extremely talented young men, classmates and dear friends of mine. I highly recommend you see what they are about.
WT: Looking at your album history so far – how did your style evolve?
Kiah Victoria: I would say the sound is moving to a more alternative, beat heavy, electronic space. But you never really know. My main focus is accessibility. I want to challenge and tantalize but always invite.
WT: Who inspires you? Do you have any idols?
Kiah Victoria: I certainly do. A few that come to mind are Little Dragon, Donna Summer, James Blake, Beyonce, and Miguel. They are all movers and shakers and extremely hard workers. I appreciate that so much. Musically and stylistically, I gravitate toward each of their unique expressions.
WT: What are your creative routines?
Kiah Victoria: My creative routines are kind of becoming my life routines. I do daily morning pages where I write 3 pages about anything and everything or nothing at all- uninterrupted (an amazing tool I picked up from a book called The Artist's Way
that allows me to dump all of my thoughts onto a page and clear some mental space). YOGA gets me into my happy place. I try to go twice a week. I vocalize, and write musical diddies that sometimes turn into actual songs!
WT: As a musician, what's your take on music sales nowadays, and the impact the internet has brought along in the form of Spotify, iTunes etc.?

Kiah Victoria: That's a loaded question. Old heads often talk about the golden age before Napster, the Internet, Spotify and iTunes, when the industry was overflowing with money from physical CD sales and all was well with the world. While I definitely wish I could have experienced that industry and that time, I am well aware that we are in a very different and exciting era. The digital age has completely shifted the way people think about and consume music. While the proliferation of file sharing, and illegal downloading has severely decreased record sales across the board, it's still such an exciting time for music. As artists and music entrepreneurs, we're forced to find innovative and creative ways to get people to give a shit about our music let alone buy it. Beyonce's visual album is an incredible testament to that reality. Platforms like Spotify and iTunes allow us to get our music to a larger audience. Without Spotify and iTunes there would be no hope for artists both old and new. These music streaming and downloading services are one of our most direct pipelines to the listener.
WT: I saw you appeared in Jay-Z's "Picasso Baby: A Performance Art Film". Good energy there. In your opinion – what separates an artist like Jay-Z from the million other talents out there who might have the same age and skillset, yet will be never able to even earn their living with their art?
Kiah Victoria: Jay-Z is a business, MAN! Hah, he said him himself, and he wasn't lying. He is one of the most driven creative minds in this industry and he refuses to be anything less than excellent. Being in a room with him was quite an experience. He has charm and a way about him that exudes cool confidence. But he doesn't seem to take himself too seriously. He's passionate and hungry. You just have to want it- yearn for it like you yearn to be loved.
WT: Ah, LOVE. A good transition: what meaning has Valentine's to you?
Kiah Victoria: Don't mean nothin' to me. It will when I find my boo thang for life.
WT: So no Mr. Victoria out there right now who gets kicked in the butt if he doesn't bring flowers?
Kiah Victoria: Haha, not to my knowledge.
WT: What's in the pipeline for the future? Any upcoming projects you would like to share with us?
Kiah Victoria: I'm releasing a rework of an old tune of mine on Valentine's today. I actually recorded it at nHow studios on my last day in Berlin exactly one year ago!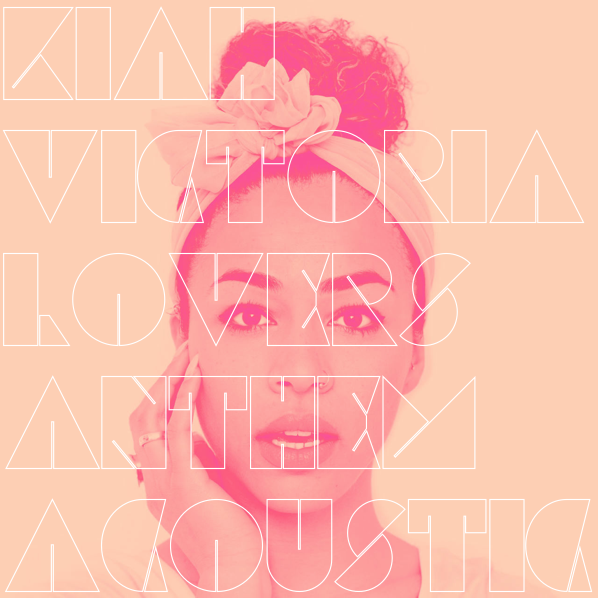 (Luckily, Kiah seems to care just enough about Valentine's that she provided WITNESS THIS exclusively with it so we are proud that you can download it here.)
Looking forward to premiering music videos for my songs "Breathing Is Too Easy" and "Aurora" in the coming months and gearing up to play some fantastic venues in the city! If you're in Philly on Valentine's Day, come through the World Café Live. I'll be doing some Maxwell's classics and a few originals. The following day I have the honor of headlining Joe's Pub in NYC- my first New York show of 2014! We're constantly working to bring forth sounds and visuals that really resonate. I look forward to working my ass off and bringing important art to the world.
WT: Thanks so much for your time, Kiah. Berlin and L.A. are waiting for you.
Kiah Victoria: Thank you guys. Give Berlin a fat kiss for me.
—
Kiah Victoria has been nominated for the first ever 'College Woodie Award' by MTV in 2013.
Check the Soundclouds of her latest EP 'Gravitate' below, which ranked #68 on iTunes Top R&B Albums in December 2013. If you like her voice as much as we do you can buy it through iTunes or stream it through Spotify.
—
Follow Kiah on facebook, Instagram, Twitter, Soundcloud or visit her website where you can also find previous releases.
—
You can listen to Kiah Victoria's 'Gravitate' EP and buy it on iTunes below if you dig it.