The red wine blends with the Camembert in my mouth as I get carried away to another place. Julien's voice lies in the air like a whisper while Fabien is supporting his partner on a mandoline. In this very moment the two musicians are IN the music, totally spaced out. I can feel the non-verbal connection between them, something like a sixth sense of understanding each other without speaking, just through the art they share.
Julien and Fabien have invited me to their studio space in Berlin-Friedrichshain this afternoon, and the magic of their music confirms my earlier gut feeling that I was pretty damn right to follow that invitation. Their style is dreamy and melancholic, "happy sadness" as Fabien likes to put it, sitting on the edge of where Folk and singer/songwriter mingle with atmospheric rock.
I am witnessing songs off their latest EP 'White On White' that has been released on bandcamp the other day.
I'm amazed by the variety of instruments these two artists have mastered – mandoline, ukulele, piano, concertina, acoustic guitar, bass guitar… and just when I think I've heard it all, Fabien starts playing the bells. Julien sings all the vocals, and his slight french accent that I wasn't able to allocate when listening to the album for the first time now perfectly adds to the authenticity that these guys have in excess.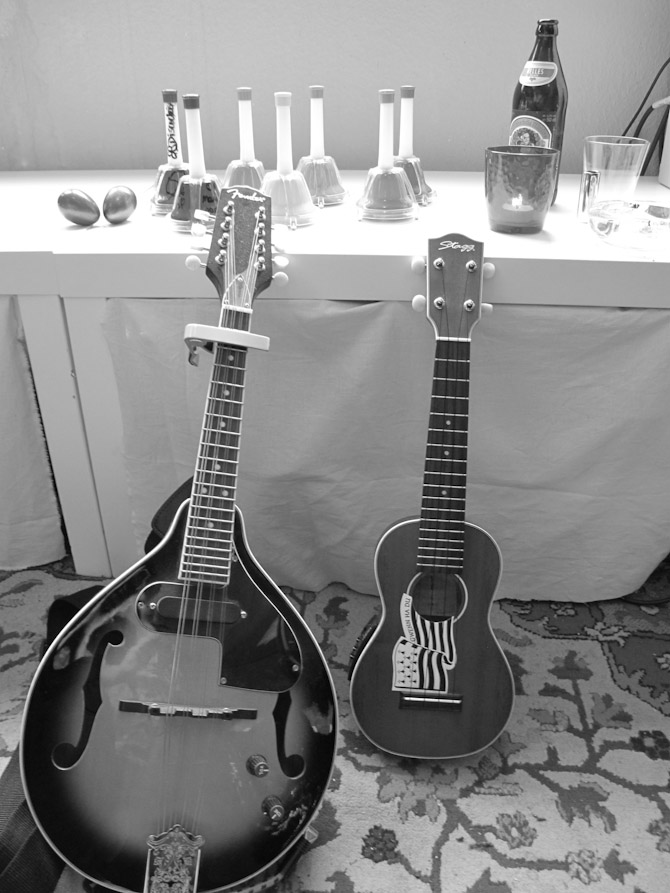 "I like when people are a bit confused."
–Julien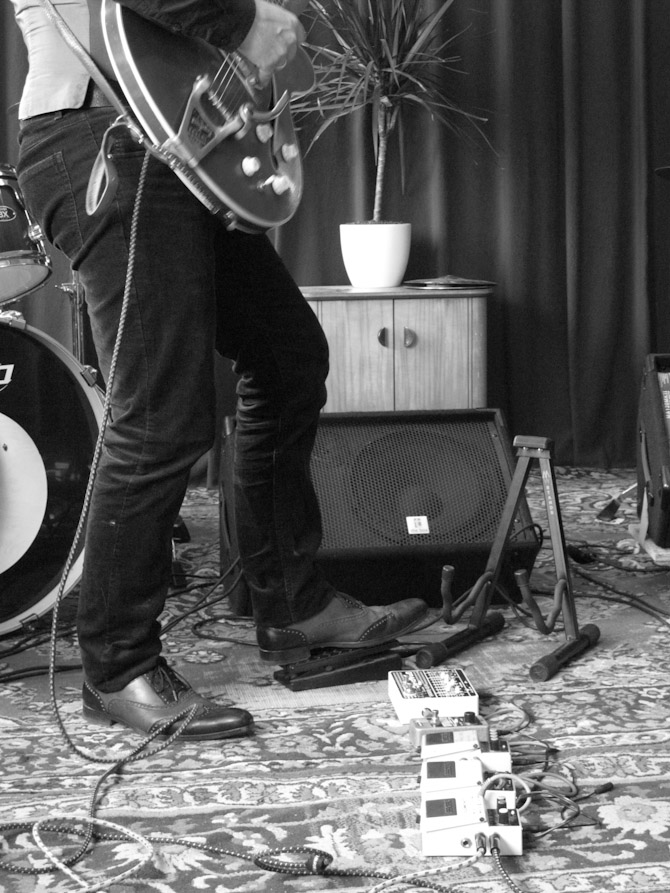 "Berlin is the place you can be who you wanna be. And who you are maybe not."
–Fabien
"Aquatic folk. We have a lot of waves in our music." Two hours earlier I am sitting in the sun-flooded artist playground of RAW with my two hosts, and I've just added a new musical genre to my repertoire. Fabien takes a cigarette out of a coffin-shaped dispenser. "It's to remind me I'm on my way to stop. You are dying each time you take one." Apart from that gadget the two don't seem to be living on the dark side of life, in spite of the melancholy in their music. "People who saw us live will probably have a completely different picture than people who just listened to the recordings."
I'm curious how the band got its name. "It's an enigmatic question", Julien lets me in. "A question is supposed to have answers. Who are you? Who am I? Who Are You Lutra Lutra? It's everybody and nobody at the same time. I like when people are a bit confused." Each of their songs is connected to a story the guys have lived through, the boys inform me, very often when travelling together. "We are obsessed with memories, and how your brain sometimes tricks you", Julien explains, "it makes you invent stories sometimes, and you are sure that it happened. These feelings are very present in our songs."
As their musical influences the boys quote underground songwriter Peter And The Wolf, Herman Dune, Damien Rice, Jimi Hendrix, Stevie Ray Vaughan, and Jeff Buckley. We are touching on many subjects this afternoon, and I learn a lot about an artist's life in Berlin, earning your living with music, and the struggle of a newcomer band in the digital era.
I realize how alive I feel connecting with these two artists about their music. We are sharing a vegan lunch with a cold beer, and the simplicity of the moment on this beautiful day brings back memory that there is things in this world money can't buy. Doesn't feel like my mind is playing tricks on me.
—
Who Are You Lutra Lutra? are Julien Thomas and Fabien Thomas. Born in France, they are currently living in Berlin.
If you can feel their melancholy pay a visit to their website or follow them through their socials (facebook, bandcamp, Youtube, vimeo, Soundcloud).
Also make sure you check the beautiful video portrait that was shot during the Who Are You Lutra Lutra? Australia tour, and if you are lucky you might be able to witness them live in a living room concert in Berlin this fall.