Vancouver's Top Less is really damn good at creating a buzz. Repeatedly selling out local venues over the past few years and well-known for the sweatiest, glitter infested dance parties this city has to offer, the band is now set to release their very first full-length album and it's causing quite the stir. Surprisingly though, these guys (and a gal) have yet to really break out outside of their local sphere. This album is intended to change all of that.
A collection of the band's creative imaginations, the new self-title album, 'Topless Gay Love Tekno Party' is a cohesive myriad of expertly crafted futuristic electronica. The tracks incorporate the collective experiences' of various band members and ultimately taps into something completely universal. Layered in electro-synth pop explosions, this is a 'put-on-your-favorite-spandex–popped-too-many-skittles-and-made-up-a-new-dance-move' album. In a fantasyland of fake tropical weddings, this may be the only album you'll ever need.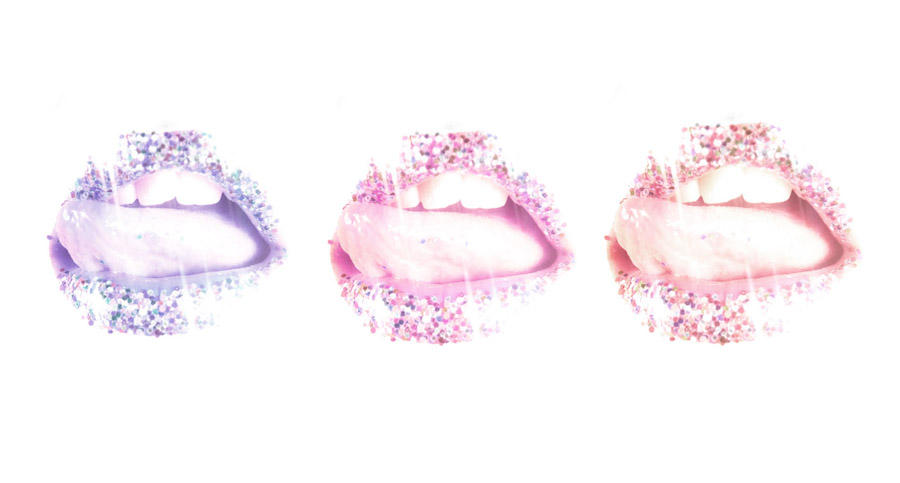 The crew has been laying low this past year yet with the album out September 3rd, a new look, a new website, new promo video, and the music video for their new single, 'Danger Love' out next week – they couldn't be further from dormant.
Following up after a bit of time off from the circuit can be tricky business. The momentum of early success is hard to maintain and when you're managing the schedules of seven busy individuals, it can be hard to find time to create new stuff let alone even the time for rehearsing. They've been performing many of the tracks on the new album at their shows but they've all been given a complete overhaul.
"We stripped it all down, redid all the drums, a bunch of the guitars, re-recorded the vocals, maybe kept the lead rhythm guitar lines on some tracks but everything is really synthed up." – Michael Shindler, lead vocals, guitar
Their new single, 'Danger Love', showcases Torr's vocals beautifully, combining the strength of Cat Power and the playful nature of Summer Camp. Yet don't be fooled by this soft ballad, it's a breath of fresh air amidst a sweaty sweaty electro-pop dance floor explosion.
I caught up with front man Michael Shindler, Donné Torr (lead vocals, keys) and Lucas Hamilton (guitar, keys) and dug into the origin of the spacesuits, what's next and how they're going to store all of that glitter on the road…
Witness This: Where would you envision someone listening to the album for the very first time?
Donné: "On rollerblades heading down the strip to the local mall."
Michael: "I mean, I'd always say Berlin. But I guess I always go there anyways. But it's more like a full day in Berlin. There are chill moments but there's also the time you're getting ready to go out at night."

WT: "You're in the city then?"
M: "You're in the city for sure. Urban. Smokey bars. I also think maybe there are some gender non-specific drag queens involved."

WT: "What venue do you dream of playing at?"
M: "Hollywood bowl. Haha, I've never been there. There's these 'made it' venues. Like when you've made it, you play there. Madison Square Gardens is one of them. Festivals, like Glastenbury is a big one. Coachella is a big one."
Lucas: "What about Showboat?!"
D: "I would love to play Showboat."
M: "Ya but it couldn't be just like we were just playing though- like a freebee and we're there and we're like 'hey, if you want to come and you walk by you can see us. We want to be like, 'we're playing – you HAVE to come."
WT: And a venue in Vancouver?
M: "Commodore. If you've made it as an indie band, you play The Commodore. But Richards is the ultimate. I've never seen so many shows as I did at Richards that blew me away. I used to go to shows religiously and that was the place. I remember going into the green room and there were these shitty locker rooms and I remember being like, 'THIS IS SO COOL."
WT: How did you start with the outfits?
M: "Luke – I remember one of the first shows we started wearing random stuff you wore that alligator costume didn't you?!"
L: "Ya, ya!"
M: "I think we played 2 or 3 shows and we were just wearing our regular clothes. I remember when I first started playing I was thinking before I played, what am I gonna wear tonight, I gotta look cool."
L: "It was the car-free day -"
D: "I paid $50 for this huge ass pink balloon that said our name on it and floated above everything."
M: "I think Donné wanted to wear weird sailor outfits and I wanted to wear some weird – it's kind of like, maybe this might be overstepping – but I think at least for me and Donné, it's both of us living out our weird fantasies. Donné's always trying to push that we wear-"
D: "Capes!"
M: "No, ha! You're always pushing to sailor, navy uniforms or tuxedos! And I'm into really weird like hyper-gay women clothing. So in a weird way, Donné wants to cross dress as a guy in guy clothes and I wanna wear super womanly clothes."
D: "…And then we meet in the middle and -"
M: "…it's kind of Donné and I's cross-dressing wants and then we force in on everyone! (laughs). We were wearing a bunch of random shit for a while until we decided it would be nice to have some sort of theme. And I always think back to Boyz II Men when they always used to wear the same shit and it was so dope – no one does that anymore!"
M: "Initially we were thinking each show could be a crazy theme. Like we did one where it was Chinese New Year so we all bought these robes. And we did a fake tropical wedding where Kevy was the bride, Donné was the groom – haha, Donné that's where you got to live it up! And I was the priest. And I got to wear short shorts and a shirt with a priest collar."

WT: Favorite track on the new album?
D: "They change. Some are very different playing live then just listening to it."
M: "I think after finishing the album I really like 'Diamonds' a lot because there were a few things that happened to it. They were really serendipitous and really fun and I felt the clearest about it when we were recording it. It was like, 'this is what we want, this is how we're doing it and there's no fucking bullshit.' And it was one of the last ones. We weren't even going to put it on the album so we just tracked it quick and just threw it on."
D: "Then we have new tracks that are still in the demo stage. We kind of wrote them in different formations. At first, Mike and I would do it together or separate. And now that we've been rehearsing so much we've slowly started to jam out. Like 'Slovakia' was an all band jam session that we added lyrics to as a band which is really weird to do."
WT: So do people just start singing on a track?
M: "Yeah! Yeah! A bunch of them are like that. "Sexy, Sexy" was Benny's riff. And the new shit is just a combination of a ton of stuff. Like one riff is about when Kevy had a mustache. And the rest of it was written all together."
WT: So you have to be ready to record right there or you'll forget.
D: "Well, the good shit stays. If something gets stuck in your head it has to stay." •••
Images ~
Art Director: Gina MacKay
Photographers: Sam Milbrath & Justine Backlund