What is the result when international pioneers of the electronic music front gather at one of the probably least electronic places in the world – the Malaysian Berembun jungle?
It definitely sounds very good, tells an elven-track-long tale of the exotica and might pass as 'the most productive holiday ever'.
Flying in from anywhere between north and south pole, the artists were invited to enjoy their free days between Asian gigs at the eco resort Dusun, which is managed and promoted by Cee, who expanded his musical radius already with his successful former collective AL-HACA soundsystem to Asian territories.
The Dusun represents both: a place of retreat and relaxation and an inspirational working zone, as fruitful and diverse as the nature setting embracing it.
Surrounded by the buzzing, plashing, chirping jungle symphony Cee and Darren Ashley, who form the artist Duo Bass Sekolah, welcomed the artists Perera Elsewhere, Phon.o, Skinnerbox, Housemeister, EWOTCO and Daedalus to musically experiment and explore a place full of quietness that never keeps quiet.
The outcome of these mostly improvised sessions merges the natural and the artificial, human's and nature's voice, metropolitan and archaic sounds and is available as a free download below. Three of the participating acts talked to WITNESS THIS about their tropical jam sessions, and sources of inspiration. Tune into the sounds of the jungle and read on below what they had to tell us.
TRACKLIST
(1) Skinnerbox & Bass Sekolah – 'Where the rivers…'
(2) Daedelus & Bass Sekolah – 'Of rocks and trees'
(3) Phon.o & Bass Sekolah feat RQM – 'Don't fade away'
(4) Trench Dreamer & Bass Sekolah – 'Burning bridges'
(5) Bass Sekolah feat Perera Elsewhere –'Kolam'
(6) Housemeister & Bass Sekolah 'Die Zirpe und der Frosch'
(7) Housemeister & Bass Sekolah – 'Berembun'
(8) Perera Elsewhere & Bass Sekolah – 'Polaris'
(9) Skinnerbox & Bass Sekolah – 'Geistzeit'
(10) EWOTCO & Bass Sekolah – 'Systematically'
(11) EWOTCO & Bass Sekolah – 'The cloud maker'
"Music is therapy, it's what you put into your body, like food."

-Perera Elsewhere
WT: Was it challenging for you to work in such an unconceptual, improvised way?
Perera Elsewhere: I've done lots of workshop stuff in asia which might have made it easier for me, but in the end you are more comfortable working alone than jamming with other people, especially when they are kind of laptop heads which I am also in the end. It's fun to jam together but I also really love to record alone and that's just still the case, even with projects like this. For example for the track "polaris" I just went into my room at the Dusun to work on it by myself.
Skinnerbox: Actually we are always improvising, that's exactly what we do for living: playing improvised, live, electronic dance music. So it was very, very comfortable and not that different from what we usually do. Although of course we usually play in clubs which is a quite different type of inspiration than when you sleep for a week somewhere in the Malasian jungle.
Daedelus: I cannot say if it was the jungle surroundings, or the touring mindset, but sounds just occurred as if wafted in through open windows. We did our best to record them in the moment and tease structures from the noises.
WT: Were you familiar with the other artists music beforehand?
Perera Elsewhere: Yes, I knew all of them on different, individual levels, but that just happened by chance. Daedalus for example I think I met once in Phoenix when I drove down there for a gig and I knew Housmeister and Phon.o for quite a long time and Cee of course as well.
Daedelus: By name and reputation mostly. An easy thing with this collection of musicians, but seeing how all the pieces would fit together was Cee's challenge and triumph.
Skinnerbox: Some of them we knew personally some of them by name, but yes we were kind of familiar with each other.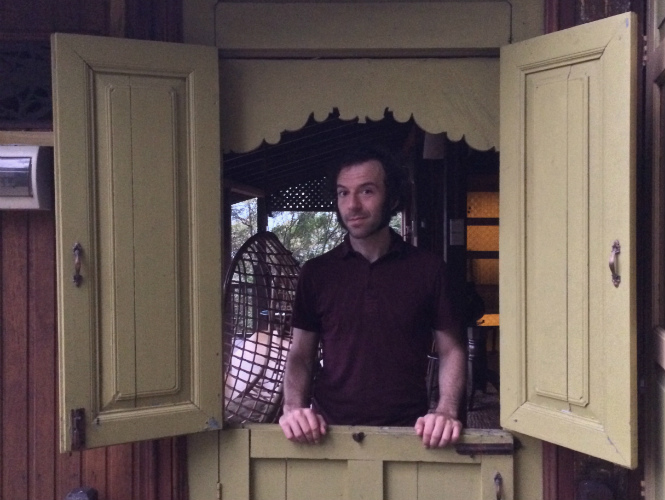 "My mind says that it creates, but the best moments in making usually happen when something outside expectation occurs and you are transported elsewhere, outside, back into that jungle."

-Daedelus
WT: How did the surrounding influence your work?
Skinnerbox: Quite directly. There so many noises around, the cicadas, the frogs. We did a lot of just listening. And we put a mic on the porch to amplify the jungle and get into the mode. The Dusun is probably the most beautiful spot I have seen in my life. It's beyond words to describe it. The free week we spent there during our Asia tour was like a week off this world. We came there without a real plan thinking we were gonna do only one session and ended up doing a week of them. It just happened. We just sat and did music, which hasn't been the case in a long time. Usually we are quite busy and have the time pressure to do this or that, finish an EP or whatever.
Daedelus: The Dusun is an idyllic part of the jungle, a hospitable extension. I think the compulsion to take the loud silence there – lots of jungle sounds, and burbling brooks – and make melodies from that is a compulsion artists will understand. Other guests seemed happy to trek, eat fruit, and spy strange animals crawling, slithering, and flying.
Perera Elsewhere: I am not trying to make very dry, clean studio sound so to me the environment with all of its little noises added lots of athmosphere and ambience which are very important because they transport you somewhere.
When you are sitting out of context somewhere in Malaysia, not hitting any album deadline and you feel like "hey, i am not making this for anyone else other than the people in this room right now" it is definitely also very relaxing and therapeutic. I mean, music is therapy, it's what you put into your body, like food. I see this connection between making music and making food anyways. There is a great picture of one christmas that I spent at the Dusun where Cee, a couple of DJ friends and I are standing in this open jungle kitchen, all just DJ-ing and cooking at the same time.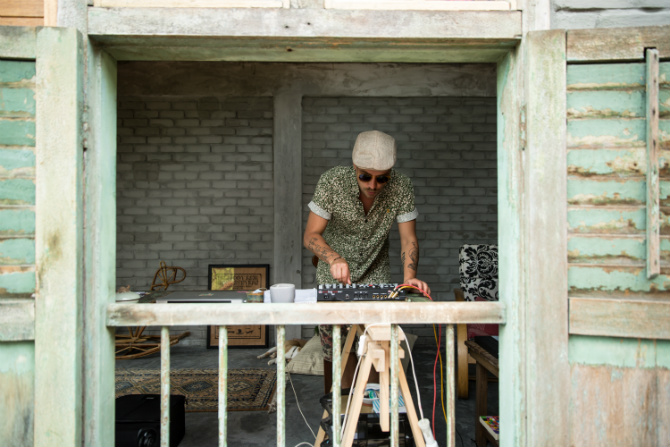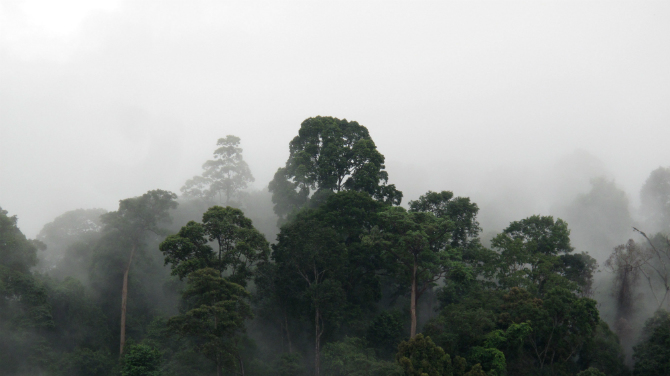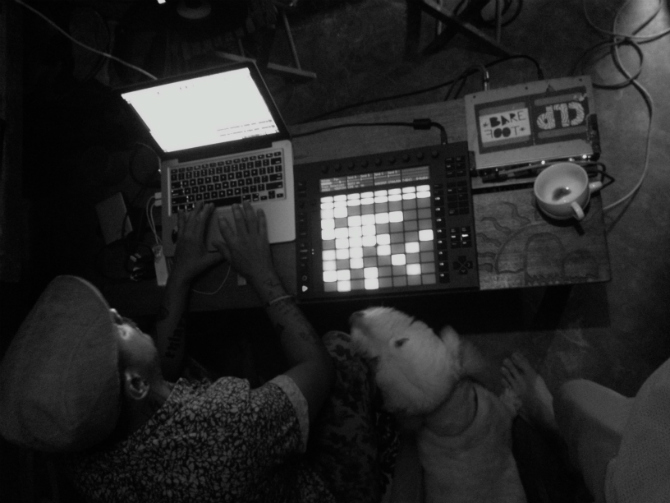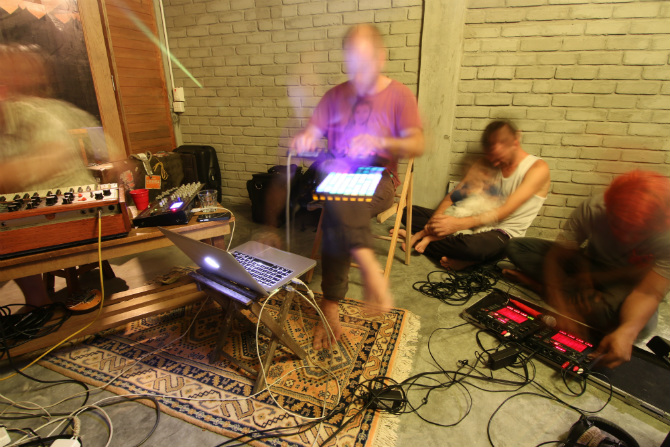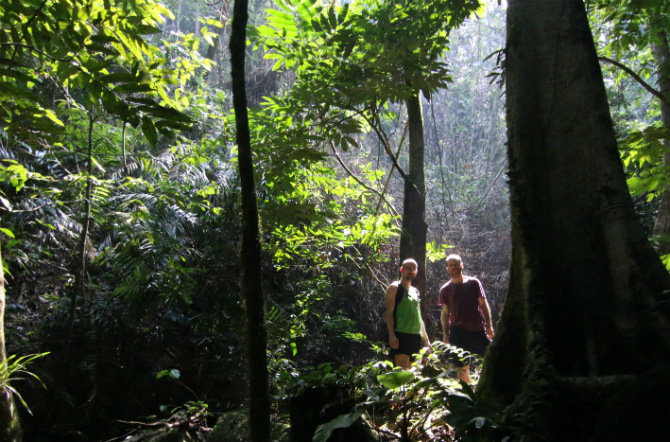 "The Dusun is probably the most beautiful spot I have seen in my life. It's beyond words to describe."

-Ifta of Skinnerbox
WT: What do you think is inspiration – something that comes from outside or from inside?
Perera Elsewhere: Its gotta be a combination of both. And you never know when it's gonna come. It's like a weird occurance where you don't really know where it comes from. You can suspect how it happened but you never really know what the source of real inspiration is.
Daedelus: This is a big question! My instinct is to say inside, but that feels like navel gazing. My mind says that it creates, but the best moments in making usually happen when something outside expectation occurs and you are transported elsewhere, outside, back into that jungle.
Skinnerbox: I think the border between inside and outside is very thin. It's kind of chasing it's own tail: You know, the inside has probably been influenced by the outside first hand and the outside is merely an interpretation of the inside. But of course when you have outside surroundings like the Dusun you must have a heart of stone not to be excited or inspired by it.
WT: The Dusun resort seems like the materialization of a dream. Is there any specific place that would be especially fascinating for you to record at?
Skinnerbox: Yes, we have many. We just travelled to Asia for example where we had a couple of days off in Bali which we spent in a villa somewhere in the rice fields. And we did the same thing, we just recorded music. Of course, it was a completely different from the jungle but it has this kind of solitude to it that is just amazing. You feel quite far away from everything when you sit there between the fields, it was absolutely beautiful.
And we can think of one million other places that we would love to record at.
Daedelus: After this experience I want to record outside more often. Get away from well manicured studio interiors. This could happen anywhere I suppose, but if I really had a choice I'd pick another idyllic green place, the curry wouldn't be as good, but that would be a tall order.
Perera Elsewhere: Wherever I've been traveling in the last ten years I've been taking equipment with me. You can make music anywhere. But if I could pick any spot possible I would definitely connect it with surfing, which I got really addicted to this year. I already thought I was the luckiest person on earth because I just get to make music all the time and then I discovered surfing and was like "Damn, THIS is also what I wanna be doing all the time". Surfing is like jamming without ever really releasing records. Just surfing and making amazing waves and not giving a shit if anybody ever hears it.
WT: Thanks guys for your time. We can't wait to hear the results of your next holidays!
Visit the Dusun Eco Resort website to find out more about this magical place. You can check the jungle studio out in motion at this link.
'The Dusun Sessions' are out as full mix or individual tracks May 15th on Mouthwatering Records.