photocred: PRENTICE DANNER
—
Let me make this quick by giving you three reasons why Sage Francis is one of the best contemporary hip-hop/rap artists walking this earth:
1.
He's a poet, not a rapper. And his talent as such is just unbelievable.
2.
He's one of the rare specimen in the rap game who really has to say something original on an intellectually challenging level. Constantly.
3.
Slow Down Gandhi.
I am having a hard time deciding which tracks NOT to present here off his new album which is stream-locked exclusively at spin.com at the moment (listen to the full album here). I snatched some of the locked source codes of my favorite tracks outta there, however, can't reduce window size that's why you'll find only a limited selection below.
—
Sage Francis COPPER GONE drops June 3rd, 2014 on Strange Famous Records. Pre-sales will go live at www.StrangeFamous.com on March 31. "Sage Francis COPPER GONE Tour" will make its way through North America from late May until early July with B. DOLAN and special guests, followed by a UK/Euro tour beginning in October. All tour dates below, updates at www.tinyurl.com/SageShows.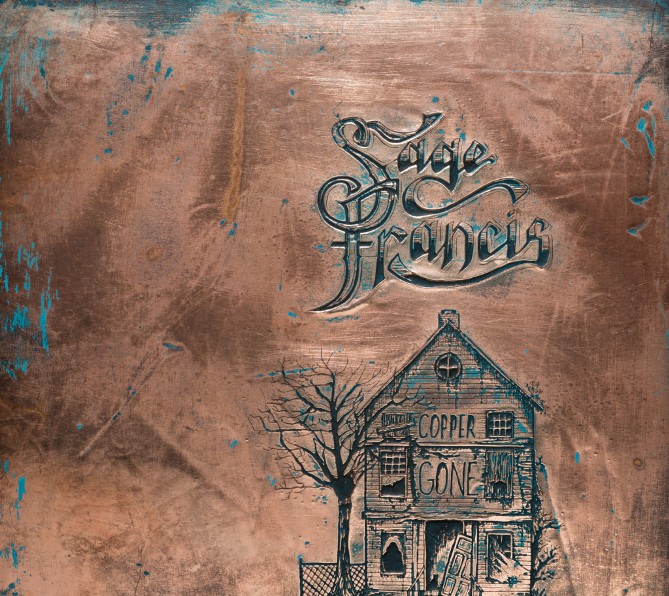 Witness the Sage Francis COPPER GONE album pre-stream.
https://soundcloud.com/strangefamousrecords/id-thieves-sage-francis-copper-gone-lp/s-gxvYh
https://soundcloud.com/strangefamousrecords/cheat-code-sage-francis-copper-gone-lp/s-gxvYh
https://soundcloud.com/strangefamousrecords/say-uncle-sage-francis-copper-gone-lp/s-gxvYh
https://soundcloud.com/strangefamousrecords/maint-reqd-sage-francis-copper-gone-lp/s-gxvYh
*******************************************************************************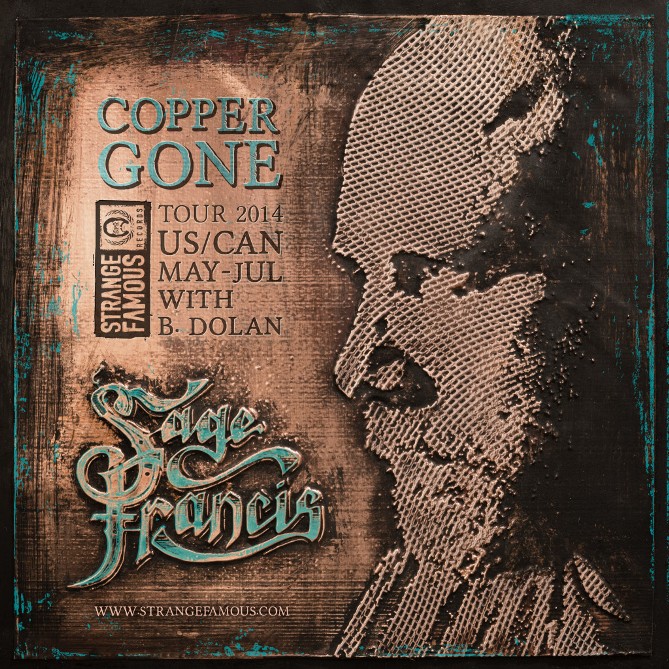 SAGE FRANCIS COPPER GONE US/CAN TOUR DATES 2014
5/29 STANHOPE, NJ – Stanhope House
5/30 NYC – Le Poisson Rouge (tinyurl.com/mswd4k5)
5/31 BOSTON – Middle East (tinyurl.com/ot7wp43)
6/02 TORONTO – Opera House (tinyurl.com/o3bslar)
6/03 PITTSBURGH – Altar Bar (tinyurl.com/qxa5wyz)
6/05 CHICAGO – The Abbey (tinyurl.com/n9ktdr3)
6/06 MADISON – High Noon Saloon (tinyurl.com/lko6bax)
6/07 MINNEAPOLIS – First Ave (tinyurl.com/mbdqrvq)
6/09 ENGLEWOOD, CO – Gothic Theatre (tinyurl.com/mbcyg6o)
6/10 SLC – Urban Lounge (tinyurl.com/o2zev9q)
6/11 MISSOULA – Palace Lounge (tinyurl.com/q5vgdo9)
6/12 VANCOUVER – Fortune Sound Club (tinyurl.com/pcw95sd)
6/13 SEATTLE – Neumo's (tinyurl.com/pckpsex)
6/14 PORTLAND, OR – Alhambra Theatre (tinyurl.com/ot2bop9)
6/16 SAN FRANCISCO – The Independent (tinyurl.com/k8w2uyv)
6/17 SOLANA BEACH – Belly Up Tavern (tinyurl.com/nu796hx)
6/18 LOS ANGELES – The Troubadour (tinyurl.com/k4h8wbw)
6/20 PHOENIX – The Crescent Ballroom (tinyurl.com/mqsedot)
6/21 ALBUQUERQUE – Sunshine Theater (tinyurl.com/q7hxyfq)
6/22 EL PASO, TX – Tricky Falls (tinyurl.com/orce7kk)
6/25 AUSTIN – Mohawk (tinyurl.com/nkonnhq)
6/27 BATON ROUGE, LA – Spanish Moon (tinyurl.com/pfsq92j)
6/29 ATLANTA – Terminal West (tinyurl.com/okvfkex)
7/01 WASHINGTON, DC – U Street Music Hall (tinyurl.com/p2gjc3f)
7/02 PHILADELPHIA – Union Transfer (tinyurl.com/pwn9f8c)
7/04 PROVIDENCE – Fete Ballroom (tinyurl.com/p492ggk)
***
Sage Francis COPPER GONE European Tour Dates THIS WAY.
***
FB www.facebook.com/SageFrancis
Twitter www.twitter.com/SageFrancis
[Source: http://www.strangefamousrecords.com/coppergone-epk/]