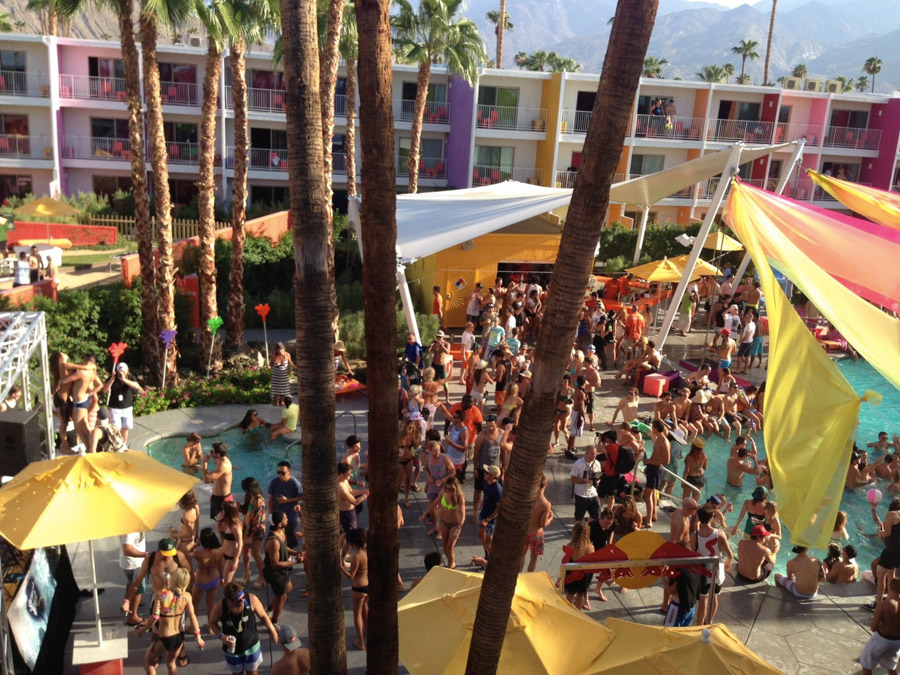 Bravo Splash House, bravo. This past weekend, Pacific Festival, Private Label and LED put on a next level pool party spanning over 3 hotels (The Saguaro, Caliente Tropics and Curve) and featuring 30 dj's including Bag Raiders, Classixx, Tropicool, Poolside, Bixel Boys, Juan Maclean, Miami Horror, Plastic Plates, Viceroy, Neon Indian and more. Having now fully digested the weekend, I can honestly say it was one of the best run festivals I've ever attended.
Here's why:
1. The Venue. The fact that you were staying AT the venue meant no hustling to a field, no hours spent trying to locate your friends near the port-o-poo's and no long lines for even longer rides on shuttles. It also meant you woke up AT the party. In an A/C'd room. And because the event only went from 12-7, you could actually sleep. Throughout the day, at any moment you chose, you could take a nap, have a pee, get a drink, a snack, apply more sunscreen, get yourself regrouped, whatever. You were already at home base. There was a shower and a bed at your disposal. Maybe that's cheating, but in 106 degree heat, cheating is winning.  Finally, the balcony culture. In the morning you would see other festival goers entertainingly stagger about and prep for the day ahead (i.e. drinking a Tecate in a robe). Later, when the night sky was upon us, people would keep the lights on in their skittle colored rooms while they continued to party. Whether the intention was to invite others to join or simply taunt, it didn't matter. It was rad to watch the chaos and fun unfold.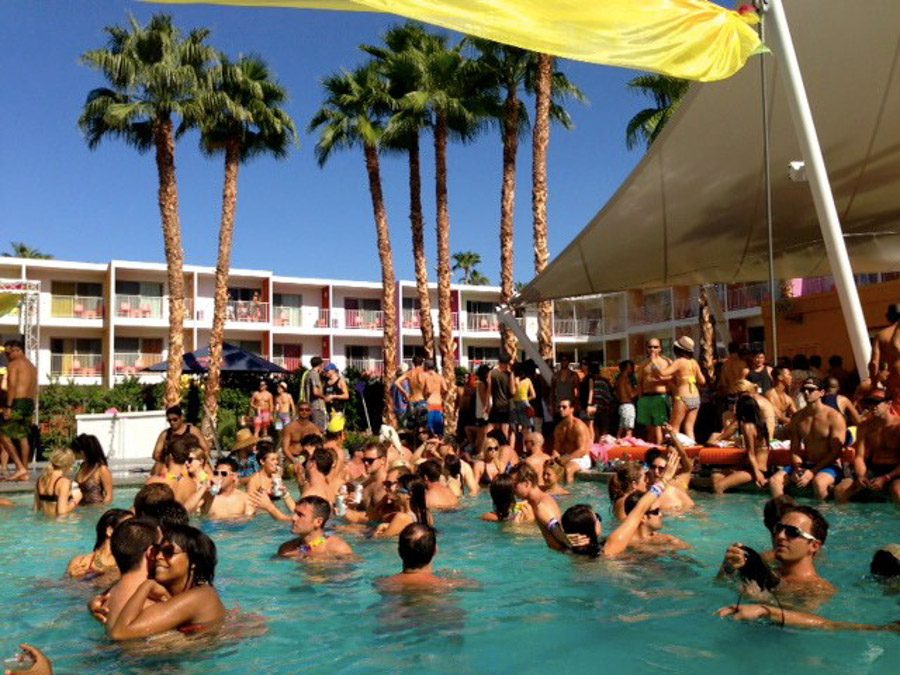 2. The Crowd. Everyone was rad. No sloppy drunks, no trying too hard to make the Coachella best dressed list folks, no first time on ecstasy kids, nobody pushing in line, nobody getting in fights, etc. The crowd was spread out over three pools at three hotels, so there was plenty of room to play, dance, and get beverages. AND, because people were going to and from their rooms throughout the day, there was a nice flow. The music was super groovy and upbeat as well, making the vibe amongst everyone very yummy. Who can get into a brawl during Poolside?? Nobody. The personal style was impeccable as well. On the women we saw everything from 80s inspired super high cut one piece suits to barely there brazilian bikinis. No surprise here, my favorite swimsuits of the weekend came from the girls at Acacia Swimwear. They are amazing at what they do. A good amount of ladies were in high heel wedges and most everyone was in either a fabulous hat or bomb sunglasses. On the men we saw more of the European style trunks in various colorful prints, a plethora of short sleeved button downs overtop tattoos and toned muscles with Raen sunglasses pulling it all together. Because you didn't have to schlep through a dusty or muddy field or walk very far, everyone was dressed to the Palm Springs pool party nines.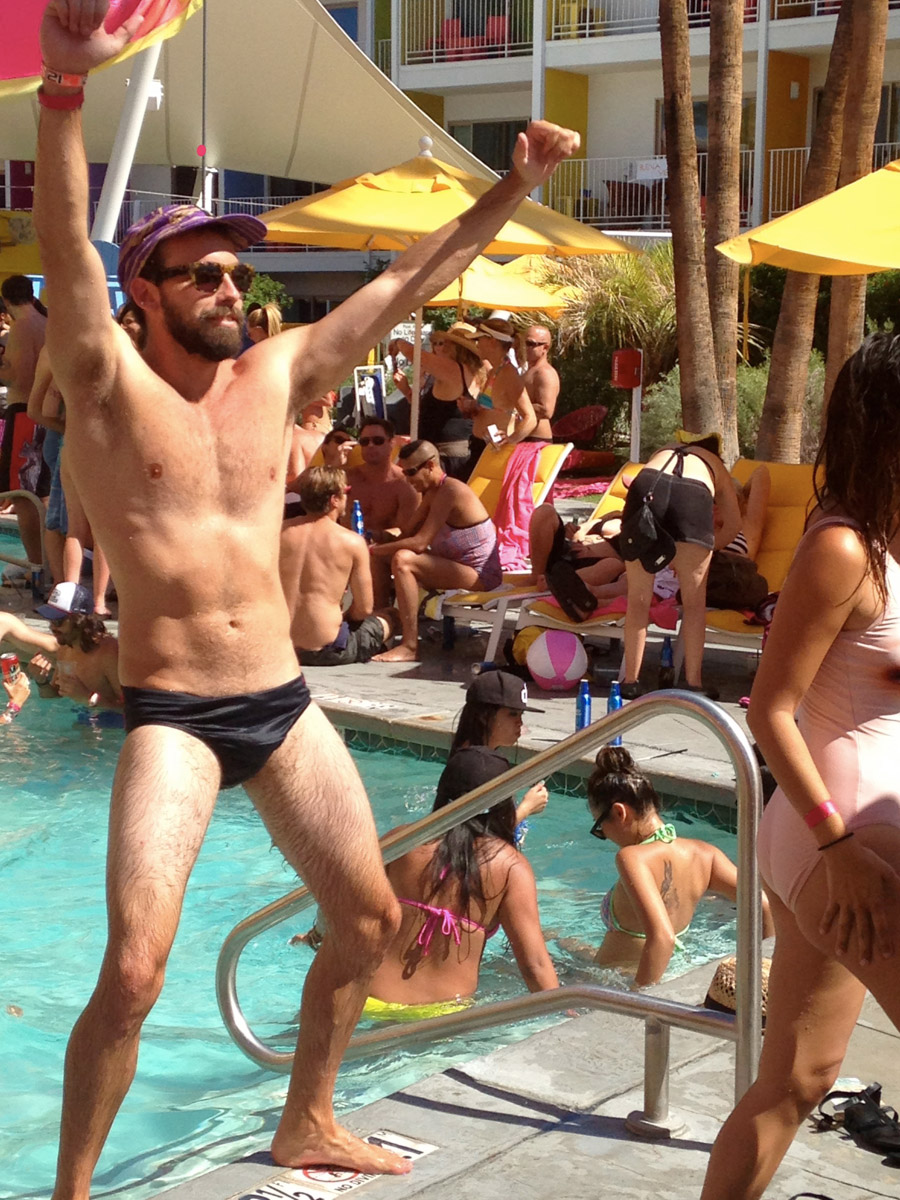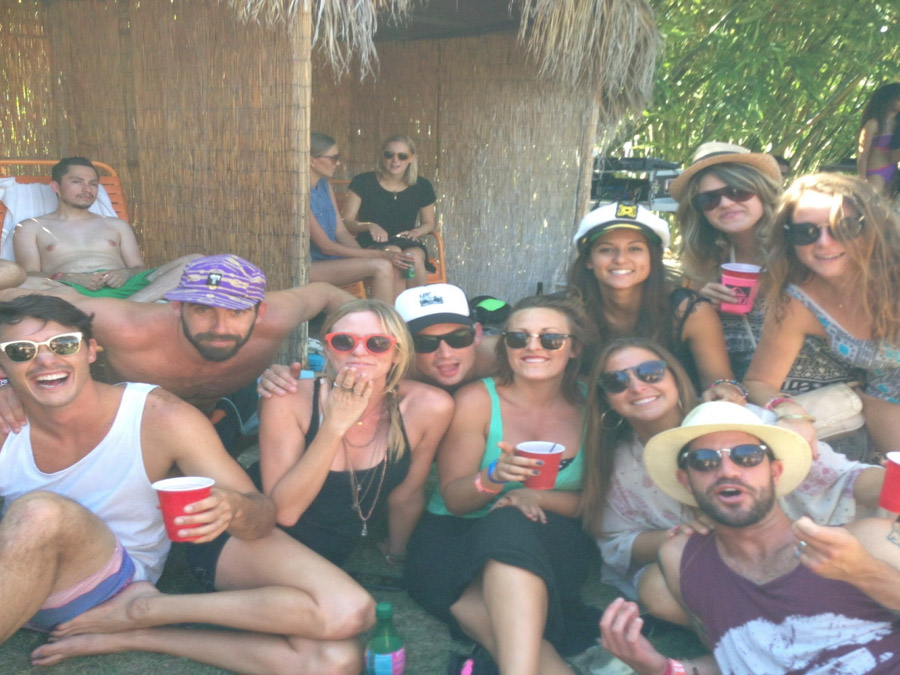 3. The Artists. We almost had the perfect daytime pool party line up. I would've loved to have seen maybe Holy Ghost! or Fred Falke or Disclosure or a James Murphy thrown in there, but overall, it was well cast. Something I noticed, the crowd was definitely responding more to beats. For example, Tropicool was great and we all splashed around to his sun infused jams without fuss (although he DID play similar sets both days in a row, ahem). But, when Viceroy came on and dropped more beat heavy tracks, the crowd really livened up. I do think it's important to have both kinds of music throughout a 7 hour continuous set but I personally could've used more thumps to keep my energy up. Classixx was able to do just that and to most of us, grabbed the coveted 'Best Performance" award. "All You're Waiting For" was definitely the song highlight of the weekend. Bag Raiders came in a close 2nd, closing out the first night at The Saguaro Hotel. The crowd was definitely feeling it and by the time the duo played "Shooting Star" everyone was hurling themselves into the pool.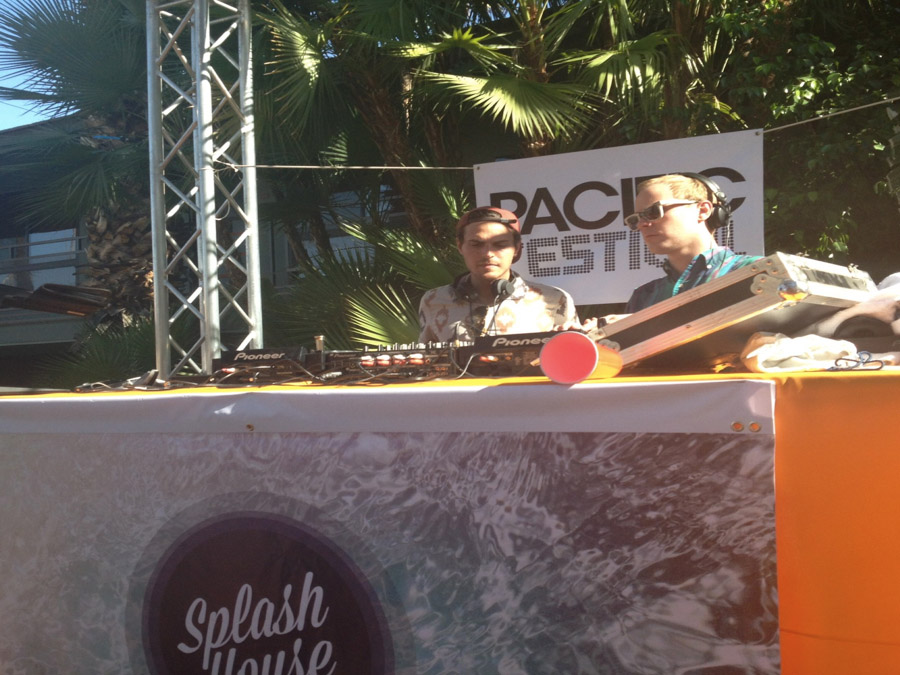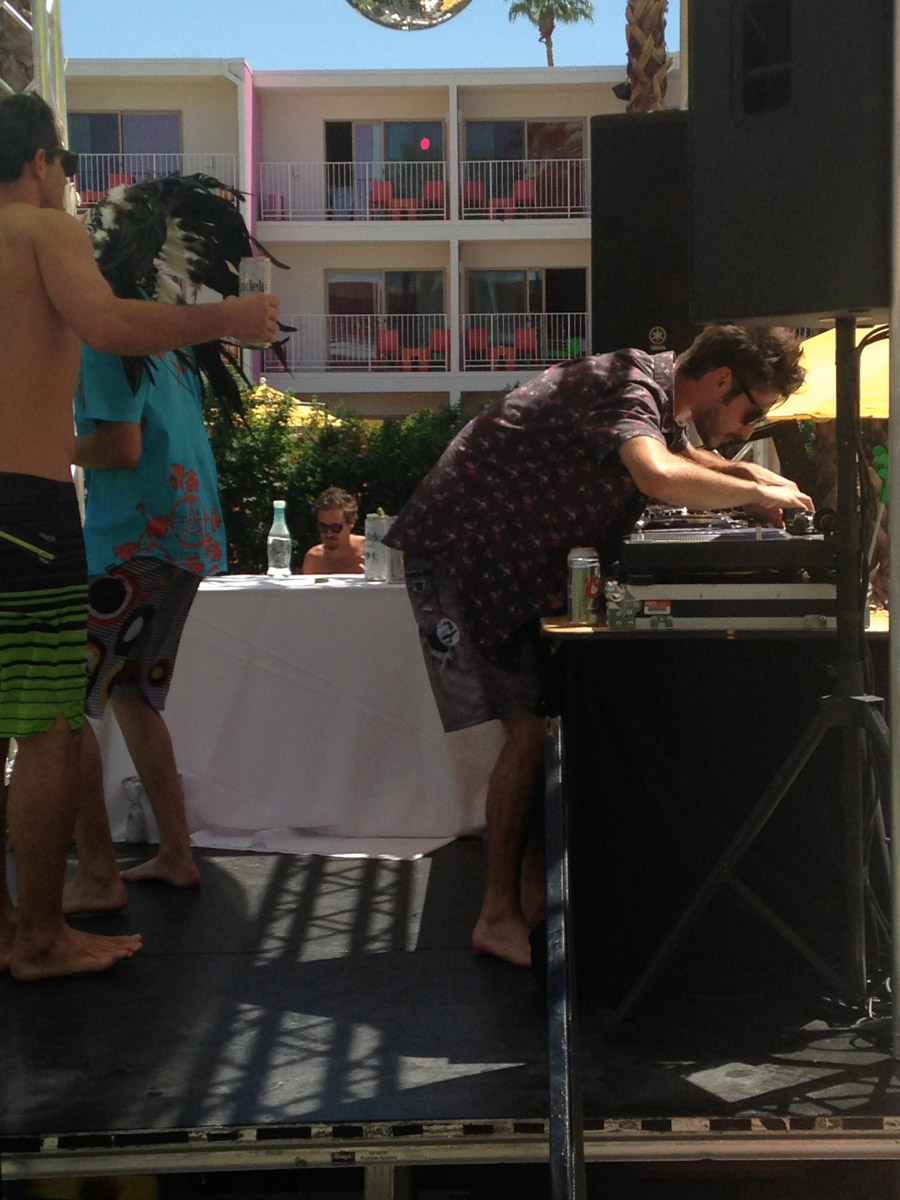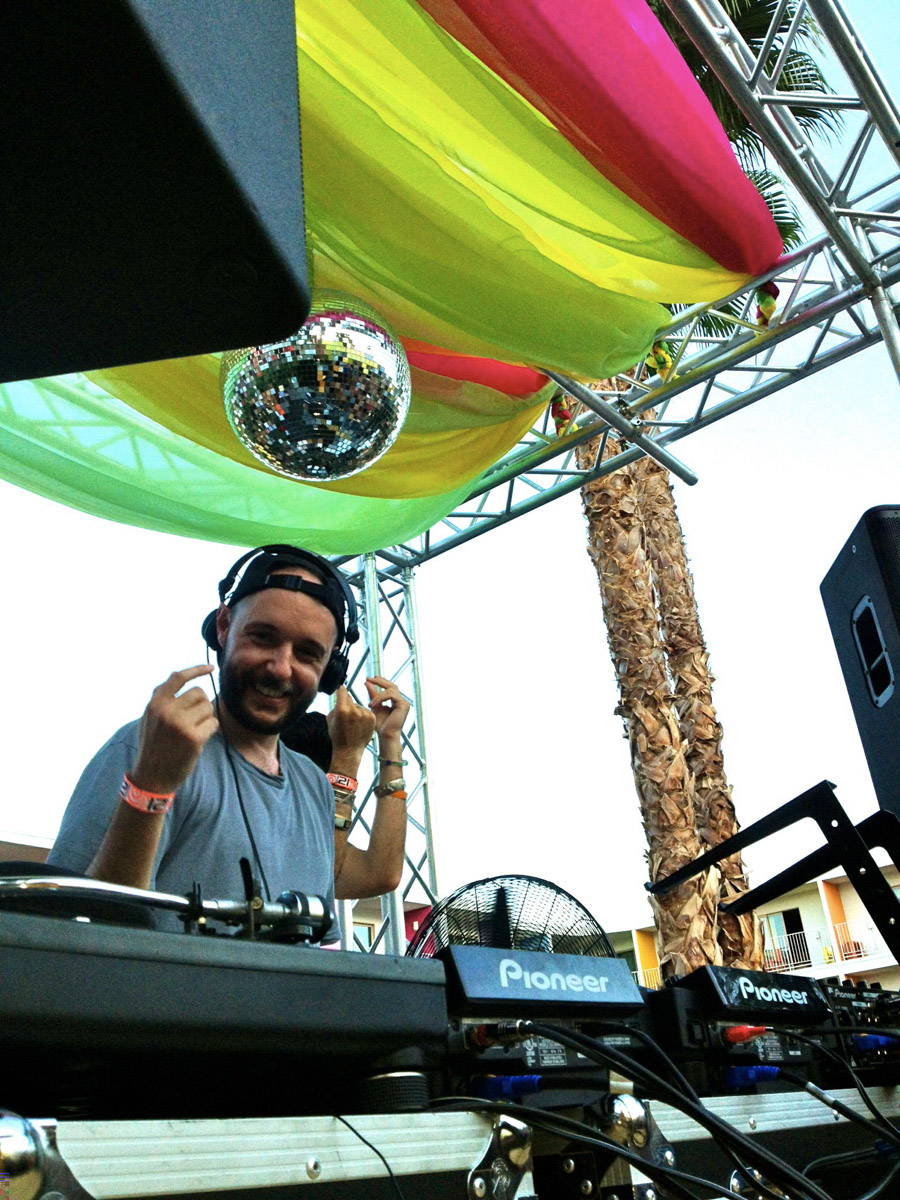 4. The Set Times. It was actually great having the festival end early (7pm sharp) as it left the rest of the night to grab a much needed dinner like Goldfish Cheese Crackers and wander off into the Palm Springs nightlife scene. The place to be was the Ace Hotel where we saw many of the djs perform late night sets in front of a much more intimate crowd. Another great thing about the festival ending early was that you could actually sleep without disruption. After dancing around outside all day in the heat, this was much appreciated.
5. The Location of Palm Springs. It's magical there. There's a special energy swirling about. And to boot, only 2 short hours from LA or SD. The dry heat, the vibrant colors, the friendly locals, the surrounding attractions (hot springs, windmills, Pioneertown, etc) all make for an awesome getaway.
6. The Cost. For $170, you got a ticket for the festival (30+ artists), unlimited shuttle rides and a really colorful room at a kick ass hotel for 2 nights. It was an amazing bang for your buck.
In sum, this festival will most certainly be on my radar next year. In fact, I hope they do this more than once a year since Palm Springs is always hot and beautiful and most of the artists are local to Southern California. One piece of advice if you do go next time though, don't drop that thun thun thun.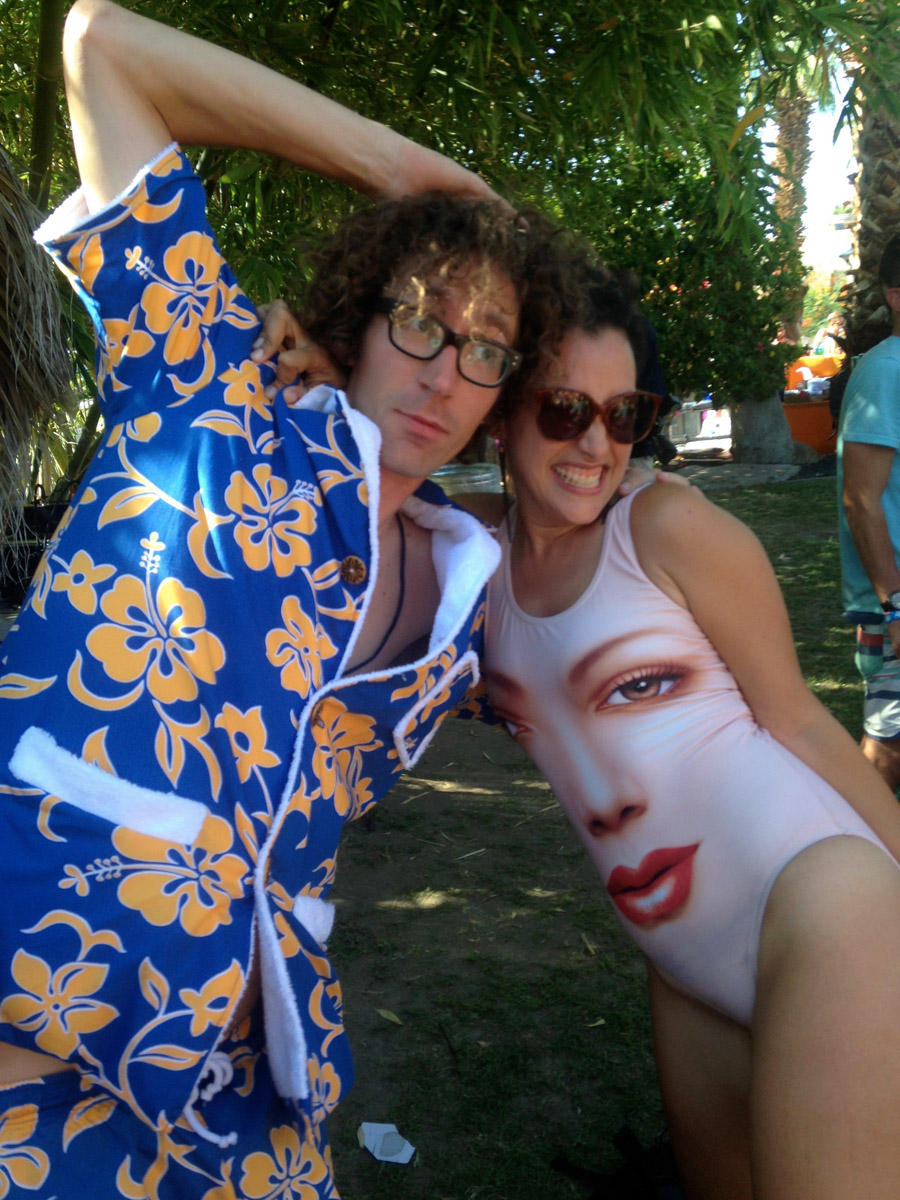 For more info and photos: SPLASH HOUSE
-Lindsay Colip