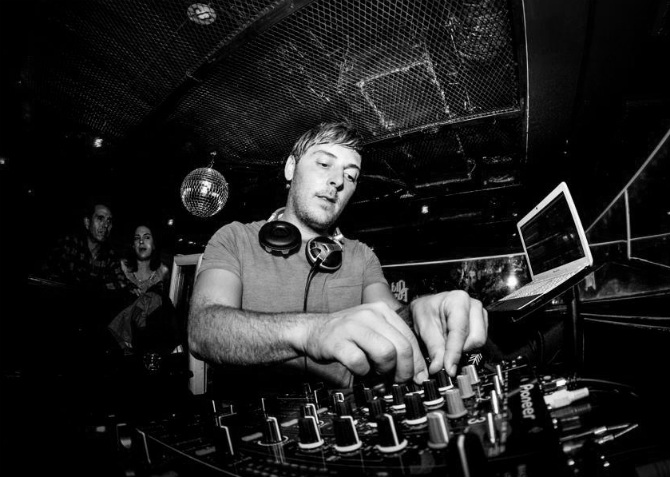 -photo with friendly courtesy of Planta Baja Bar-
—
Arkadiusz Dmytrow aka 'Arkadiusz' is a polish musician and blogger.
His DJ career began 2010 in Frankfurt am Main where he frequented the famous former Vinylshop Pro Vinyl and legendary electronica institution Robert Johnson in Offenbach am Main. Both had in retrospect the most influence in his decision to start mixing and for sure in his style of music.
During his studies in Würzburg he and his crew started their own event series called 'PIKNIK' (2012). Its mantra was to play music that they like, as opposed to what the people like. His biggest gig so far has been 2014's Brüxsel Jardin Open Air where he has played alongside Acid Pauli, Couer, Sushiflow, Dka and Nathe Oye in front of some thousand ecstatic people.
From the beginning Arkadiusz has been more focused on deep hypnotic and experimental electronic music with a touch of melancholy, quoting as influence the likes of Lawrence and Nathan Fake. Arkadiusz tries to overlook trends and focuses strongly on little known genres that represent his merits.
As part of the crew of online magazine Das schoene Leben he started writing in 2012 supporting newcomer musicians and sharing his taste of music with the world.
Arkadiusz now lives in Guadalajara, Mexico, with his wife.
Witness our Mix of the Month March 2015 by Arkadiusz.
-cover art by Mat MacQuarrie–
This mix is released on WITNESS THIS with friendly courtesy of KENTAUR podcast series. It is also the teaser for our upcoming podcast collaboration with the guys at KENTAUR.
Stay tuned for A QUEST FOR LEGENDS – a podcast saga in 16 chapters coming up on WITNESS THIS starting April 1st. So long, folks!

Visit Arkadiusz Soundcloud or the KENTAUR Soundcloud for more great electronic music.
Catch Arkadiusz live at one of his next stops:
Mar 07, 2015 TBA (Guadalajara/Mexico)
Jul 18, 2015 Weinerei (Nuernberg/Germany)
Jul 24, 2015 TBA (Berlin/Germany)
Aug 01, 2015 TBA (Prora/Germany)
Aug 02, 2015 TBA (Berlin/Germany)
—
To listen to our past guest mixes check this awesome Trap-Mix by KALI or Sebastian Porter's latest Tech-House set.