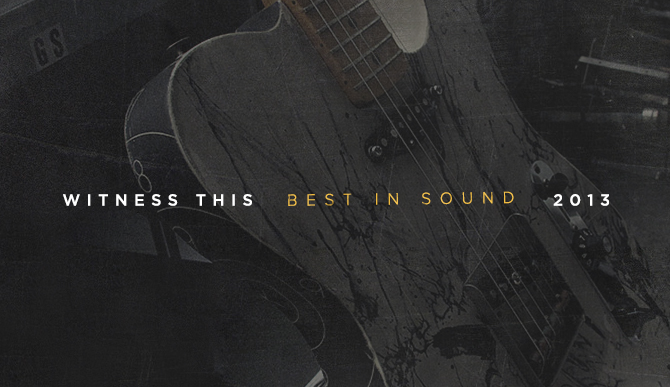 Photos by James Chiang | Design by Dersu Rhodes | Curated by Lindsay Colip
Our friends in Germany use the expression guten rutsch when wishing someone a happy new year. Meaning good slide as in 'have a good slide into 2014,' they shout this phrase the days leading up to the clock chiming midnight. I heard this for the first time yesterday and loved it. I think they absolutely nailed where we all are mentally, physically and emotionally this time of year. It's December 31st. The last day of the year. The last sunrise and the last sunset. The final time to reflect on the days that have passed and the last opportunity to lock in hopes for the days to come. It's the moment you pick up your sled, run to the edge of the hill, jump on board and hold on for dear life as you slip and slide forward. There's an unbridled excitement tied to this action as well as a scared shitless feeling and there is absolutely no turning back.
As we reflect on 2013, we feel compelled to honor the music that came along with us for the ride. Who made us jump up and down, who made us cry, who made us stop and think? Who made our bodies dissolve, who gave us the courage to kiss someone, who demanded we get up and dance? There were so many awesome songs and albums that came out this year that making this list was near impossible. No front runner this time but instead a motley pack of genius. I'm so glad to be alive at a time when the music being made is so diverse and I think our list is a good cross section of what was happening this year. We did change up one thing however. Instead of just sharing what we, the witness-this family, thought were the best of the best this year, we went ahead and asked THE best of the best to contribute their lists as well.
May I present the 3rd annual Best In Sound compilation.
Happy sliding everyone.
_______________________________________________________________________
Below you'll find some of our favorite artist's top 5 lists as well as our own lists followed by our collective Soundcloud playlist. If the song wasn't available on Soundcloud, we provided another way to hear it (simply click on the title if it's in bold). For more information on the artists, just click on each artist's name.
_______________________________________________________________________

SONGS
1. Disclosure ft. Jesse Ware – Confess to Me
2. Z&A – Neon Arches
3. Jaytram – Source of Love
4. Holy Ghost! – Dumb Disco Ideas
5. Death Grips – Whatever I Want (Fuck Who's Watching)
ALBUMS
1. Helado Negro – Invisible Life
2. Steve Gunn – Time Off
3. Version Tapes Vol. 1 & 2
4. Kanye West – Yeezus
5. No Age – An Object
SHOWS
1. Helado Negro/Jason Ajimian @ BK Bowl Yellow Dogs Benefit
2. Steve Gunn album release show @ Union Pool
3. Every show we played with !!! This past summer
4. Holy Ghost! & Midnight Magic In Phoenix, AZ
5. Yeezus
SONGS
1. Bibio – A Tout A L'Heure
2. The National – Pink Rabbits
3. Bonobo – Cirrus
4. DJ Koze – Nices Wolkchen
5. Mountains – Propeller
ALBUMS
1. Bonobo – The North Borders
2. Jon Hopkins – Immunity
3. The National – Trouble Will Find Me
4. Atoms For Peace – AMOK
5. Moderat – II

SONGS
1. Autre Ne Veut – Play By Play
2. Audien – Wayfarer
3. Postiljonen – Supreme
4. James Zabiela – The Healing
5. Mat Zo & Porter Robinson – Easy
ALBUMS
1. Autre Ne Veut – Anxiety
2. These New Puritans – Fields of Reeds
3. Postiljonen – Skyer
4. Keep Shelly In Athens – At Home
5. Baths – Obsidian
SHOWS
1. Depeche Mode
2. Tritonal + Super8 & Tab
3. NIN
4. Death Grips
5. Keep Shelly in Athens
SONGS:
1. Olafur Arnalds (feat Arnor Dan) – For Now I Am Winter
2. Andy Cato – The Coastal Path
3. Koreless – Sun
4. Oneohtrix Point – Chrome County
5. Milosh – Hold Me

SONGS
1. Washed Out – Weightless
2. Daft Punk (feat Panda Bear) – Doin' It Right
3. Haerts – Wings
4. Just Blaze & Baauer feat. Jay-Z – Higher
5. Janelle Monae – Dance Apocalyptic
ALBUMS
1. Washed Out – Paracosm
2. Teen Daze – Glacier
3. Tegan & Sara – Heartthrob
4. Kiln – Meadow: Watt
5. Julianna Barwick – Nepenthe
LIVE SHOWS
1. Slow Magic
SONGS
1. Nils Frahm – Says
2. James Blake – Retrograde
3. Olafur Arnalds feat. Arnór Dan – For Now I Am Winter
4. Kanye West – Black Skinhead
5. Haim – The Wire
ALBUMS:
1. Nils Frahm – Spaces
2. Darkside – Psychic
3. Haim – Days Are Gone
4. Atoms for Peace – AMOK
5. James Blake – Overgrown
SHOWS:
1. The Bots @ The Fader Fort, CMJ NY
2. Atoms For Peace @ Austin City Limits, Austin TX
3. Andrew Bird @ Sasquatch, George Washington
4. Half Moon Run @ Lollapalooza, Chicago
5. Kanye West @ Governor's Ball, New York
NEW ARTIST
London Grammar
SONGS:
1. Shad – Fam Jam
2. Chvrches – Mother We Share
3. Generationals – You Got Me
4. Tegan & Sara – I Was a Fool
5. M.I.A – Bring the Noize
ALBUMS:
1. Daft Punk – Random Access Memories
2. Shad – Flying Colours
3. Lorde – Pure Heroine
4. Cold War Kids – Dear Miss Lonely Hearts
5. Half Moon Run – Dark Eyes
SHOWS:
1. Half Moon Run @ Bowery Hotel, NYC
2. James Blake @ The Vogue, Vancouver
3. We Are The City @ Venue, Vancouver
4. Haim @ The Commodore Ballroom, Vancouver
5. How to Dress Well @ The Biltmore Cabaret, Vancouver
BEST NEW ARTIST
Toss up between Lorde & Haim

SONGS:
1. Ten Walls – Gotham
2. Lee Burton – Breath (Lake People Remix)
3. Constantijn Lange – Rote Nacht
4. Thomas Atzmann – A propos Kalypse
5. Recondite – Abscondence
ALBUMS:
1. Recondite – An ode to Hinterland
2. Mano Le Tough – Changing Days

SONGS
1. Lusine – By This Sound
2. Toro Y Moi – Rose Quartz
3. Apparat – A Violent Sky
4. Little May – Boardwalks
5. Oliver Schories – Get Me
ALBUMS
1. Lusine – The Waiting Room
2. Holy Ghost! – Dynamics
3. Classixx – Hanging Gardens
4. Disclosure – Settle
5. Arcade Fire – Reflektor
SHOWS
1. Fleetwood Mac – Hollywood Bowl
2. Lord Huron – SXSW
3. Charles Bradley – SXSW
4. Sinkane/Toro Y Moi – Fonda
5. Empire of The Sun – The Shrine

SONGS
1. Zero 7 – Don't Call it Love
2. Banks – Waiting Game
3. Disclosure – F For You
4. Jungle – Platoon
5. Vampire Weekend – Step
ALBUMS
1. Lusine – The Waiting Room
2. Disclosure – Settle
3. Bob Moses – Far from the Tree
4. Arcade Fire- Reflektor
5. Holy Ghost! – Dynamics
SHOWS
1. Atish Mettah @ Burning Man / Sky Bar
2. Lee Burridge @ Burning Man / Robot Heart / 3:30 am set
3. Phillip from M.A.N.D.Y. @ Burning Man / Robot Heart
SONGS
1. Mano Le Tough (Tale of Us Remix) – Primative People
2. Rufus (Jesse Rose Remix) – Desert Night
3. London Grammar (Henrik Schwarz Remix) – Wasting My Young Years
4. Nils Frahm – Says
5. Mount Moriah (Alle Farben Edit) – Lament
ALBUMS
1. Darkside – Psychic
2. Apparat – Krieg und Frieden (Music for Theatre)
3. Rhye – Woman
4. Beacon – The Ways We Separate
5. Atoms for Peace – Amok
SHOWS
1. Damian Lazarus, Robot Heart, Burning Man
2. Efterklang, The Biltmore Cabaret, Vancouver
3. Local Natives, The Commodore Ballroom, Vancouver
4. Alt-J, The Commodore Ballroom, Vancouver
5. Primus 3D, Sasquatch, The Gorge Amphitheatre
SONGS
1. The Cheapers – World Saver
2. Blood Orange – You're Not Good Enough
3. Ten Walls – Gotham
4. The Acid – Fame
5. Banks – Waiting Game
ALBUMS
1. Darkside – Psychic
2. Lusine – The Waiting Room
3, The Acid – The Acid
4. Junip – Junip
5. Classixx – Hanging Gardens
SHOWS
1. Atish Mehta – Skybar
2. Lee Burridge – Robot Heart (Burning Man)
3. Philipp from M.A.N.D.Y – Robot Heart

SONGS
1. Wise Blood – Alarm
2. Palma Violets – Best of Friends
3. Phosphorescent – Song For Zula
4. Arcade Fire – Porno
5. Sonny & The Sunsets – Dark Corners
ALBUMS
1. Kurt Vile – Wakin On A Pretty Daze
2. Beach Fossils – Clash The Truth
3. Devendra Banhart – Mala
4. A$AP Rocky – Long. Live. ASAP.
5. The Sundelles – No Milk
SHOWS
1. DIIV @ Soda Bar
2. Real Estate @ Pappy & Harriets
3. Allah-Las @ The Casbah
4. Black Marble @ The Void
5. Deer Tick@- Belly Up
SONGS
1. Arcade Fire – Afterlife
2. Lusine – By This Sound
3. Zero 7 – Don't Call it Love
4. Apparat – A Violent Sky
5. Willy Mason – Talk Me Down
ALBUMS
1. Arcade Fire – Reflektor
2. Lusine – The Waiting Room
3. Toro y Moi – Anything in Return
4. Bibio – Silver Wilkinson
5. Vampire Weekend – Modern Vampires of the City
SHOWS
1. Lord Huron – The Basement (Columbus, Ohio)
2. Arcade Fire  – Palladium (Halloween LA, CA)
3. Holy Ghost – Treasure Island Music Festival (SF, CA)
4. Phantogram – Treasure Island Music Festival (SF, CA)
5. Atoms for Peach – The Hollywood Bowl (LA, CA)

SONG
1. David Bowie – Love Is Lost (James Murphy Remix)
ALBUMS
1. Midlake – Antiphon
2. Elvis Costello & The Roots – Wise Up Ghost & Other Songs
3. Deltron 3030 – Event 2
4. Queens Of The Stone Age – Like Clockwork
5. Bad Religion – True North
ELECTRONIC MUSIC SETS (Philipp is from Berlin and has a hard time distinguishing songs and albums from DJ sets.)
1. Nico Stojan – Lakeside Afterhour Set @Bachstelzen Festival Garbicz 2013
2. Dixon – BBC Radio 1 Essential Mix
3. Roberto Calzetta & Twin Soul – Jeudi Records, September 2013
4. Atish & Mark Slee – Robot Heart Friday Night Set @ Burning Man 2013
5. Tµmmetott – Naggisch Nad Morzem
_____________________________________________________________________
CLICK ON LINK BELOW TO HEAR COLLABORATORS MIX
https://soundcloud.com/witness-this/sets/wt-collaborators-top-5
_____________________________________________________________________
ARTIST LIST NUMBER ONE
[soundcloud url="https://api.soundcloud.com/playlists/17829926″ params="color=ff6600&auto_play=false&show_artwork=true" width="100%" height="450″ iframe="true" /]
_____________________________________________________________________
ARTIST LIST NUMBER TWO
[soundcloud url="https://api.soundcloud.com/playlists/17830026″ params="color=ff6600&auto_play=false&show_artwork=true" width="100%" height="450″ iframe="true" /]