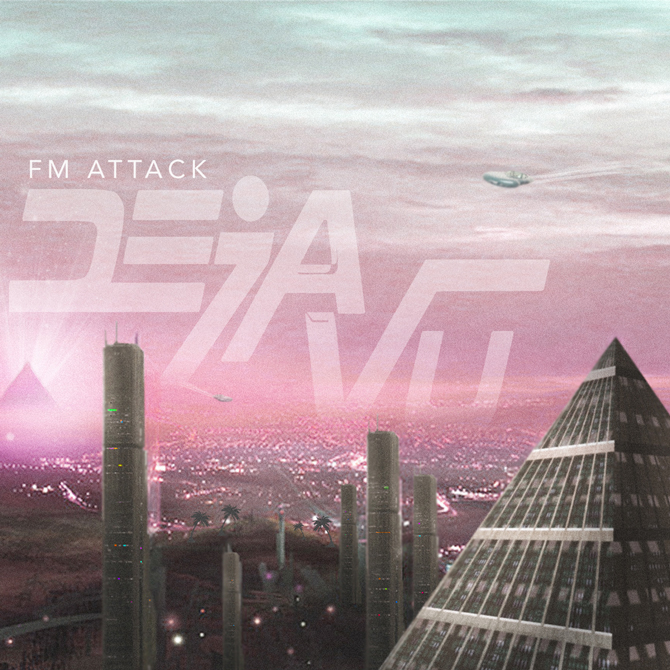 FM Attack creates soundtracks to another era, his albums speak to another time and place in such a manner that I find myself gazing off into the distance, imagining myself ripping off down the road next to Ryan Gosling in Drive, or throwing parties with Cruise in Risky Business. Shawn Ward is the man behind FM Attack, whom we've featured in our Genius section a few years back. With the release of the new album Deja Vu, I had a chance to sit down with Shawn while we listened to the album on a Fall evening in San Diego.
This album for Shawn seems to be an extension of the last, not only in style and sound, but in the way he collaborated with Kristine from Athens Greece. "I thought about singing on the track, but then after I sent it to Kristine, she sent be back the first version and it was perfect."
The play between Shawn and Kristine throughout the album really feels like a lost-in-space love story, his vocals intertwine with hers on tracks like Runaway and add another layer to the song.
"What's your goal, what are you aiming for?" I ask Shawn as we sit listening to the last track on the album Lost Angeles. "I think I have reached it in a way already." Shawn thinks for a moment. "It's not about blowing up and being massive for me. I'm so happy where I am and what I'm doing right now."
He lives in Mazatlán Mexico, making music in his studio next to the ocean, he has a tight group of friends that all make music, and in play shows all over the area. He has a gorgeous local girl whom they have been together for years now. He tours when he wants to, and gets to make the music that has inspired him his whole life. To Shawn it seems that it is more about the experience and for lack of better terms, the path. He's enjoying his steps, and Deja Vu is another step that he enjoyed all the way through. I sense a sort of peace in Shawn as he sits next to me at the table. "I feel lucky to be able to make money doing what I love, that's what matters for me right now."
Make sure you check out FM Attack's newest LP Deja Vu here and purchase it here.
[soundcloud url="https://api.soundcloud.com/playlists/16119645″ params="color=ff6600&auto_play=false&show_artwork=true" width="100%" height="450″ iframe="true" /]