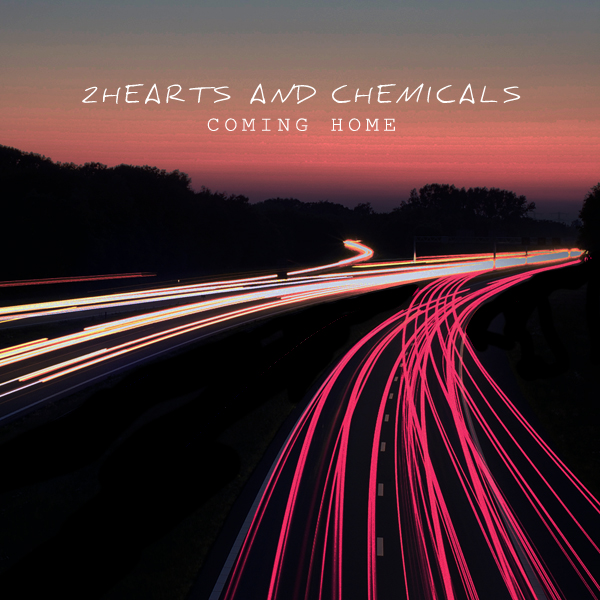 This Music Monday we are featuring a never before heard remix of the song Coming Home by 2 Hearts and Chemicals. The track is remixed by one of our favorite bands, The New Division whom we've featured a few times before.
click on download from soundcloud to get the song straight to your itunes.
2 Hearts and Chemicals is a band comprised of musicians Eli Lhymn & Stephen Biebel, based out of Los Angeles and New York City. The duo originally hail from Pennsylvania, and met in grade school when they were just 13 years old.
Influenced by the works of Brian Eno, M83, Harold Budd, and Ulrich Schnauss, as well Bowie, Bolan and Slowdive, the duo produce heavenly electronic tunes in a lush and bliss filled pop haze.
The band's debut EP – "Coming Home" was released Fall 2011 to great reception and critical acclaim. The band is currently in the studio with Tom Rogers (Atomix Studios) working on their sophomore release, to be released in 2012.
And now about The New Division, bio by Lindsay Colip
Spearheaded by John Kunkel (vox/producer) and amplified by Micheal 'Janzie' Janz
(sequencing/synths), Mark Michalski (synths) and Brock Woolsey (guitar), The New Division
is an LA based tour de force. Influenced by Joy Division, New Order and Depeche Mode, they
have taken the tastiest slices of these bands and infused some new life into them. Not stuck
under the weight and spell of the greats that came before them, but perfectly inspired, these
guys have done what most bands can't do. They've remained faithful to their influence without
being a copycat. Their sound feels comfortably connected to the past but with a momentum that
fastens them to the future. The core stays true to electronic dance music while supporting thick
branches of 80's synth, italo disco and brooding chill wave. Kunkel adds tugging lyrics to the
tracks, bringing satisfying emotion to the party.
Kunkel and his mates are constantly writing music. On any given day, they'll have multiple
songs going at once, expanding and editing whenever it feels right. In early 2011, they felt they
had 6 songs right and put out the highly acclaimed EP, The Rookie. It wasn't long after that they
felt they had enough material for a full length, and in late 2011, they released Shadows. This
album is generating a huge buzz. As more people put their ears to it, Shadows continues to
climb up charts all across the US as well as internationally. Several music publications named
the LP a top album of 2011 and as the new year unfolds, the masses are catching on.
The New Division are embracing today's musical landscape by being multifaceted.
Understanding the relevance of collaboration, they continue to drop remixes of their favorite
artist's tracks and in return, encourage others to remix their own music. They have also started
a label, Division 87 Records, which scouts both in the States as well as overseas for new talent.
Several members also have side projects going (Gala, John Glenn). If you're lucky enough to be
in the Los Angeles area, you can hear the guys live before they inevitably head across the pond
to appease their international fans.
No plans of slowing down, they are striking while the iron is hot. A new EP is due out in late
Spring, more live shows are being announced and a festival in their future looks probable.
If they continue at this pace, which seems likely based on the amount of started songs on
Kunkel's computer, it will be a very ear pleasing year. They've also decided to take a more
collaborative songwriting approach on this new EP, which will only enhance and deepen their
already solid sound. In sum, The New Division will make you want to get into your car on a dark,
rainy night and take a drive though a glittering downtown. Into your soul they will instill a deep
longing for the introspective 80's, when emotions were pinned to your jacket and one glance
from the girl gutted you. And above all, they will encourage you to honor your inner demons and
in the same breath, remind you to roll down your window so you can blow them out with one
long exhale.
follow The New Division on Facebook here.
follow 2 Hearts and Chemicals on Facebook here.