Do your dreams ever have a soundtrack? I know mine usually don't. But what if they did? What kind of music would be playing?
I guess it depends on the type of dream and of course your own personal music taste. But to me, it's still easy to imagine deep or minimal house music playing, with its soft harmonies and elevating ease; it already conjures up different emotions while awake, including nostalgia and melancholy.
Dancing to really good music can also give this feeling of dreaming. You can lose yourself during a great set at a club or a festival, and your mind gets transported to another place or time, or to nowhere at all except right where you are but still making you feel like you are dreaming and not even awake.
French newcomer YokoO has been dedicating his career as a DJ/producer to creating and playing deep and melancholic sounds, and he's been getting attention from the best labels within that field. After a handful of releases on world famous labels, including Moodmusic, Plastic City and Kollektiv Turmstrasse's Musik Gewinnt Freunde, he's about to release an EP on All Day I Dream, the label spearheaded by house pioneers Lee Burridge and Matthew Dekay.
YokoO is a cool cat – he's happy and super easy going. When we met him for this shoot and interview the sun was shining on a brisk Berlin autumn's day and he strolled up to meet us relaxed and smiling. His smile and laugh are contagious and he never stopped being laidback while we were in his presence.
"Our experience as human beings is far too short and wonderful to waste time surrendering to negative energies. I am learning how to embrace whatever happens and appreciate the good out of all situations. In the larger scheme of things, every experience is part of the journey and should be considered with objectivity."
The native Frenchman, turned Aussie, turned Berliner agrees that great house music can have a connection with the feeling of dreaming. "Through its warmth and intricate melodies, house music stimulates the subconscious and eventually leads to deep introspective feelings and thinking" he says. "It's quite a strange thing to say and may be difficult for some to visualize but if you could make the warm hazy feel of a dream a sound, this is pretty much what it would be like".
It's no wonder YokoO has been invited to release music on All Day I Dream, with their label described as "an exploration of beautiful, gorgeous, & melancholic shades of house and techno". Both YokoO's production style and his attitude make a seemingly perfect match for the label fronted by house visionary, and Burning Man regular, Lee Burridge. Just listen to YokoO's releases or to one of his sets live or on his SoundCloud and you can hear the connection between the two.
In collaboration with WITNESS THIS YokoO is releasing an exclusive new track today – an edit of fellow Frenchman, and house legend, Agoria. Download the track in lossless quality for free, and read more from our meeting with YokoO below.

Download YokoO's new Agoria remix of 'Under The River' for free here on WITNESS THIS. Click the download button in the Soundcloud link below.
"It seems the more you learn, the more you realize the quest to knowledge has no end."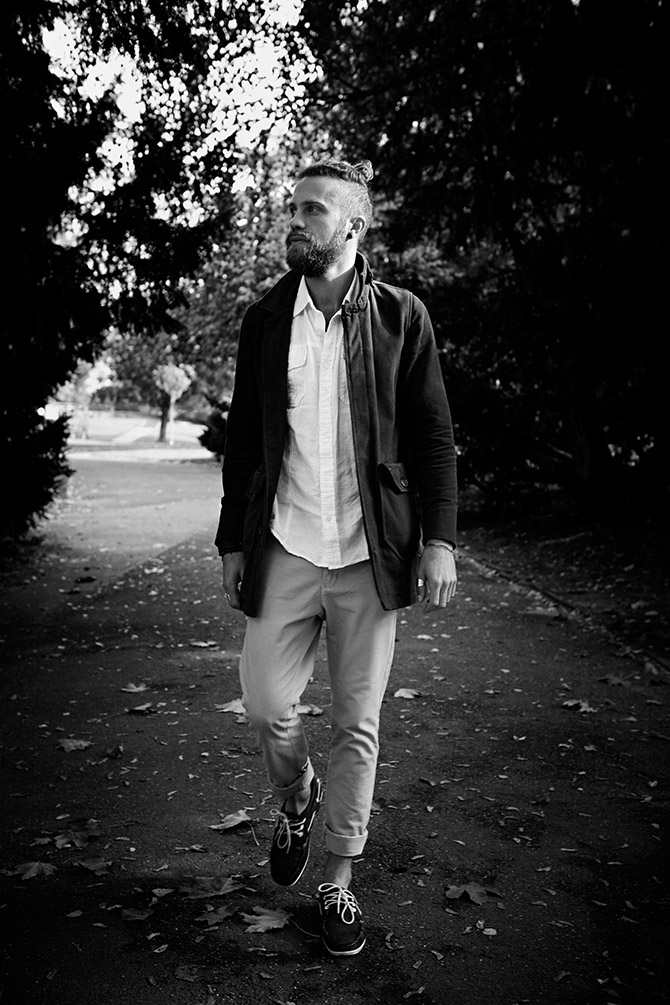 WT: YokoO, what have you been up to lately?
YokoO: So much, yet so little! After traveling most of last year and relocating here to Berlin at the end of April, I have been focusing on getting my flow back in the studio, settling in, practising yoga, as well as playing a few gigs around the place. I've also been getting my bearings right and preparing for the year to come.
WT: How are you enjoying being now based in Berlin?
YokoO: As much as I miss Sydney – the Australian family I have built there over the past 9 years and the unbeatable lifestyle the East Coast offers, I am very grateful for living in such an inspiring, open minded and cheap cultural hub. Several of my friends from around the world have been relocating here, too, not that I spend much time being social these days, but that surely helps making me feel like home. I have no doubt I'll be staying here for many years.
WT: Can you explain to us the meaning behind your name YokoO?
YokoO: YokoO (pronounced Yoko) has been my nickname since I was a teen. My friends named me after a cartoon character Yoplait had created to promote their brand. We looked alike, hence why the name stuck.
WT: I like your track 'Spiritual'. Are you a spiritual person?
YokoO: I like to think so. I am not religious though. I do not believe in gods, rather in physics, the knowledge of nature that involves the study of matter and its motion through space and time, along with related concepts such as energy and force.
WT: What are your spiritual routines?
YokoO: Over the last year, I have been practicing meditation and yoga for a minimum of 1 to 2 hours almost every day, questioning everything, reaching towards a higher state of consciousness. It seems the more you learn, the more you realize the quest to knowledge has no end.
I am currently very interested in and dedicated to getting a better grasp of my brain capacities by being as healthy and gentle to myself as possible and restraining the consumption of goods which in term limit my spiritual growth.
WT: Is there a key moment in your life which made you become a spiritual person?
YokoO: I'll always remember reading the Alchemist when I was around 15. That book triggered some feelings that changed my outlook on life forever. Even 14 years later, it keeps on delivering new messages every time I read it. Also, studying philosophy in high school initiated the expansion of my consciousness and helped me connect to the energy surrounding me.
WT: How do you do approach hard times in life?
YokoO: Meditation has proven to be really effective. Our experience as human beings is far too short and wonderful to waste time surrendering to negative energies. I am learning how to embrace whatever happens and appreciate the good out of all situations. In the larger scheme of things, every experience is part of the journey and should be considered with objectivity.
WT: 'Amazonia' is definitely a pretty melancholic track and it takes me far away, especially giving me the feeling of being in a rainforest, do you feel a connection to nature?
YokoO: I am glad you feel that way; that was the idea when I wrote it. I do feel a connection to nature and I find it would be strange not to. Aren't all living beings, including humans, and their creations, the extensions of nature itself?
WT: You recently played alongside Lee Burridge and the 'All Day I Dream' crew at their party in Brooklyn. How did you team up with the crew at All Day I Dream and get on the bill for their parties?
 YokoO: What an outstanding event that was! I feel really blessed and honored to play with Lee, Matt and the other artists who are part of the All Day I Dream family. Matthew originally noticed me in the summer of 2012 after he heard some of my music at a house party. We've been getting to know each other since then, and have become friends. In September 2013, he invited me to play at the launch of his baby label Für Die Liebe at Oval Space in London. Following the success of the party, he introduced me to Lee as someone who should be part of All Day I Dream. It was very natural for Lee and I to connect, and Matthew knew this.
WT: In your professional field, what can a young DJ learn from a guy like Lee Burridge? What is it that separates the good DJs/producers from the excellent in your opinion?
YokoO: Not only is Lee an amazing DJ but also an incredible role model for those that want long-term professional careers as an underground artist.
There are many factors that differentiate excellent DJs/producers from the rest. Talent, above all else, comes first. But what is talent without true passion, commitment, love, focus, dedication, self-confidence, belief, humility, and respect for others?
WT: Your productions fit into the style of dreamy house music; can you explain to us what the connection is between house music and dreaming?
YokoO: There is no explicit connection between house music and dreaming, although I think great house music inspires dreaming and dreams encourage creating amazing house music. I would say "dreamy house" inspires one to feel slightly deeper than other types of house; its main purpose being to evoke specific harmony related emotions within the listeners.
WT: What is your plan for the rest of the year and for 2015?
YokoO: Most of all, I'd like to be able to levitate, stop time, and master teleportation.
Besides that, I am going to keep on working in the studio as much as possible, since I've got my flow happening. I'll be traveling to North America at the end of October, and Central-South America around Xmas/NY through until the end of January. After that, I will fly to Australia for a month-long tour, stopover in Bali, and then head back to Berlin to make music in the studio again. All super exciting stuff really!
—
Check YokoO's website | facebook | Soundcloud and the
All Day I Dream project: facebook | Soundcloud