Do not listen to Hot Bodies in Motion on your shitty little laptop speakers.  Plug in some nice headphones or get your stereo out.  This music deserves a little respect, and so do the four guys making it.
They're down to earth, they're ridiculously talented, and when you see them play live you'll be in the front row trying to high five every member of the fucking band. Yeah.  They're having that much fun. Playing to a full house at a recent Seattle the band's building momentum was hard to ignore.  The recent release of their second EP has Hot Bodies sounding tight and ready to bring their soulful sound to the masses.
We caught up with front man Ben Carson at a Seattle coffee shop a few days before the big show to hear his take on the band, business, life, music, and religion.
Words by James Melcer Photos by Jason Tang

WT: Give us a brief history of the band.
BC:  I guess it all started my senior year of college (2010) with our guitar player Scott, our original bass player Zach, and myself.  Zach was in Nashville pursuing some studio work when he put us in touch with our drummer Tim.  At first we just started writing and playing and not really thinking anything of it, but when Zach moved back from Nashville and said he liked what we were writing we decided to book some gigs.
Scott's mom filmed our first show on her old school handi-cam, and posted it on YouTube.  Super embarrassing – but it got great local buzz and helped us get a lot of our initial momentum going.
Zach ended up deciding to move on and do his own thing, and we picked up our current bass player, Tyler, who was actually playing with Allen Stone's band at the time.
We started writing seriously in 2011 and that's when we released our first EP.  There are maybe some songs on there we're not so proud of, but with the new material that's coming out we're really honing in on our sound and being much more selective.
WT:  So how do you feel about the new album?
BC:  It feels like our first recording really.  The dynamic of the band has really changed with Tyler, and he has brought this kind of R&B vibe that we were really missing.  The formation has taken the best direction it could possibly have gone, and I think we're really starting to find our sound.
WT:  Tell us a little bit about the creative process you guys go through when you are writing your music.
BC:  This is actually my favorite thing about playing music in this band.  Our drummer Tim will lay down a groove that he thinks sounds awesome and we'll record him for like 2-3 minutes.  Basically making samples using our drummer's natural instincts.
Scott will then take that drum beat and respond to it, and I'll do the same so it becomes this series of responses within the band that gives us a totally organic version of looping  or coming up with hooks.  Using the creative energy in the band rather than a metronome or a canned beat from GarageBand.
WT:  What about the lyrics?
BC:  The lyrics are exclusively written by me.  Sometimes they're too self effacing I think, but it's just like an avenue to be honest and work through things that are going on in my head.
A lot of it also deals with the struggle of being raised pretty conservative in a Christian home and comparing that to what I'm seeing in the real world.  Kind of contrasting what I've always been told with what I've learned to be true in real life.
WT:  So the songs aren't about love and romance?
BC:  It's singing about love but not always in the girl / boy way.  Sometimes it's intentionally obfuscated too.  For example, one of the new songs on our new EP called "Slowly" kind of sounds like someone leaving a lover, but it's more about dealing with someone with mental illness in my family and this kind of separation that you feel needs to happen between your feelings.
I mean it's hard because sometimes people you love can hurt you.
WT:  What motivates you when you don't want to write or practice?
BC:  Honestly the feeling of being unmotivated motivates me – almost like a creative fight or flight instinct.  Any artist out there knows there are days when you just aren't happy with anything that is coming, and those are the days I just keep writing until something comes out that I am happy with.
WT:  When did you first realize that you were a performer…that you could get up on stage and affect people?
BC:  Honestly I think it really has to go back to my roots growing up in church.  I was really involved in worship and I was always impacted by the affect of music on people in church unlike anywhere else.  I think a lot of my ideas have changed since then, but that's where I learned the power behind music and how it can affect people no only psychologically but spiritually.
It's something that exists outside the framework of science or reason.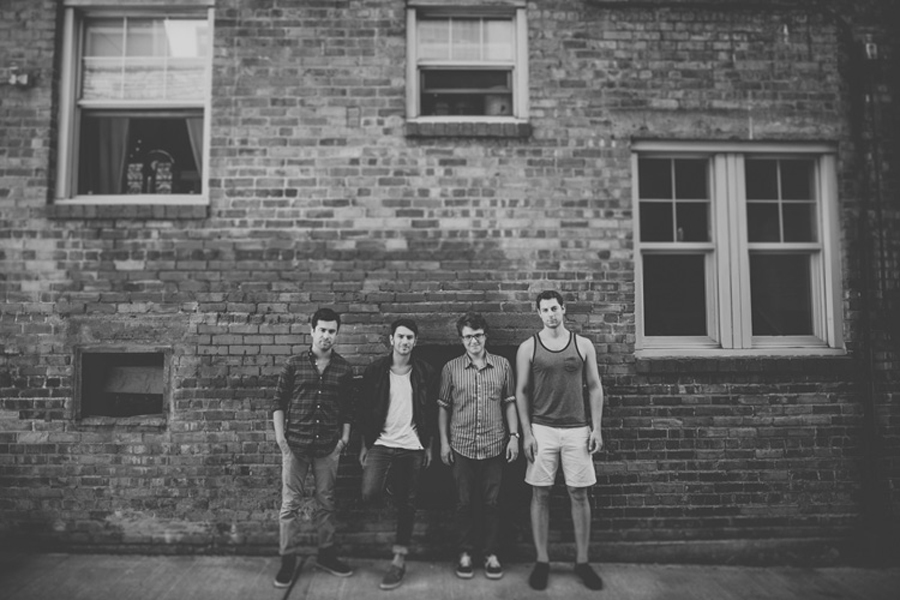 WT:  How do you rate yourself as a singer?
BC:  That's a really difficult question.  Just by my vocal ability alone?  I would say 6 out of 10.  I mean I could name 500 – no – 5 male vocalists in Seattle that I admire and look to with more respect right now.
WT:  Wow 6 out of 10.  That's pretty harsh.  Most people would probably rate you much higher than that.
BC:  For me that's kind of weird to hear because I was always just a bass player until Scott was like, "Why don't you grow some balls and sing like a man."
WT:  Tell us a little more about the other members of the band.  Who's the most talented?
BC:  The unanimous decision on that one is definitely Scott.  If Tim were here he would say the same thing.  If Scott were here well..he would probably say the same thing too.
(laughter)
WT:  Yeah Scott sounds like a pretty unique guy.  We hear he has his own guitar shop?
BC:  Yeah he literally builds the guitars that we play.  It doesn't get any more organic than that.  We actually practice in his wood shop.  Where he's doing his craft, and we're doing our craft.
It's this weird full circle thing where creativity just happens like all the time.
WT:  What is it like to have fans?
BC:  It's surprising.  Not like I don't think our music is good, but that people care.  It's so hard to fathom.  There's just so much noise in everybody's face with social media, Facebook, Twitter, everything.
To just get 30 seconds of somebody's time and have them be like, "OK I'll pay attention to that," feels like a gift.
WT:  You guys play pretty pure rock music.  How do you feel about the electronic scene that is blowing up across the US right now?
BC:  It's hard, because I personally really enjoy a lot of the electronic stuff.  I'm really into a lot of the chillwave stuff.  Washed Out.  Little Dragon.  But I don't feel like it's necessarily timeless.
For me there's a raw energy and power that comes from 4 guys making music together on stage with no pre-recorded tracks and no loops.  I feel like there's going to be a lot more of a demand for something like that.  Something that feels honest and something that feels real.
We really like to take risks with our live shows and the fact that something could go wrong makes it that much more real.  If someone is pressing a button on a laptop there's just nothing that's going to go wrong.
Everything we play is about that organic vibe, and you can only get that with everybody on their instruments crafting together.  You miss some of that human element with the electronic stuff.
WT:  You guys shared the stage with Macklemore a few years back.  How do you feel about his recent success?
BC:  That guy deserves it more than anybody I know.  I mean just like turning down labels and refusing to compromise artistically or creatively.  I love his album, and I think creatively he's a genius, but that creativity extends beyond the music into the way he markets his product.
That's a huge piece of it.  From a business standpoint I respect the hell out of that guy.  He's built a dynasty around his name.  He's even got his own clothing label, and it's all just Macklemore.
WT:  Tell us more about the business side of the music industry right now.  What's it like to be launching a band in 2013?
BC:  It's terrifying.  Previously if labels didn't sign it and it wasn't on the radio people didn't hear it.  Now that barrier of entry is going away which is good because you don't have to win the approval and kiss a lot of ass to get to this level, but it's a bad because now you're competing against anyone who has a laptop.
Musicians are just being forced to be more versatile, and it just comes down to survival of the fittest.  How long you can keep grinding it out.
WT:  What are you listening to right now, and how are you listening to it?
BC:  Oh man.  I've been listening to a lot of Stevie Wonder and Michael Jackson lately.
Also a lot of Lord Huron which is obviously one of the best albums of 2012.  I would have to say the same about Frank Ocean's new album.
As far as how I'm listening to music I guess I have to admit I am a huge fan of Spotify.  I am actually a premium subscriber.  I pay $10 a month – and I'm not sure how I feel about that.
I do also invest in vinyl.  I love listening to good vinyl.  My girlfriend just got me D'Angelo Voodoo on vinyl.  Wow.  I've been listening to a lot of that lately too.
WT:  So a combination of vinyl and digital streaming?
BC:  Yeah – I think that's where we're going to see the growth as far as how people are consuming music.  I want to choose what I want to invest in, but I also want to have access to everything else at the same time.
WT:  Ok this is serious.  2Pac or Biggie?
BC:  Biggie for sure.  Holy cow.  Are you kidding me?  His flow is just – I mean I learned the stank face from listening to Biggie!!
WT:  How did you first hear about Witness This?
I remember exactly what it was.  You guys had some crazy photo of the guy from Breaking Bad posted and I clicked over to it.  It's actually one of the only blogs that I  follow because I don't want my feed being clogged with garbage, but you guys always post cool stuff.
WT:  Thanks man that's awesome to hear.  Can you wrap up by giving us a shameless plug for the band?  Where can people find your music and connect with you guys?
BC:  You can find both our albums on iTunes, Spotify, and Amazon (also on Soundcloud).  To find out what's happening with the band and connect with us we're definitely most active on Facebook and Instagram.  We've got lots happening in the next few months so stay tuned!
http://www.youtube.com/watch?feature=player_embedded&v=tlCwpwse5Qg