North Carolina-based artist Patrick Dougherty has gained an international reputation for his natural-wood structures and has created hundreds of monumental, site-specific sculptures around the world. His work is constructed with saplings from local sources and shaped into massive, swirling forms as high as 40 feet.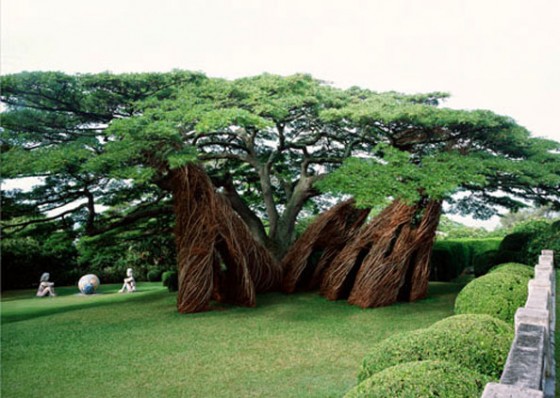 Dougherty crafts large-scale sculptures from saplings: weaving, snagging, and flexing sticks into playful, nestlike architectural forms that evoke themes of shelter, habitat, and sustainability. Created of organic matter, his works have a natural life cycle, changing over time as the sticks settle and decay, eventually returning to the earth they grew from.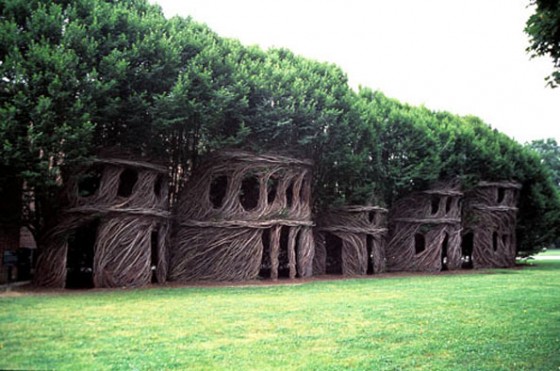 The nest houses made by actually weaving growing trees into the shapes of houses, cocoons, pagodas, huts, giant water pitchers and even people, Dougherty has traveled the world with his truly extraordinary sculptures. Mr. Dougherty uses the house and its herd of outbuildings as a laboratory for new ideas. Also, he said, "I just like to build stuff." He prefers red maple for his stick work — and used to bring his own sticks to each installation. Now, he harvests from the sites. Mr. Dougherty, who is now in his 60s, has a portfolio of over 200 amazing pieces from houses that look like a grove of trees to large pavilions that seem to have been built by a beaver.