We are continuing with our Guest Witness features this week. Today we are proud to present Nikki Stout. Not only is she a cooking godess, but also exquisite  wordsmith and food photographer. It can be easy to get lost and bored reading recipes, but the way that she writes feels as if she's standing in the kitchen next to us. This is our first cooking post, we might add, and we hope it is one of many from Nikki.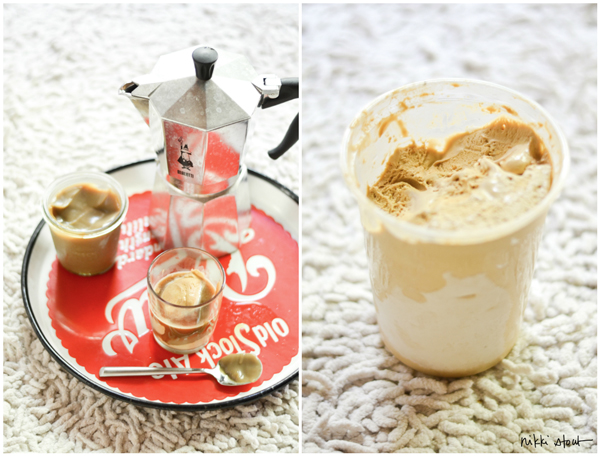 photos + words by Nikki Stout 
This really should be titled "Jeni Britton Bauer, will you marry me?" From her drool worthy flavors and impeccably designed shops, to the beauty that is her cookbook, everything about her is utterly divine. I have a major girl crush, clearly.
I discovered her cookbook while working one of my last shifts at Sur La Table and couldn't put it down. The photos, the flavors, the type. I was so excited to find this beautiful gem of a book.
I immediately bought it and then an ice cream maker, and my love affair with Jeni began. Okay, maybe not necessarily with Jeni, but with ice cream. I was smitten and still am.
What makes her method different from most ice cream recipes is instead of using eggs as a thickener she uses tapioca starch (or cornstarch) and cream cheese. What I enjoy most about this is that the flavors don't get muddled by the addition of so many eggs, and instead are pure and intense – similar to gelato.
This particular concoction of mine was inspired by an article my roommate read in Lucky Peach titled Miso Horny…perfect, right? They featured a burnt miso butterscotch sauce that I really need to try soon.
This started out as just an ice cream recipe…
Then I got to thinking, this still is not enough. I need more.
My mind drifted to Italy and I knew I had to make an affogato of it.
I love affogati. Maybe more than dogs. That's a lot.
An affogato is simply the italian name for a scoop of ice cream drowned in espresso – their version of a root beer float. It is the simplest dessert and can be easily altered depending on the season, and your liquor cabinet.
To make an affogato:
Make sure your ice cream is super cold, and the caramel is room temperature, or just warm enough to drizzle.
First, scoop a bit of ice cream into small glasses and spoon some caramel over it. The ratio of caramel to ice cream should be about 3 to 1. Let chill in freezer.
Now prepare your espresso – I use a moka pot. But you could also just use french press…if you must.
Once the espresso is done, get chilled glasses out of the freezer and pour a shot of espresso into each glass.
Of course, you'll need to know how to make both the ice cream and caramel sauce, so here they are:
MANGIA BENE!
MISO ICE CREAM
Adapted from: Jeni's Splendid Ice Creams at Home
ingredients
1 ¼ cup whole milk (plus 2T)
1 Tablespoon + 2 teaspoons cornstarch OR tapioca starch
3 Tablespoon cream cheese (at room temperature)
¼ cup yellow miso (at room temperature)
½ teaspoon sea salt
1 ¼ cup heavy cream
¾ cup full fat coconut milk
⅔ cup sugar or evaporated cane juice
4 Tablespoons molasses (blackstrap if you have it)
⅛ teaspoon cayenne pepper
method
Make sure miso/cream cheese are at room temperature, or they will be tough to cream.
Combine the cream cheese, miso and salt in a large glass bowl and whisk till smooth.
In a jar combine cornstarch or tapioca starch (if using) with 2 Tablespoons of whole milk. Shake it up until it is combined. Set aside.
In large saucepan (4 quarts), add whole milk, coconut milk, sugar, heavy cream, and molasses over medium-high heat. Stir until sugar has dissolved and bring to boil. Let boil for 4 minutes, but make sure you don't turn your back on it, as it has the desire to boil over. If it looks like its going to boil over, just stir with spoon…this will calm it down.
Once the 4 minutes of boiling are up, turn off heat and slowly whisk in cornstarch  (or tapioca starch) + milk mixture. Turn the heat back on to medium flame, and stir with a wooden spoon for about a minute until the mixture has thickened. Turn off heat.
Pour ¼ of the hot milk mixture into the bowl with cream cheese + miso, and whisk until smooth. Slowly add the rest, and whisk making sure that there are no lumps.
Whisk in the cayenne.
In a large bowl, or your sink, make an ice bath: fill with cold water + ice cubes. Use just enough water so that it comes up the side of the ice cream bowl, but doesn't spill into the bowl…ice cream + water = bad.
note: Jeni recommends pouring the ice cream mixture into a ziploc bag and submerging it into ice bath. You can do that if you'd like.
If you are using bowl method, occasionally stir the ice cream mix until it is chilled, about 20-30 minutes.
At this point it is acceptable for you to be really impatient, but hold tight.
It will be worth it.
Once ice cream mixture is thoroughly chilled pour into the bowl of ice cream maker base and let it churn until it has become thick and creamy.
Pack into a freezable container and let freeze for about 4 hours, or until firm.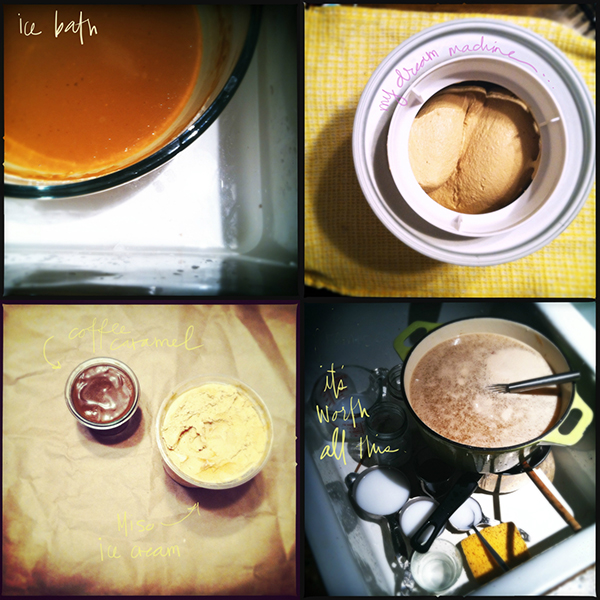 COFFEE CARAMEL SAUCE
adapted from The Kitchn
Note: The Kitchn's recipe calls for 1 ½ teaspoons espresso powder. I substituted espresso,
because I didn't want to hunt down espresso powder. However, if you do, you can read about it here. I believe you can find on amazon, or specialty food stores, like Sur La Table.
ingredients
5 tablespoons unsalted butter, diced
½ cup packed light brown sugar
⅔ cup heavy whipping cream
1 shot of espresso
½  teaspoon flaky sea salt, plus more to taste
2 teaspoons vanilla extract
method
In a small saucepan melt butter over medium heat, careful not to burn. Once melted add the rest of the ingredients EXCEPT the vanilla extract. I didn't see this part, and it was fine, but then again…how would I know?
Bring it to a slow boil + whisk away for about 30 seconds. Turn down heat so that it is just simmering – little bubbles – and keep whisking for 3 minutes.
Take off the stove (turn off the flame) and stir in the vanilla.
If you aren't ready to eat it, put in jar/container and refrigerate. It should last in the fridge for 2-3 weeks…if you somehow manage not to eat it all before then.
Follow Nikki on her Tumblr Sugar Paws.