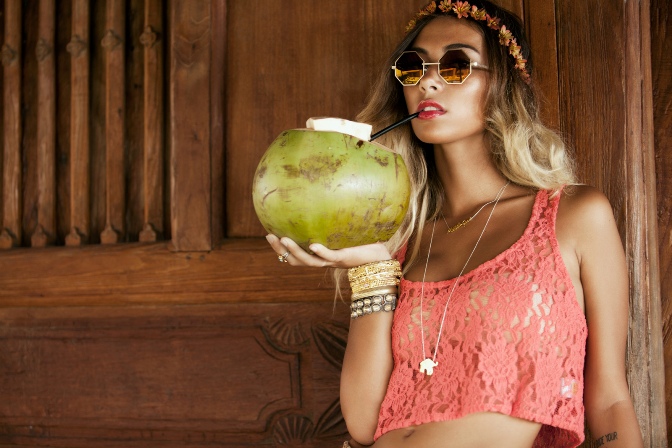 —
Milk The Goat is a Bali-based beachwear and jewellery label.
Blended with 'California pin-up hippie' spirit and an ultra-relaxed attitude, MTG is designed and cut to give female curves the perfect shape, drawing elements from different decades such as high waist bikini cuts from the 1940s/50s.
However, what stands out most about this independent label is its authenticity – product design, corporate identity, brand values, and other activities surrounding the brand feel so organic as it can only be achieved by true passion.
MILK THE GOAT is as self-made as it can get.
MTG founder Nicole's life, the brand, and its fashion are inseparably connected – Nicole's friends are the very brand ambassadors of MTG, they inspire, they model, and let me tell you that they happen to be some of the hottest friends one can have. The fashion shoots are all supervised by the boss herself, and the results are of a more natural sexiness and power than I have witnessed it from hundreds of big commercial brands who are trying (too) hard to achieve exactly that.
I managed to get the opportunity for a peek into the new collection as well as busy bee Nicole's attention for an interview.
"I have a soft spot for the pinup. 

There's nothing sexier than soft curves and bright lipstick."
WT: Who is behind MTG, and how did it all begin?
MTG: I am the owner and head designer of Milk the Goat, but I have a team of extraordinary women who work for me, whom I endearingly refer to as my Milkmaids.
I was living in Sydney and working in film production/media when I thought to myself, "I make all of my money in film production/media, and I spend it all on fashion and travel. How can I combine these three things and make money out of that?" … I had a few friends in Sydney who had fashion labels that they ran out of Bali, and it just kind of lead to this concept of combining fashion, travel, photography, blogging, videos, and an online boutique. Thus, Milk the Goat was born.
WT: Your collections consist of beachwear and jewellery, mainly. Where from do you draw inspiration for your designs?
MTG: I am literally inspired by everything, the world is my playground. I can look at the texture of an old rusted can in the garbage and think, "Oh that's cool, let's use that texture on a bracelet." Or I can be hiking the Himalayas and say something like, "Hold on guys, I want to take a photo of that old woman's poncho, I think it would make a really cool print for next season's bikinis." Inspiration is everywhere! Which is how I justify gallivanting around the world all the time.
WT: Who is MTG made for?
MTG: I make it for my Milkmaids! Anyone who likes Milk the Goat becomes an official Milkmaid. I like to think of MTG as a kind of "Fashion Club" for fellow open-minded adventurers who love to travel and are all about love, peace, and rock-n-roll; this is the girl I think of when I'm designing.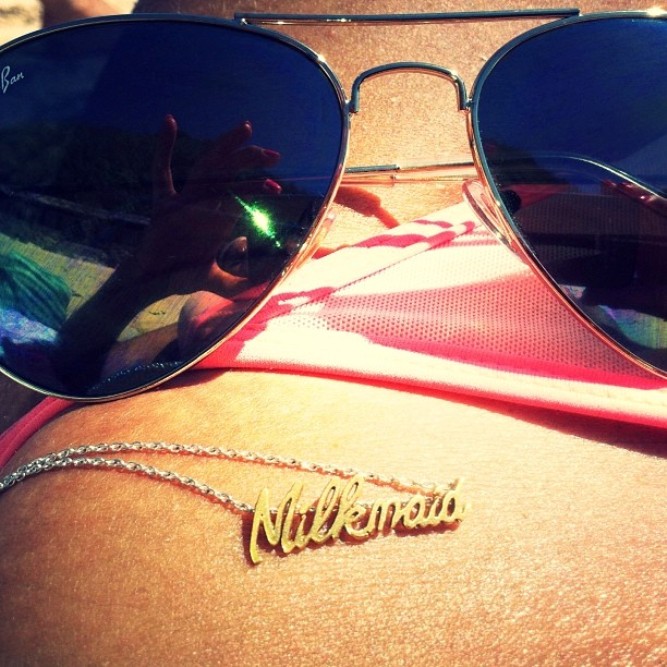 WT: From looking at your website I see one of your brand beliefs is that you design clothing for 'curvy girls' that makes 'girls with boobs or hips look the good kind of curvy'. You have my thumbs up for that. I guess you are hitting a nerve with this approach?
MTG: This topic has sparked a lot of heated conversations for me, but the reality of its origins are quite simple, really. I myself am a curvy girl who has an hourglass figure. It has always been difficult for me to find clothes that emphasize the areas of my body that I want to emphasize. Most designers design clothes that are meant to look good on runway models who are 6'0'' and extremely skinny; and the cuts of clothing that look good on these body types do not look on me, so it's always been difficult for me to find cuts that fit my body type. So I realized that there was a market need for girls like me, and I am more than happy to fill that need! Plus I just have a soft spot for the pinup. To me, there's nothing sexier than soft curves and bright lipstick!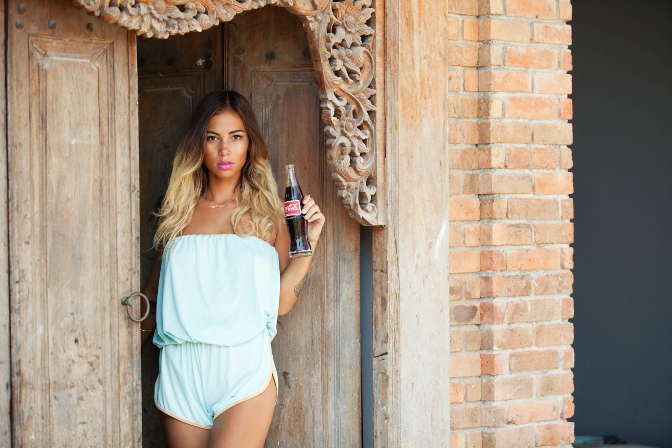 WT: Your look book shots are super-hot. Please tell us a little more about your fashion shoots, and where you find those beach beauties. How does a typical MTG fashion shoot come together?
MTG: The fashion shoots are probably my favorite part of fashion design. I was a film director before I entered fashion, so during a photo shoot I get to combine all of my talents and backgrounds. I photograph about 90% everything you see on Milk the Goat. I really enjoy being behind the camera. Plus I'm a bit of a control freak/perfectionist. So when I'm the one controlling the camera, I get to see what I'm getting as it's unfolding. It's an exhilarating, beautiful process!
That being said, on our big photo shoots, I simply can't do everything. So I team up with the brilliant photographer Lukas Vrtilek. We naturally share a similar vision so I know I can relax and let him do his thing so I can focus on mine. It's a beautiful artist partnership.
As for our models, 90% of the women we shoot are super-hot "average girls", meaning they're not professional models. Beautiful "normal girls" are so much easier to relate to then the supermodels in the fashion magazines, and our brand is all about inviting every woman to "Join the Club," so we have to be relatable. In order to accomplish this, I just ask my super hot friends to model for me, and so far it's a technique that's working!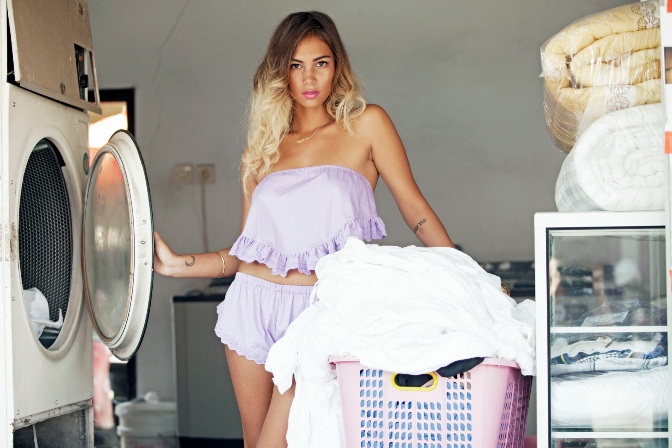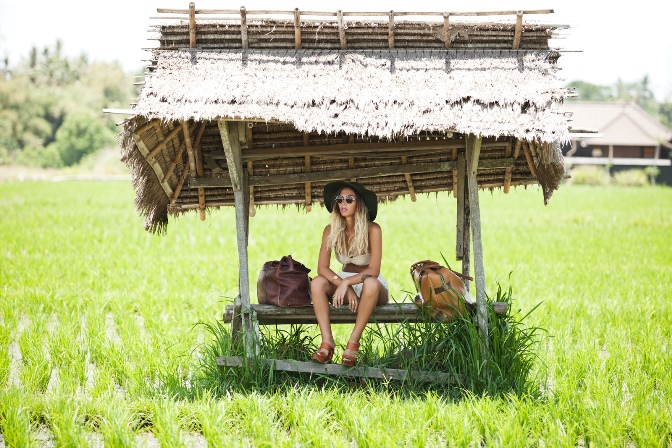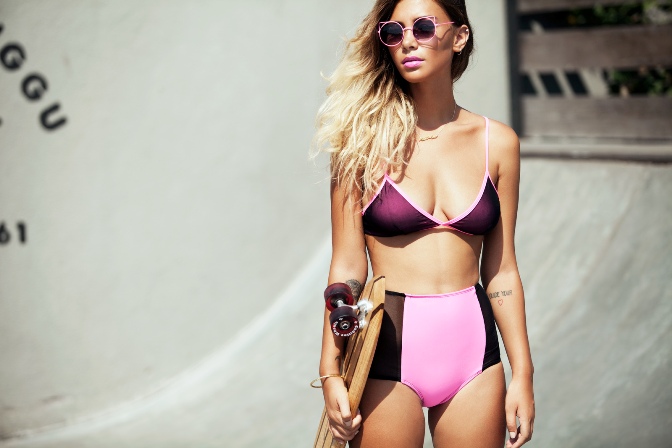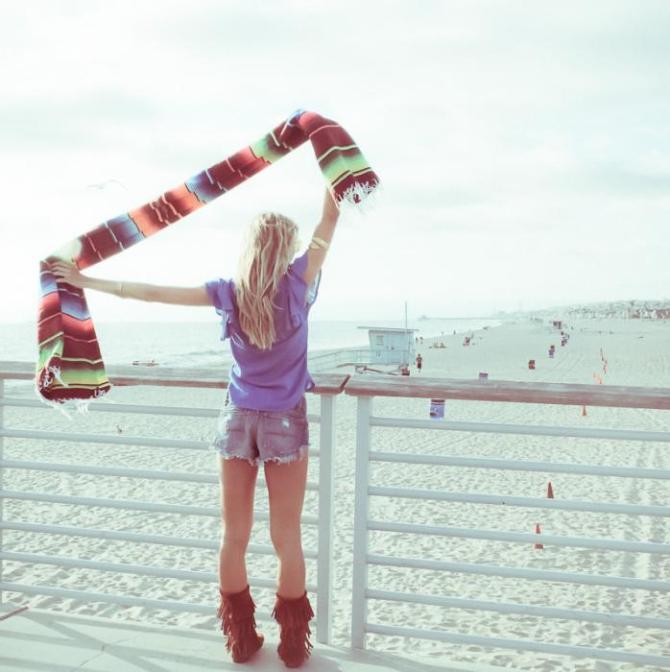 WT: Impressive. Is there any agency involved? What about post-production work like retouching?
MTG: I normally don't retouch. I don't really believe in retouching. When we have to for magazines and things like that I'm always very firm on not allowing too much retouching. I want my women to look like real women. Plus, I think I have a social responsibility to young girls, and a part of that responsibility is to present images of healthy, strong, confident women who are beautiful inside and out.
And as far as an agency, I haven't used one yet. But that's not to say I won't in the future. I'm a pretty outgoing person, so I'm known to run up to a girl and say, "Hey! I think you're adorable, do you want to model for my fashion label?" Or I'll find them on social media and reach out to them. I'm a pretty active person, so if I see something I want, I go get it! Or least I try, and trying is the most important part of any business, especially for an entrepreneur!
WT: Please tell us about your production process. What happens between first design ideas until a new piece sees the light of day, and is ready to order?
MTG: Oh god, this could take days, haha. Production is by far the most difficult part of being a fashion designer. It's all a balancing act and a lot trial and error. Sometimes it takes ten tries before you get a design right. And sometimes it's a total screw-up that makes you go, "Actually… I love it!!! It's better than my initial idea". But normally, it's almost a full year between the sketch and the original concept, and the time that design hits the stores to be purchased by our fabulous Milkmaids.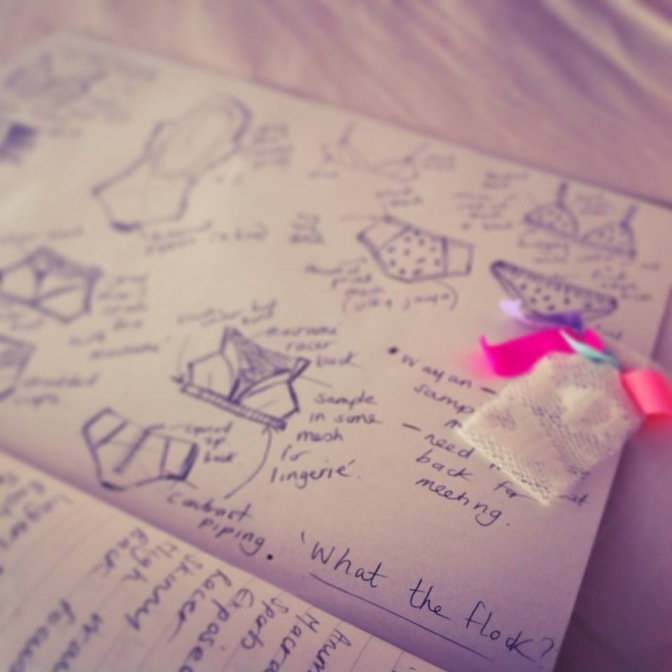 WT: In my imagination you design on old parchments in a romantic wooden hut right on the beach under candle lights…
MTG: I think the mystery and romanticism of operating out of Bali is a part of what makes Milk the Goat so special. We share behind the scene photos everyday of what our like is like on all of our social medias, and there's kind of like clues to a treasure hunt. But I will let you in on an exclusive MTG secret, at the end of that treasure hunt the gold pot is a sign that says, "Quit your job. Buy a ticket. Get a tan. Fall in Love. Never return." That's what we did!! And we're hoping you follow our lead 😉
WT: What materials do you use and where do you source them?
MTG: For clothing, we are a bit limited because we manufacture in Bali. Indonesia raised its import taxes so now we're mainly limited to the fabrics produced in Indonesia. So mostly light cottons and rayons. But the technique of Batik is a Balinese speciality, so we're developing a lot of really cool pieces with this technique in our next collections.
And for our jewellery, the "stones" are actually blown glass, handmade in Venice. I bring the glass with me and then have our Balinese silversmith put them into handmade settings. So all of our jewelry is handmade with love from start to finish!
WT: How does MTG relate to terms like sustainability and fair-trade production?
MTG: People always ask me this and it always turns into some political debate with big words and strong opinions. This isn't my style. Everyone who works for Milk the Goat is treated with love, respect, good wages, and good old-fashioned humanness. I care about my workers, and in turn my workers care about me, and the products that we make. I believe you can feel this love in everything we do, I'm a bit of a hippie when it comes to these sorts of things. So in short, yes we are fair trade and that's why we have higher price points, but I don't want a pat on the back for it. I simply think it's a part of my responsibility as a Global Citizen to create products that don't warm the environment and to treat my workers the way I would like to be treated.
WT: What's a typical batch size you produce for, let's say, a bikini or a ring, respectively?
MTG: That totally depends on a number of things. If a celebrity wears something, I'll blow out of stock quicker then I can produce it. And then sometimes we'll do exclusive collections for our favorite shops, or for organizations we support. So it just depends.
WT: You mention celebrities. Do you have famous customers?
MTG: I launched Milk the Goat less than a year ago, and I simply can't believe how many celebrities love MTG, I'm so stoked!! Vanessa Hudgens wore our White Rock V-Top and Newport Lace shorts to Coachella last year, Jessica Alba loves to rock our bikinis, Kendall and Kylie Jenner are some of our biggest fans, as well as Julianne Hugh, Alessandra Ambrosia, Christina Applegate, Leighton Meester, Haylie Duff, Brenda Song, and more!!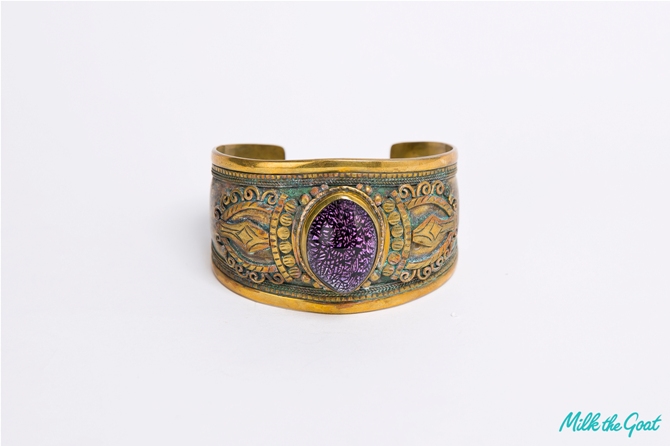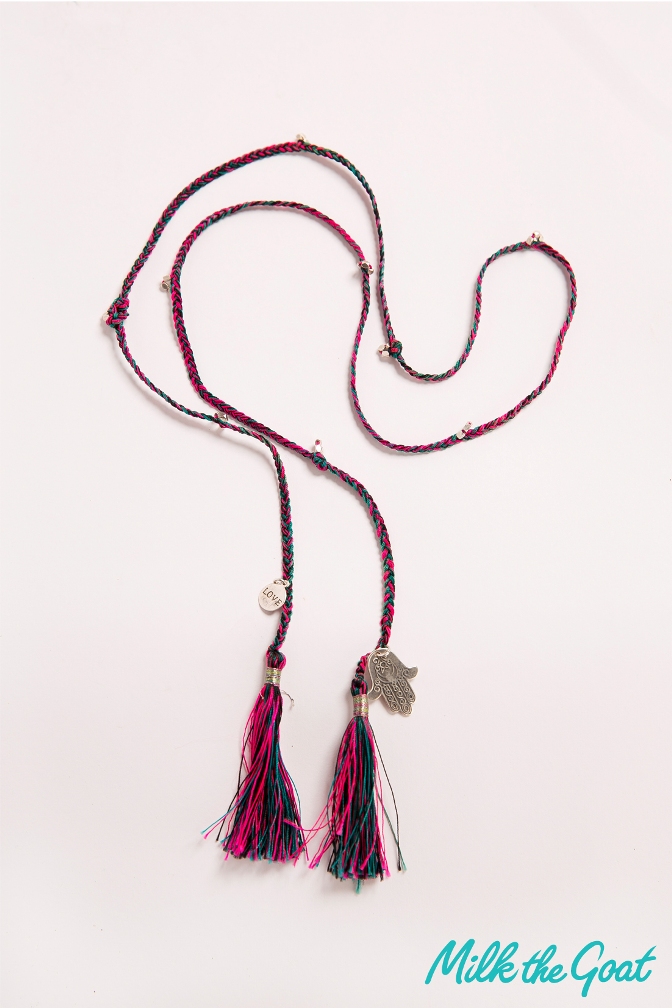 WT: Do you have stuff for 'curvy boys' as well or is MTG strictly for the ladies? I want to become an official milkboy!
MTG: Ha! "Curvy boys," you're too funny! As of now we don't have menswear, but we're currently developing our men's line G.O.A.T. … It's an American acronym for "Greatest of All Time." And what guy doesn't want to be the greatest of all time???… especially when they get to be surrounded by a bunch of Milkmaids?!!! I'm pretty excited about designing men's, the whole time I'm thinking, "What would I want my date to show up wearing? What's going to get my juices flowing the second I open that door?" and "What do I want my arm-candy to say about us? And how do I express that with what we're wearing?" It's pretty ridiculous but it's true.
It's so funny, every time a guy asks me what I do and I tell him that I'm a fashion designer, the guy turns self-conscious and goes, "How's my outfit?" Women don't do this, only men do this; which I find surprising and also hilarious.
WT: Can I practically order MTG from anywhere in the world?
MTG: You sure can! Everyone in the world is welcome to join the Milkmaid Club!! We offer to ship to any country in the world. But that being said, some countries have laws against importing and blah blah blah, so obviously there's nothing we can do about that. But my dream for the future is to have Milkmaids in every country in every corner of the globe! Like I always say, "One Love, One World".
WT: Can you tell us a little more about your charity efforts?
MTG: Our charity is called OUR TRIBE. We consider ourselves a platform to other charities. We team up with a couple different smaller organizations and strive to shed a little light on issues that don't see a lot of limelight. Currently we are working with HOPE Orphanage and Bali WISE. Another charity project that I currently have in development is called 'Women Helping Women', which is exactly what it sounds like, an organization of women who come together to help empower women in unfortunate circumstances. Any help from men is, of course, welcomed with open arms, but at the same time, I think it is very important for today's young girls to see women helping other women. I don't want the next generation of girls to assume that all girls hate each other and should be seen as the enemy. I want to provide the next generation with a strong example of smart, confident, caring women who embody all of the best examples of female spirit.
WT: What's next for MTG? Any future plans you would like to share with us?
MTG: Of course! I'm someone who will never be content, I will always want to expand, grow, and evolve. Ever since the beginning, I have had the goal of wanting to combine Women Helping Women with the fashion aspect of Milk the Goat. Ideally, I would love it if MTG could go to, say, Morocco for a couple months. Morocco's textiles, architecture, landscapes, people, etc would inspire an entire collection. Then the charity portion would come into play and we would utilize the skills of the local women. For example, maybe they're excellent at beading. We would incorporate beading into the clothing and jewellery and then a portion of the proceeds would go to the local women. And the entire process would be filmed. So from start to finish you would get to see where we source local fabrics, how we use our surroundings for inspiration, how we empower the local women, and how a sketch turns into a design from A-Z. And then we would do it all over again in a different country! It would be a bit of a hybrid show for either the Style Network or Travel Channel, or both! However, do this properly we would need a lot of funding, so if you know anyone who would be interested in bringing this idea to life, send them my way!!!
WT: Thanks for your time, Nic. Hope to see you again soon in some sunny part of this world.
MTG: I guess it's time to wrap everything up, so I would just like to say to thanks to everyone for reading this article! Welcome to the club, new Milkmaids and Goats!
—
Want to become a milkmaid? Browse milkthegoat.com or follow MTG through their Instagram or facebook.