The name Maral Salmassi aka KALI resonates an impressive echo within the music world.
Most of her fans are particularly thrilled by her musical output as a first-class provider of electronic sounds. The work of the multi-talented Iranian-born artist entails the creation of the three labels Konsequent, Art Of Perception and Television Rocks which are home to long-established techno artists like Cari Lekebush, The Advent, Electro-Jazzer Jimmy Tenor and The Sexinvaders.
KALI is the new Pseudonym, "Pussy Drop" her event, and Bolly-Tech her new sound which promises "a combination of Trap, Hip-Hop, Baile Funk, and Ghetto-Tech influenced by traditional Bollywood and Maghrebian music". The outcome is a fusion slightly ahead of the times, and made us so curious that we had to chat with the woman behind the KALI project.
What I found was a woman with a reflected perception of herself and others. A woman who supports other sisters in their struggle for womens' rights and an integration of ethical values in Islamic countries. Tune into her latest Bolly-Tech podcast that she publishes in collaboration with WITNESS THIS, and read the interview below that touches on her new EP, music, life, love, god, modern feminism, and other aspects of existence.
Tune into KALI's new Bolly-Tech podcast – premiering exclusively on WITNESS THIS.
See bottom for tracklist.
WT: KALI, can you tell us about your roots and your current whereabouts?
KALI: Originally I'm from Iran and left the country in 1986 during the Iran-Iraq war. Currently I live in Berlin.
WT: What is your first memory of music?
KALI: My first memory is the record collection of my parents. Their record collection is huge containing a wide range of music reaching from Middle Eastern and Classical over Pink Floyd, The Doors, Beatles, Ray Charles, Joan Baez, Johnny Cash to Kraftwerk.
WT: Which decade is musically the one you are most inspired by and why?
KALI: I'm not really tied to a particular decade, but a lot of Bollywood music from the 60s to 80s has been a big inspiration. The crossover of this period is incredible. A huge part of the music from this period mixes latin, western or African elements with Indian music with amazing results and genius arrangements.
WT: Your new EP "Sahara" has dropped last Friday. You are very popular in the Electronica scene and most of your fans don't know you as Trap DJ yet but your musical output is now shifting to Trap. How did you get the idea to do this and what made you do it?
KALI: I simply got bored doing the same thing over and over. I can't see any noteworthy development in todays house and electro music and just felt like if I had continued producing house and electro I would have been participating in mediocrity. A lot of artists even go as far as to say it's dead. I wouldn't necessarily say that. It's not dead, it just smells funny.
WT: You are raising your voice against violation of human rights, especially misogyny, homophobia and racism in Islamic countries like Iran. Do you believe that in Iran there is an understanding of the meaning of the human rights?
KALI: Well, it depends of who in Iran you mean. If we are talking about the Iranian people there is a clear understanding, yes, mainly by way of what they don't have. The government on the other hand probably understands as well, but as a Western principle that they mock and refuse to give to the Iranian people. This regime, who during the Green Movement protests shot and raped their way to near-absolute power in Iran, is certainly one of the most aggressive dictatorships ruling a country on this planet.
WT: What does today's women's rights movement in Iran look like?
KALI: Over the last years members of the women's rights movement or any other human rights activists have been forced to end their activism in order to protect themselves and their families from being prosecuted, arrested, raped, tortured and even killed. Many have fled the country.
WT: Why do you think people should take the risk and fight for their human rights in Islamic countries?
KALI: The situation in these countries is best described as Orwellian: Government intrusion of privacy, curtailment of freedom through systematic terror, oppression, and human rights violations. The individual has no rights under a regime that demands absolute devotion and obedience to a totalitarian terror system based on pure superstition. In order to make change, we have to put pressure on oppressive regimes and continue to educate people. The old patterns must be replaced and human rights have to be culturally internalized in order to move forward.
WT: What would you say to someone who doesn't have support of his/her surrounding environment, family or friends when chasing their dream?


KALI: Not to care too much about what people think or whether or not they would support you. It's ok if other people don't understand our behavior and needs, but if they demand that we have to be rational to them or believe in their dogmas, they're basically rejecting our freedom and the courage it takes to be ourselves. If they aren't pleased with who we are, so be it. Just do your thing and don't care!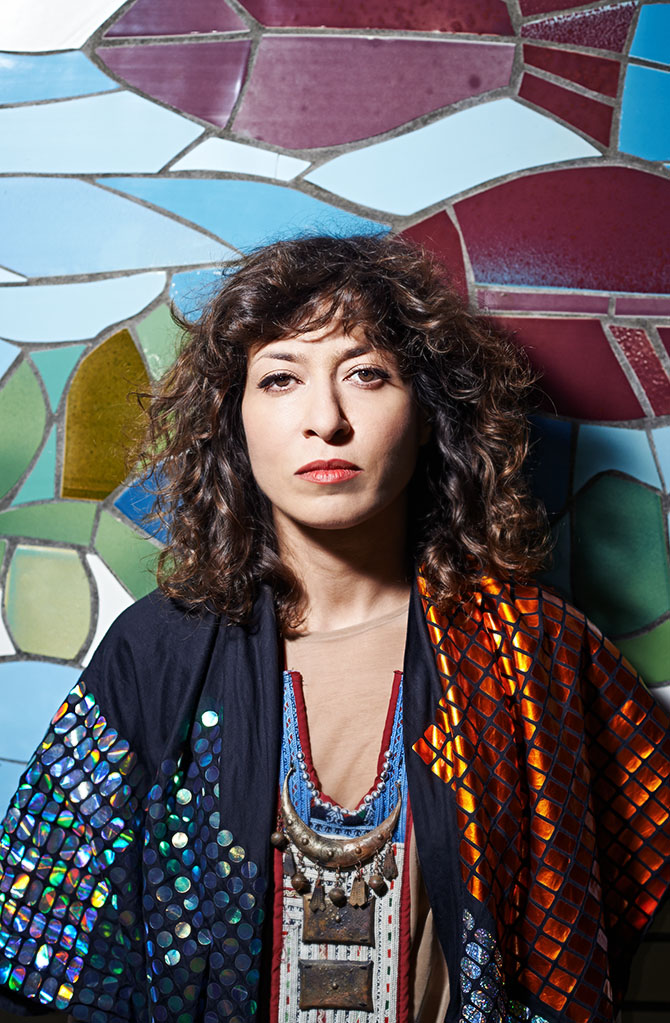 "I have always been fascinated by the mystery surrounding darkness. It can be breathtakingly beautiful, just as the light can be horribly grotesque."
WT: Do you believe in God or in a superior power?


KALI: No, I don't and I don't understand why people claim that he has always been around, while they refuse to consider the same for the universe. God is man-made. Hitchens said it well: "The gods that we've made are exactly the gods you'd expect to be made by a species that's about half a chromosome away from being chimpanzee".
WT: That sounds as if you were an atheist. Where do you believe our souls go after we die? What's your concept of afterlife, existence and creation?
KALI: I'm definitely an Atheist! Choosing dogma and faith over living in the here and now is not an option for me. The universe is bigger than our imagination and frankly I think that it's quite arrogant to believe that it was designed as part of a divine plan constructed just for us. If there is something like an afterlife, fair enough. I like to be surprised.
WT: Your clothing style can be very extroverted and out of the ordinary. When it comes to your style who, what or where gives you the inspiration?


KALI: I get a lot of inspiration of traditional tribal clothing from all over the world. The fabrics, jewelry,…etc, I love to mix them.
WT: The cover artwork of your trap mixes shows heroic women with demonic figures. Can you tell us a little about the dark side of KALI?

KALI: I have always been fascinated by the mystery surrounding darkness. It can be breathtakingly beautiful, just as light can be horribly grotesque. I think we can rise from the darkness we are in if we don't shrink our experiences into fear. The strong, mysterious women displayed in my artwork may feel a little dark, but not necessarily evil. They are mysterious and wild beings that represent power and freedom.
WT: As a modern feminist, what's your stance on sexuality and gender roles? In other words: what's your definition of a modern feminist in the context of heterosexual relationships, and which place or role do men have in that ideal world?

KALI: I think the gender identity as we know it is quite antique. The ideal would be if we could say that we don't see gender differences anymore, or at least pay less attention to them. If we could treat each other as we do with our best same-sex friends, regardless if in the context of a relationship, family, job, etc. The message of a lot of female anti-feminists is that they don't recognize gender stereotypes, but this doesn't mean that society has reached that point. I'd say it means that many of them live in denial about what it means to understand oneself without identifying too strongly with the limitations of gender. In other words, a lot of women claim to have moved beyond gender roles, but in fact many of them operate in a typically masculine way. They've adopted the male role to assert power and control and gain the respect of men. This of course only entrenches the classical, outdated definitions of masculinity and works against a more unified future. We still have a long way ahead of us.
WT: If you could pick 3 artists to work with, which 3 would it be?
KALI: There are so many amazing artists… It's very difficult to say, but Indian producer Ilaiyaraaja, Aphex Twin or Missy Elliot would be on top of my list.
WT: Do you remember a most embarrassing moment on stage?
KALI: In 2011 I was touring with "Die Boys" who were members of the German Hip-Hop combo Deichkind. It was a back to back DJ set with them… unfortunately they got super drunk and started a crazy fight with another guy on stage which ended in a brawl. It wasn't really embarrassing for me, but kinda sucked.
WT: If you could interview one person from the past who would it be?
KALI: That would be one of my heroine Rosa Luxemburg.
WT: Any future projects you'd like to talk about?
KALI: There are a few collaborations among other with Australian producer Swick and Italian producer Anubi in the works right now, but for the most part musically I'm focusing on the next KALI releases and videos.
WT: Thanks KALI, and keep it up!
—
Follow KALI on Soundcloud | facebook | Twitter | Instagram or visit her website.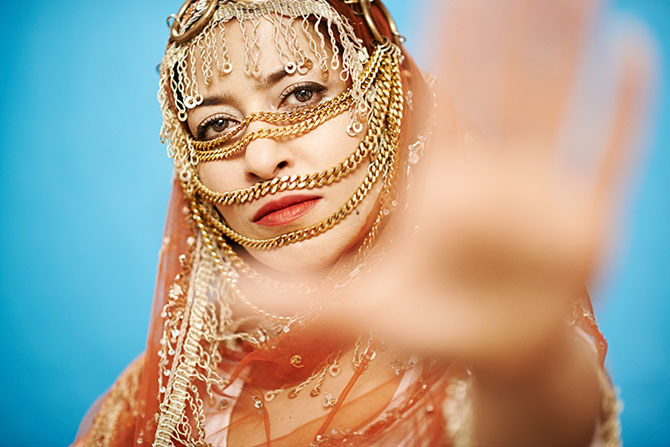 —
SHEITAN'S TRAP 4 Tracklist:
1. Intro
2. Kali – Amazon (Mace Remix / Kali Vocal Edit)
3. Yellow Claw – Dancing Soldier (Ape Drums Remix)
4. Party Favor – Bap You
5. Pound Pound Pound & Footwork – Booty In the Pant
6. Tropkillaz & Meaux Green – Pump Up The Volume
7. Mykki Blanco – Wish You Would
8. Hands Solo – When The Last Time (Doobious & DJ Sweap Remix)
9. Partyzona – Badass In Dandy-Seth
10. Yellow Claw – Kaolo Pt. 2 (Angger Dimas Remix)
11. $yrup – Amazon
12. Sudden Beatz – Bring It Back Now (feat. DJ Craze)
13. Dr. Dre & Snoop Dogg – The Next Episode (San Holo Remix)
14. Outcast – Ms. Jackson (San Holo Remix)
15. Labisch – Get Twerk
16. Lil Troy – Wanna Be A Baller (Bird Peterson Remix)
17. Redinho – Playing With Fire
18. Sophie – Hard
19. Machinedrum – Back Seat Ho (Rustie Remix)
20. DJ Rashad – Come On Girl (feat. DJ Spinn)
21. DJ Funk – Move That Butt (Ape Drums Doggy Style Re-Mix)
22. French Fries – What To Do
23. TDY – Chainzzz
24. Kali – Sahara (R-ASH Remix)
—