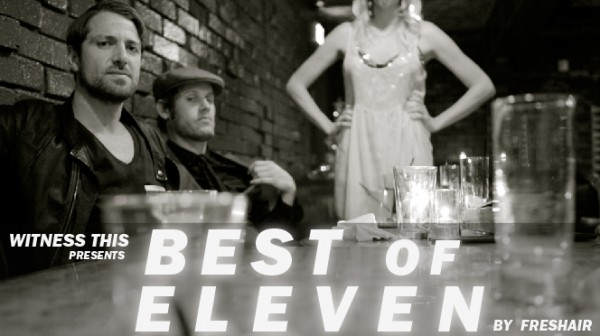 photo by Zac Andrews
i love music…i really do. nothing gets me more fired up than curating a compilation of what i consider to be the best tracks of the year. i get off on the pressure, the last cuts, the what if's. although my tastes of late have swayed more towards the remix category as 'freshair' has taken off, i still gravitate towards the song itself. i consider music to be the ultimate auditory time stamp. more so than a smell or a taste, music has the ability to take me right back to where i was.
reflecting upon 2011 and re-listening to some of these tracks, i am nostalgic, thankful and motivated. nostalgic for the smiles that were made and times that were had. thankful for the friends who have joined me in grabbing life by the balls and those that lived inside these songs with me. motivated for the future and where we are going, where we are all going together. hop on board folks. she's going to take us to some pretty places. i digress. listen UP and witness-THIS.
in love and music,
douglas 'freshair' heine
Download the mix here: BEST OF 2011 MIX
Tracklist:
Raconte-Moi Histoire / M83 / Hurry Up, We're Dreaming (Disc 1)
Soft / Washed Out / Within and Without
Corvette Cassette / Slow Magic / ▲
Right Away / Vetiver / The Errant Charm
Our Hearts Are Wrong / Jessica Lea Mayfield / Tell Me
My Name Is Trouble / Keren Ann / 101
Blackeye / Love Inks  / E.S.P.
Weekend / Class Actress / Rapprocher
The Night Out / Martin Solveig Crème de la CREM for LOOSE L!PS
No Health / The New Division / The Rookie – EP
Wait And See / Holy Ghost! / Holy Ghost!
Hurting / Friendly Fires / Pala (Bonus Track Edition)
Somebody That I Used To Know / Gotye / Making Mirrors
Crystalfilm / Little Dragon / Ritual Union
Separator / Radiohead  / The King Of Limbs
Cannons / Youth Lagoon / The Year of Hibernation
Cali Stitch / Kith & Kell / Wilderness King EP
June Hymn / The Decemberists / The King Is Dead
Someone You'd Admire / Fleet Foxes / Helplessness Blues