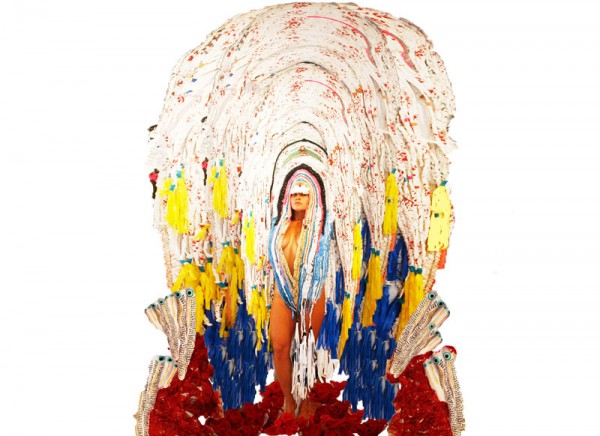 Words by Jenny Smith.
Lila Roo Duncombe-Lieber amplifies beauty and creativity in her every day.  I first became enamored when I saw her mermaid fins used in a number of photography shoots, that were not only elaborate but for lack of a better word to describe, fantastical.  I knew  immediately that we must be friends because this chick is incredible.  I had the pleasure of interviewing this creative genius (and now beautiful friend) to find out what inspires her to create such masterful performances along with costumes that would literally blow your mind. I now introduce you to Lila Roo and her latest project aWall, in the hopes to gain even more support for her efforts and spread the word.
For someone with such an inspiring artistic expression, having the ability to show her work is an exciting thing to say the least.  Some sort of hyper-reality exhibition that invites the world into art and has so many elements to it, is truly what makes it exciting.  The California born, traveling gypsy has spent most of her life moving from one location to another, perhaps contributing to her inspirations.  With a keen eye to creativity, she is carrying out her impromptu performances in magical locations enabling us to witness living art in the flesh.  As she puts it, "It is fun to have really avant-garde art to expose."  She goes on by giving an example of some limo showing up covered in bling in the middle of nowhere, but goes on to say, "I like out of context locations for my art."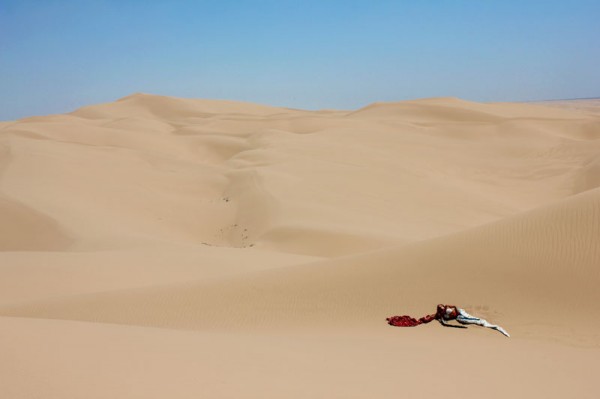 Lila's creative drive comes from the mystical and the real combined.  "My life has been both magical and gruesome and I think the two somehow work beautifully together.  Just taking the objects, garbage, people, and places that exist and then infusing them with color and vibrations.  Thats what the aWall project is about: taking the frame of a white wall, and celebrating both the real world and the imaginary world of art, both in front of and behind the wall. Making an infused reality, an experience of art."  For her, art is about balancing the past, present and future, your imagination time travels to create so a lot of working on art for her is enough isolation to imagine the future and present enough to convey it.  Her inspiration? Animals and tribes!  Feeling rather mesmerized by physical material thought, that she rarely has a concept. "I just start touching it, ripping it, braiding it and don't leave until I can see it form.  I spend a huge part of my life looking and absorbing, then about 20% I get to actually make something that comes from that wild mix-up on my head."  I remember hearing about her supposed van full of intricately detailed costumes, handmade and unlike anything I had ever had the pleasure of seeing until recent and I couldn't help but want to know more and see what it was all about.  Her art, as some have put it, "accentuates the spark of beauty for those with no material belongings, turns trashed materials into vessels to strip down those buried in belongings they never needed."
As someone that has moved around 40 times, she considers herself somewhat of a gypsy.  Lila went to high school in Hawaii (longest she says she has lived somewhere, for three years) so it felt like home to her.  She goes on to say, "My parents are the wild ones.  I have been traveling forever so that's natural, been playing fantasy dress up by myself forever, so it all comes pretty natural…"  We begin to laugh about it a little, as I told her that is partially the reason I felt drawn to her.  When I heard about her van full of costumes I had an immediate reaction of I must meet this girl at once!  I don't exactly have any excuse accept that maybe I must have been a gypsy in a past life, but I fully can appreciate it.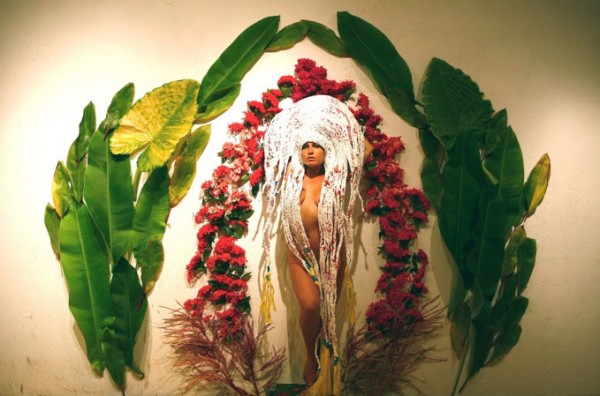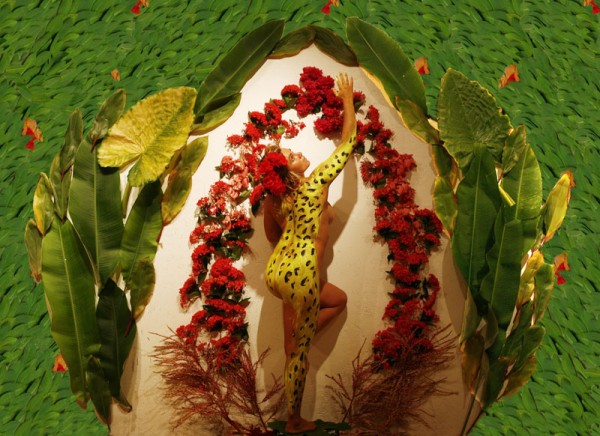 Her latest project is aWall – the purpose of aWall is to share art, music, performance, and film outside of normative spaces; museums, galleries, private collections, studios, music halls, and theaters. Thus facilitating multi-sensory, and participatory creative expression beyond walls. In order to tear down the walls that box us and our creations "in", we have decided to construct a singular, linear, transportable 8'x24′ wall that can exist out in the open, and move from place to place making it available to a broad and diverse audience.  It's an exhibition carrying on the myth of man and beast through handcrafted and technological visuals and sound; three months of evolving work by a variety of artists across mediums. Lila Roo will be creating and curating work for the exhibition, while also encouraging spontaneous creative forces/people/visions to unfold on the wall.
Lila is not only one of the most creative and inspiring women I have had the pleasure of meeting, but she lives to inspire people, not only that art is beautiful, but that many things are art.  It's just a matter of how you look at it.  In her case, her material, plastic refuse, is a good symbol of that transformation.  "I like performing for people who do and do not have a vocabulary to conceptualize it.  The response varies from "there is a mermaid!" to "performance art".  I used to perform primarily on the street, and show in a gallery.  I would like to blend the two, with the free-floating gallery wall in a variety of different locations, and I think this is possible.  We begin to finish up our interview talking about dressing up in costumes again… "I don't know any girls that hate those activities!" she says, and I just want to be like, "I know, right?"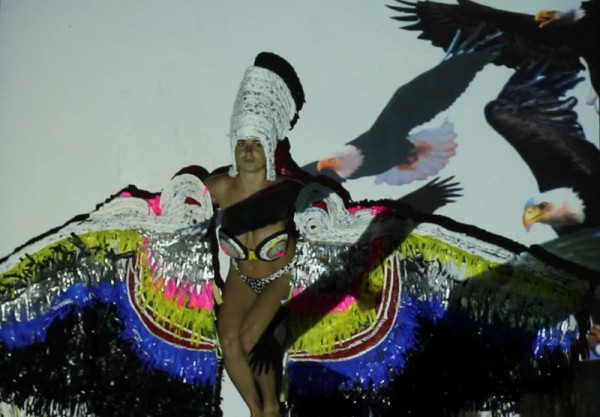 Please check her out on Facebook and on her website. Help contribute to support Lila's latest project PETROGLYPH: Contemporary cave of art, by contributing to the aWall Kickstarter campaign. Please please please help my girl fund for the project to reach their goal.  Every dollar counts and the clock is ticking for your contributions in order to reach the goal. (Only 8.5k left to go!!)