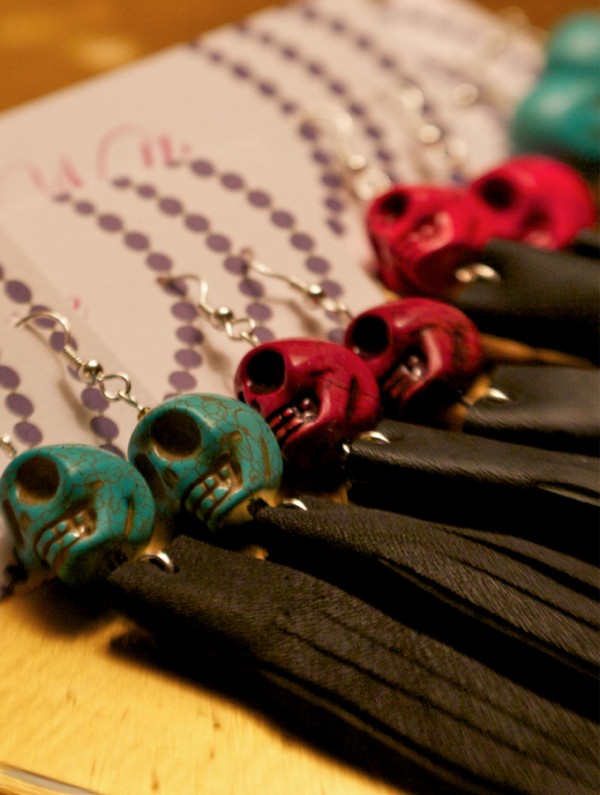 Photos by Peter Troy + Words by Jennifer Smith
Eleanor Whitcomb is not yet a household name, however her creativity and bold style suggests that she is well on her way to doing big things. As the creative genius behind her flirty and often colorful designs, I couldn't help but feel incredibly lucky to have seen her create firsthand and get to know where her inspiration comes from on the regular. Her creative concept is always changing and every day she wakes up and is inspired by something new. (As we were talking, she was busy fiddling with leather scraps and gold studs) Doing what you love to do because it makes you happy is extremely important to her. By doing so, she feels she is making the world a more beautiful place. Mixing bright colors and different textures, she's created a concept of a new age victorian with a dash of bohemian inspired by her Great Grandmother Grace, who taught her that its exciting to add a dose of fantasy into their everyday lives. As she says this, I think about a few weeks prior when she asked me for my Harley boot right off of my foot as I was watching her work on her new line- she proceeded to attach a handmade leather fringe tassel with a turquoise bead. Continuously proving she just loves to do it all, and I am thoroughly enjoying this.
photo by Jennifer Smith
Combining recycled pieces of leather, exotic beads, and feathers. Nellie hand makes a variety of earrings, necklaces, cuffs and accessories to die for. She has a progressive style and drive that allows her to create a new collection every 4-6 weeks. "Never a plan, just sit down and create beauty", as she so eloquently puts it. What her current line is featuring now: She likes to call them "The Winter Feather" using texture and angles of the leather fringe. I couldn't help but agree that this was a fantastic idea and made complete sense. She has also begun incorporating skulls, which are incredibly fresh.
Founded in 2010, Eleanor began making her unique jewelry after her sewing machine hit the hay shortly after graduation. She began her transition from creating clothing to creating new and fun jewelry collection and it seems the rest is history. Another reason we love these- everything is hand cut making each piece unique in its own way, and made with love in Burlington, Vermont. Trying to reduce the impact on the world, it is very important to collect as many materials local as she can. Leather scraps that may have been thrown away for instance, she will buy a big bag of and make some of her most signature pieces. Her vision and goals for the future will be to have a self-sustainable design company and brand that delves into several different categories. Eventually she hopes to go back to her roots and be able to incorporate her own clothing line as well. Similar to a "lifestyle stylist- but a more responsible lifestyle" as she puts it.
Currently her line is carried by several local boutiques on the famous Church Street in downtown Burlington Vermont including ECCO, Maven and Downtown Threads, and potentially a few more shops and local fashion events are in the process of supporting the creative genius. (Rightfully so). All I can say is this stuff is fresh, hot and I have a feeling we will be seeing great things to come, as this is just the beginning.
You can find Nellie's designs on her Etsy Page and on Facebook. In fact, she is even cool enough to offer a few pairs out to a few randomly chosen people (see details below). As someone that has been rocking her jewelry personally during my travels through LA to San Diego, Brooklyn through Manhattan to name a few. Let me be, NOT the first to say, I have never had so many people wondering where the heck they could get a pair. Lucky you.
 To enter to win a pair of earrings:
Like Nellie's page on Facebook here:  Nellie's Facebook Page
Like Witness This's Facebook page here: Witness This Facebook Page
A few lucky new fans will win! If you already are a fan of each page, make a comment on our walls telling us what you like about her work!