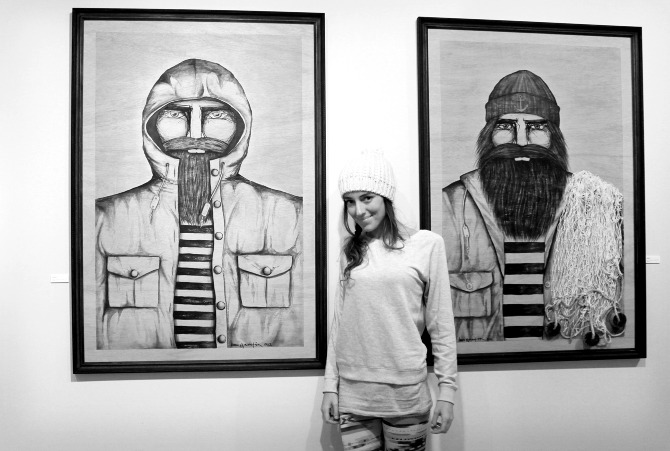 Words by Philipp Vogt
—
Daniela Garreton lives in San Sebastián, Spain.
If you wanna find out why that seems to be an inspiring place, check out its Wiki page, where you can find stunning pictures like this one.
Her work is romance-laden. She manages to capture a deep and respectful fascination for that magic blue world that accounts for some 70% of our planet's surface: the sea and its inhabitants.
Interpretations of classic oceanic motives are cavorting her art. The power of nature, and the proportional inferiority of man are reflected when giant kraken devour boats, and dead sailors resonate a memento mori.
Daniela Garreton is a true lover of the sea.
Every once in a while, surreal elements kick in with fish smoking pipes. Seagulls are wearing sailor's caps. When we encounter the rare piano fish or when a man's head is swallowed by an octopus a single thought is conveyed:
We are one.
Dani's message is straightforward, her artwork clean and thought-through. She uses several different techniques; pencil, marker and acrylic drawings, and occasional collage elements. Wood and canvas are her favored materials, whilst a collaboration with surf oldie-but-goodie Rip Curl resulted in some jaw-dropping surfboards. (Sorry to disappoint you surf maniacs out there. Unfortunately, they are one of a kind custom-made for an exhibition. But hey, go bug her. Start a riot. Maybe Rip Curl will produce some if they realize how good that shit is).
Check out my fav's of Dani's work below, and witness the work of a passionate lover of nature. For more, visit her website or follow Dani through her Facebook site.
—