Founded in 2009, ManiaMania is a mystic Australian jewelry line fit for muses and sorceresses alike.  The beautiful stone, metal, and crystal pieces are the creation of art director Melanie Kamsler and stylist Tamila Purivs.  What really sets this duo apart besides their quality jewelry are the iconic stories that they draw their inspiration from for each collection and the short lookbook films that they put together to showcase their works.
We will take you through their first four collections from the beginning in their own words.
Real Life Awaits Us
'Real Life Awaits Us' is MANIAMANIA's first comprehensive collection. In the form of luxe handmade treasure, sterling silver and oxidized brass meet with Calcite, Harlequin Quartz and Tibetan Quartz crystals across a range of rings, cuffs, amulets, neck pieces and earrings. Initially inspired by the film 'The Holy Mountain (1973)', the collection is a rich synthesis of Mesoamerican iconography, geology, 1970's handicrafts, shamanism and magic, creating a range of new-worldly forms packaged in a soft, bone coloured leather pouch.
Dust
Dust is the second collection from MANIAMANIA and visits the iconography of ancient Egypt and the aesthetic, mood and music of pop deity David Bowie.
Rêve
The third collection from MANIAMANIA called 'Rêve' meaning dream in French, is inspired by the late Vali Myers, an Australian artist and vagabond gypsy who roamed around the world as a free spirited dancer in the underworld of a post war Paris, then later becoming an artist and muse to many icons of our time, such as a young Patti Smith and Mariane Faithfull. She drifted the world from Positano to New York's Chelsea Hotel.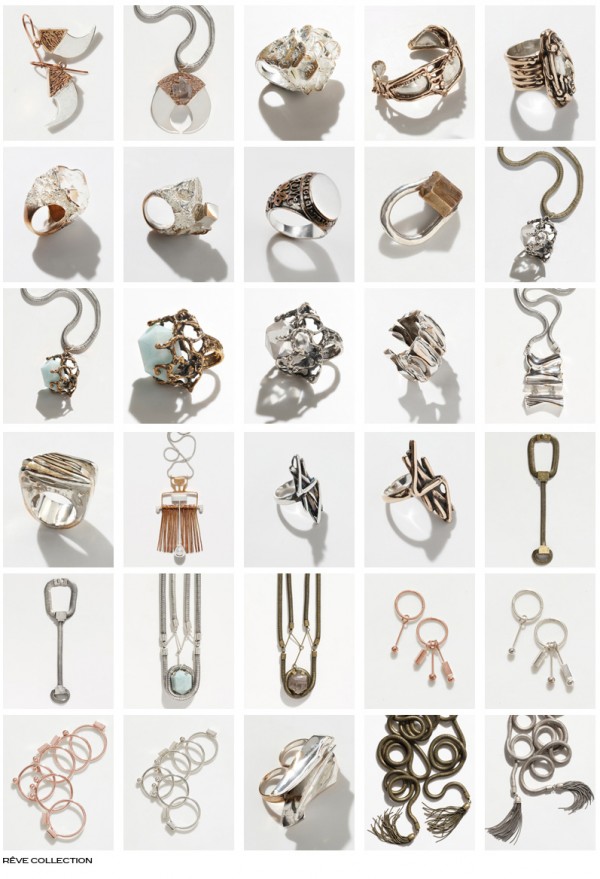 The Third Mind
MANIAMANIA'S Spring 2012 collection, 'The Third Mind' channels the dreamlike spirit and unpredictable visual collisions of the surrealist age.  Free from the constraints of rational thought, the collection is constructed in ways that allude to the Exquisite Corspe technique – whereby words and images are collectively assembled and relish an absence of control.
The range moniker pays homage to The Third Mind, a 1978 book and concept by William Burroughs and Brian Gysin, which showcased the 'cut ups' technique originating from the Surrealists – a form later adapted to film making by Kenneth Anger and Maya Deren. In this mode, unrelated texts and images where literally cut up and rearranged to form radical narratives and vistas. The concept signifies a shared consciousness and creative output, only reachable by two or more people; a place neither could reach alone.