To say 2012 was a challenge would definitely be an understatement. I set out with the intention of redirecting and finding myself as an artist and as a DJ. Did I do it? I don't know, how the hell would you even measure 'it'? I'm down with the setting of intentions though, as long as we aren't attached to an outcome. When we attach, we expect. When we expect, we aren't as open to life's lessons and curveballs. Things become linear. I know what I did do was set out to make a mix or compilation every month based on what I was listening to during that month. Putting a timeline on creativity has never really been a strength of mine, but now I can say I did it and trust me it wasn't always easy…but I am truly better for it and that's really all that matters. A lot of the mixtapes were recorded with one or two takes with no editing, adding to my belief that art is not meant to be perfect…just pure.
In 2012, I lost the most important person in my life. My foundation and backbone. Not to mention the friends I alienated during and after the process which thankfully seem to still be around. You know who you are and thank YOU. Without going into too much detail, music was one of the few comforts I have felt since August 3rd, 2012. They say in our deepest loss and sorrow we find our truest art. Maybe. It definitely forces you to realign who you are on the planet and I think very naturally, the music you are drawn towards follows in cue if you are a music junkie like me. So, here is the completion of the auditory photographic work for myself for one year of my life. The first a compilation of individual tracks that I fell in love with over the year, the second a mixtape of some of my favorite tracks of 2012 blended together and released later this week. So, listen UP if it moves you and witness my 2012. If you dig, follow me to where it is always Fresh & Sunny, because that is where I'll be going in 2013…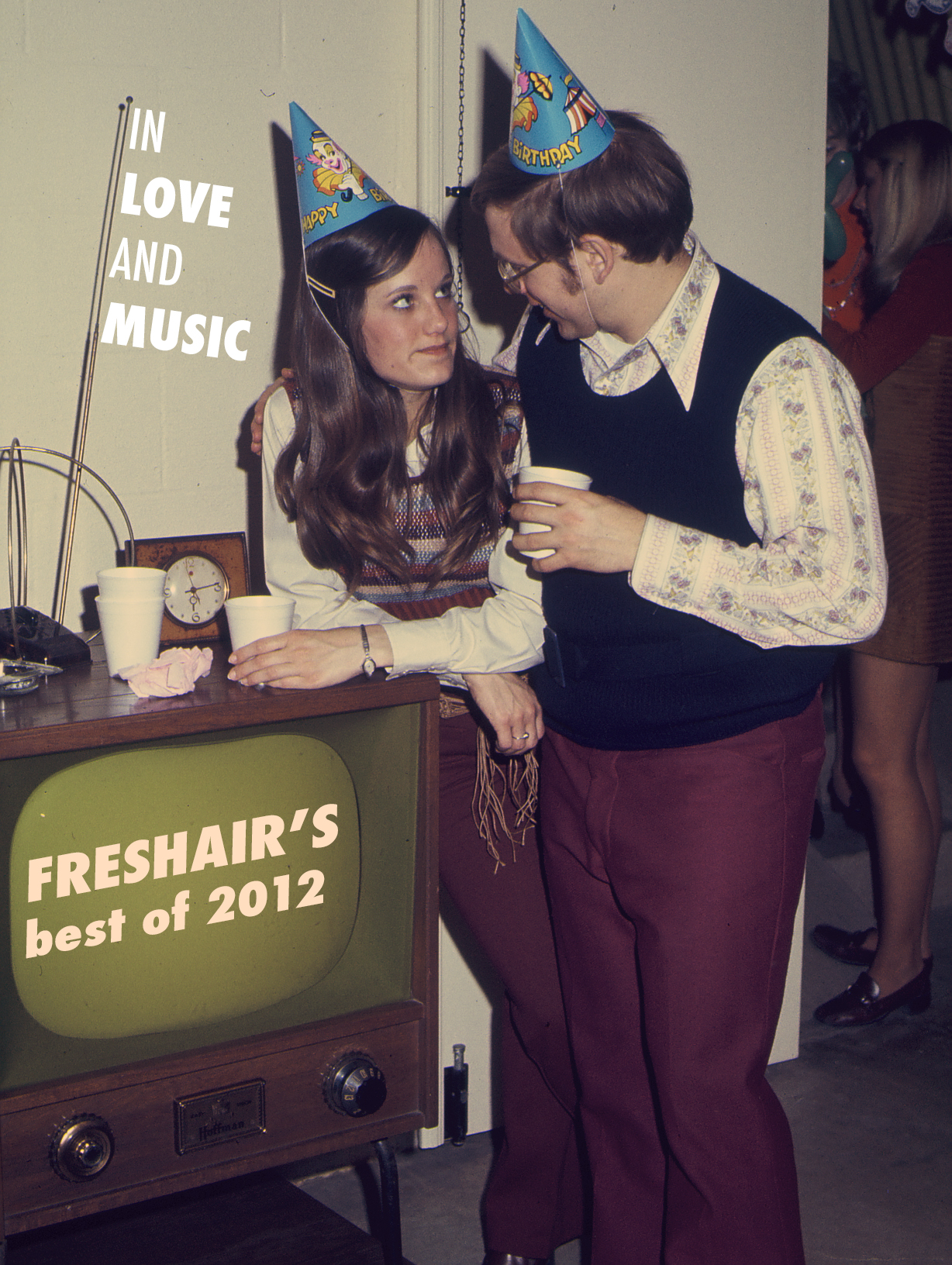 Artwork design by Nik Atkins
Download the mixtape here: FRESHAIR COMPILATION MIXTAPE
TRACKLIST
Ghost – "On an On"
Stars – "The Loose Ends Will Make Knots"
Lord Huron – "She Lit A Fire"
Cat Power – "Manhattan"
Wild Nothing – "Shadow"
DIIV – "Follow"
Summer Heart – "I Wanna Go"
Van She – "You're My Rescue"
Tanlines – "Brothers"
Beach Fossils – "Lessons"
Craft Spells – "Burst"
Caged Animals – "This Summer I'll Make It Up To You"
Brothertiger – "Lovers"
The New Division – "Kids"
Tomas Barfod – "November Skies" (feat. Nina Kinert)
Graffiti6 – "Colours"
Alt-J – "Something Good"
Ducktails – "Letter of Intent"
Tallest Man on Earth – "Leading Me Now"
Patrick Walter – "Ghost House"
Special thanks to Nik Atkins, Dersu Rhodes (Witness-This) & Zac Andrews (Life & Limb) for their friendship, inspiration & artistic design and dominance.
Extra special thanks to Kenny Parmalee (78 & Sunny) for showing me the way and doing so with some of the best music ever. Lesdodis buddy.
The most special of thanks to Lindsay Colip for not only being my spiritual guide and best friend but also my music guru for a good majority of this process. I wouldn't be where I am without you as a human or as a musician. There I said it out loud.
This is for you Mom.
In love & music,
freshair
Download