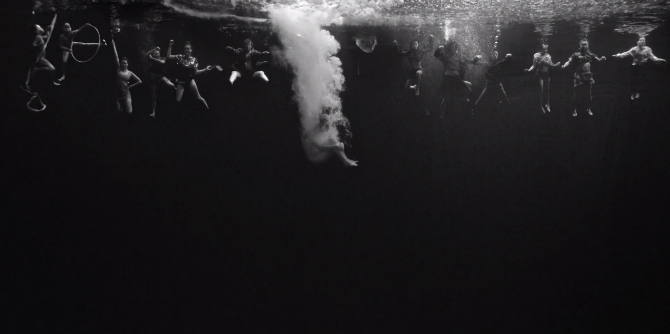 Kevin Frilet kick-starts our week with a beautiful, eerie short film. Through impressive underwater photography he examines the void, the light and the darkness. His four minute piece takes us on a journey, allowing us to float freely through moods of joy, loneliness, fear and hope.
"I wanted to create a liquid universe where time is suspended, space infinite and depth unknown", Frilet recently told NOWNESS magazine. "Like the white desert in the George Lucas film THX 1138, with no border." Frilet had refined his skills with some top-notch mentorship. His filmmaking record includes roles as Assistant Director on Christopher Nolan's 'Inception' and Luc Besson's 'Lucy'.
Being a low-budget project, UNDER was shot in a pool in the suburbs of Paris, casting friends, family and acquaintances aged seven to 77. Most of them had never dived before. To deliver the best results Kevin hired a specialist DOP, Nicolas Petris. Diving supervisors and a choreographer completed the team.
How do you compose music for a movie that takes place underwater?
Another great deal of the impact of the film can be credited to the soundtrack. The score comes from Nicolas Jaar protégé Valentin Stip. He had been on top of Kevin's wish list. "I already knew the musical universe of Valentin, and his album Sigh was a real source of inspiration for the film. It needed a sound that could express a kind of dizziness, from which, sometimes, an echo of the void can be heard."
(-h/t NOWNESS-)
"Up there the light is white. Bodies fall from the surface. The water is bright, seems alive.
Down there, from the abyss, darkness reigns. There she will deploy as for the first time. It's there, amid the darkness, that will appear another form, that of a man."
Director | Kevin Frilet
DOP | Nicolas Petris
Soundtrack | Valentin Stip
Choreography | Catalina Insignares
Dive instructor | Jean-Marc Nguyen
Executive Producer | Jérémy Martin
Production company | Human Films