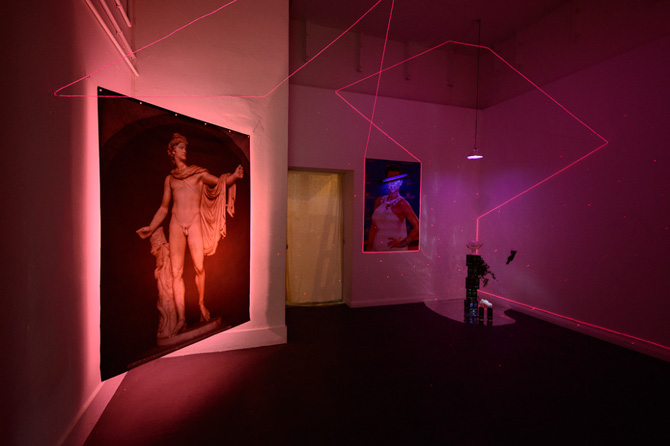 Sisters Taraka and Nimai Larson are a creative force beyond comprehension. Their work ranges from art direction, modeling, design, production design, writing to music production. Their beauty is only a tiny part of the formula, as their storytelling and theatrical literacy far surpasses any boring modeling portfolio.
From their Soundcloud site:
"'What the hell is that?' is a question pretty familiar to the controversial Brooklyn band Prince Rama. The answer is far from simple; sisters Taraka and Nimai Larson have lived in ashrams, worked for utopian architects, written manifestos, delivered lectures from pools of fake blood, conducted group exorcisms disguised as VHS workouts and have now finished inventing an apocalypse on which to base their new pseudo-compilation album, Top Ten Hits of the End of the World, comprised of ten singles "channeled" from fictional deceased pop bands.
Their often unpredictable live shows incorporate elements of psychedelic ceremony, performance art, and dancefloor initiation rite, and when Animal Collective's Avey Tare discovered them in a Texas dive bar in 2010, they were equipping the audience with handmade shoes clad with broken chimes.
[…]
Their art has been exhibited internationally at the Whitney Museum of Art, Indianapolis Museum of Contemporary Art, and the MoMA PS 1 VW Dome, to name a few. Taraka recently published a manifesto on the "NOW AGE" that puts forth Prince Rama's aesthetic and metaphysical philosophies, which has been met with both hatred and praise from art and music worlds alike. One thing is certain: whatever it is they are, Prince Rama are constantly breaking the mold of what is acceptable to forge a dizzying universe that is wholly their own."
I want to go hang out with these girls in Brooklyn and dress up and play the part of some character sent back in time to travel with the girls to planet synth.
Witness some visual impressions of Prince Rama's artwork below.