words by Dulce Martinez
For 17 days, the Geffen extension of LA's MOCA transformed into an intersection of art, music, food, and literature. This Mercedes Benz sponsored festival is the second installment of their Transmission Project, curated in LA by the brilliant Mike D of Beastie Boys fame. Each festival in the series is curated by an expert in the creative industry who is asked to focus on their own personal view of avant garde. The free event opened with 17 exhibits and performances in various disciplines and attracted over 30,000 people in its run.
(You can see the list of artists, musicians, insiders guide, and blog here)
The set-up was incredible. The outside of the Geffen was transformed into an indoor/outdoor space with hanging bistro lights and picnic tables over a rainbow painted platform. After grabbing a glass of wine and a delicious taco trio from Chef Roy Choi's Kogi Truck, I went inside the museum to find wonderfully trippy audio/video installations, photography, and sculptures from some truly exciting artists.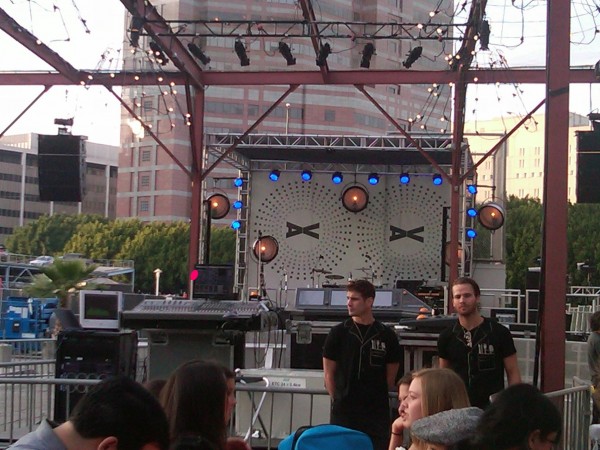 Outdoor Stage, pre-performance
For me, the gallery highlights were definitely the video installation by Ben Jones and the Fan Pinwheel installation by Ara Peterson and Jim Drain.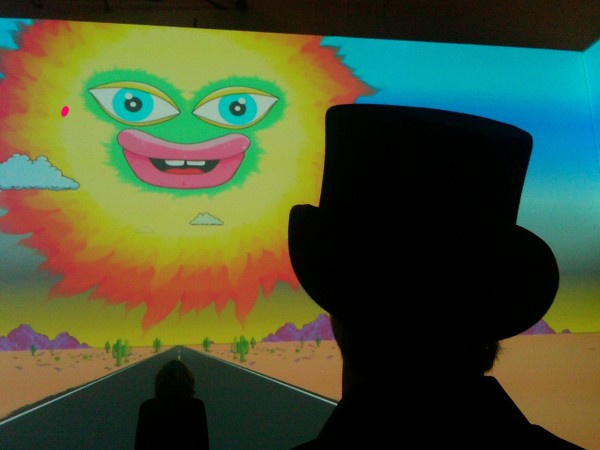 To experience the Ben Jones exhibit, you walked through a rear projection laser tunnel to a room that displayed an 8-bit video. Designed be experienced as a video game, the room was in constant movement. All of the walls simulated a speeding road in motion with the sun rising and morphing into the moon. It was very stimulating, reminding me a bit of Wiley Coyote and the Roadrunner. It also felt very interactive, even though it wasn't, really. I mean, you're just standing there feeling 'motion.' As my favorite MOCA docent Joan said, "Do you suppose that was the point?"
Laser rear projection tunnel.
These collages by Justin Lowe + Jonah Freeman were just so bad ass I couldn't stand it.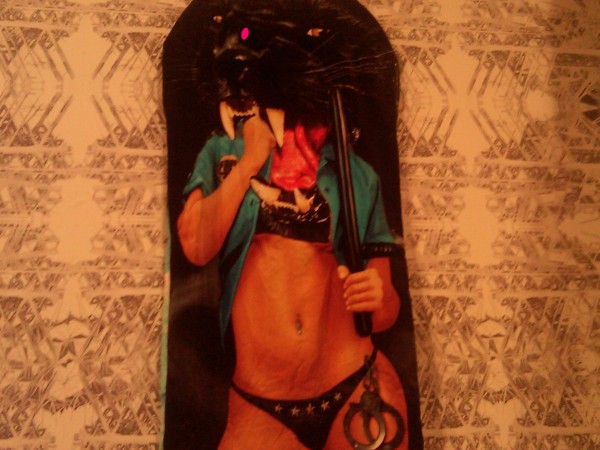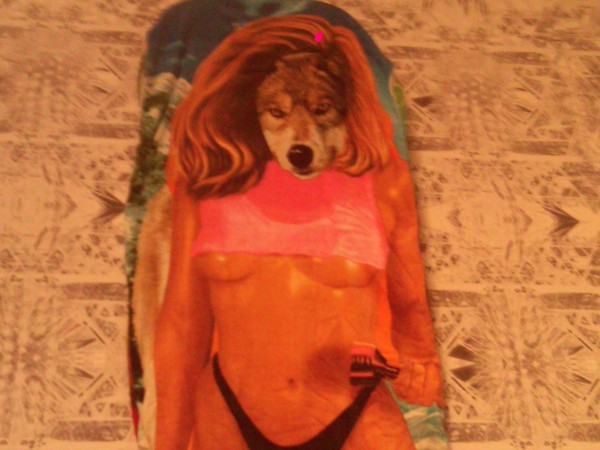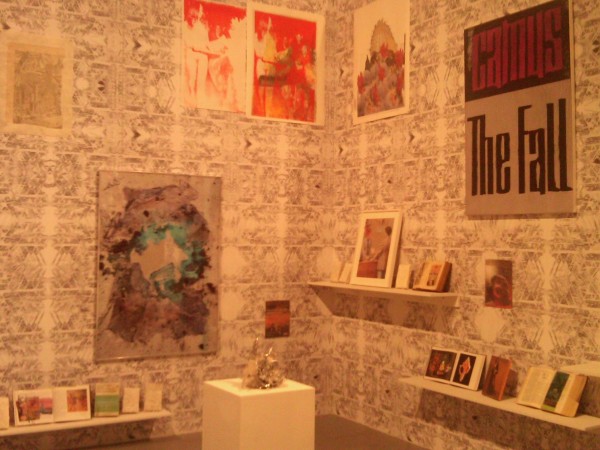 Lowe and Freeman "Explore the ascent and descent of societal institutions, consumerism psychosis and media saturation."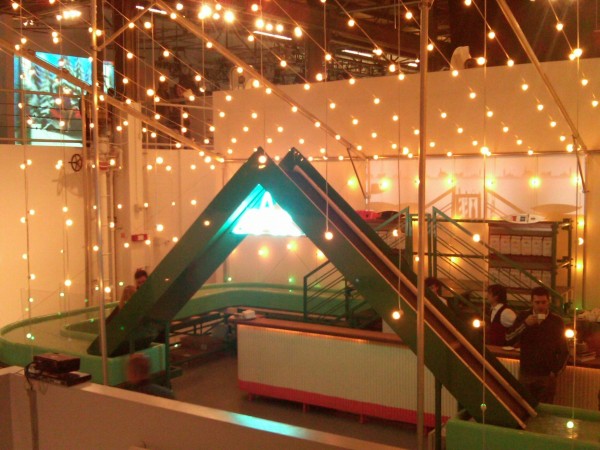 Even though I was already amped up, who can refuse a pop-up espresso bar? This treat of an installation boasted a crack-infused blend of Miscela d'oro beans…my new favorite thing! After drinking up a very strong red-eye (no Splenda or skim milk here, amigos) I headed outdoors for the Aloe Blacc concert.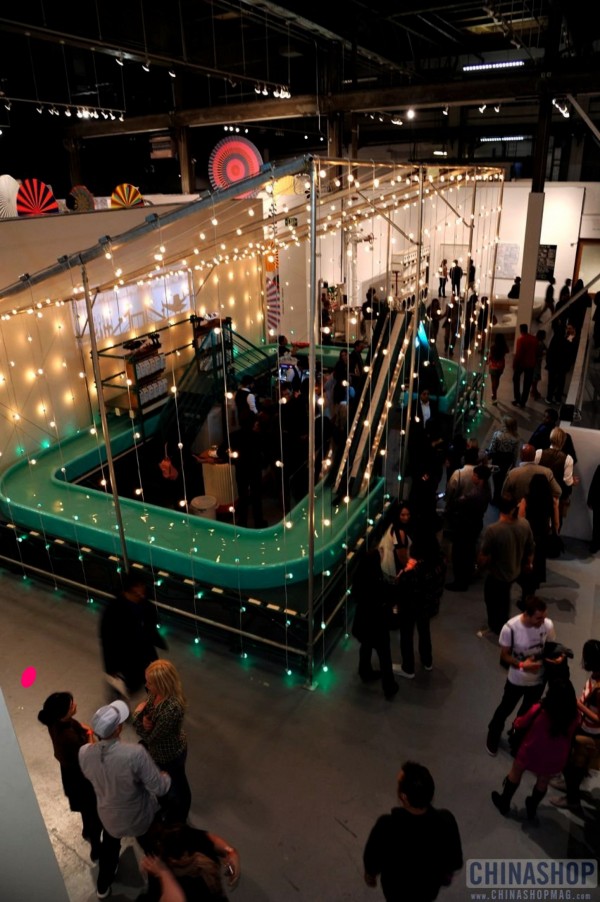 This pic (via Chinashop Mag) gives some context of the bar in relation to the space (and the pinwheels) Note: the bar had a moat surrounding the perimeter where you could race motorboats. Whilst there, 6 little girls squealed with delight manning the remote controls as their impossibly hip mothers drank macchiatos.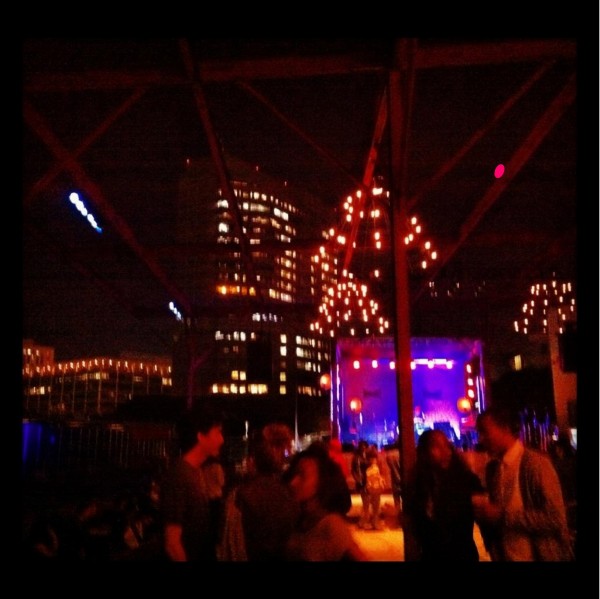 The crowd's energy was happy and vibrant. All ages, all colors, little kids with their moms, dudes tripped out, corporate types, hipsters, surfers- it was the typical eclectic downtown LA mix.
Now onto the music. I was familiar with his jam "I Need a Dollar" from HBO's "How to Make it in America," so I was curious to see how Aloe Blacc would do live. I am happy to report that my expectations were truly exceeded on all fronts.
As soon as Aloe took the stage, he looked and sounded great and conveyed easy warmth to the audience. Overall high marks for great presence. His sound is powerful, and he reads like a lovechild between Bill Withers, Otis Redding and WAR with a touch of newness, a la John Legend. I'd love to see him do something with Sharon Jones and the Dap Kings…they'd be a great compliment to one another and already draw a lot of parallels both in the themes found within their lyrics and instrumental arrangements. It was a full stage. Aloe was accompanied by a full band, complete with a saxophonist, trumpet player, and DJ, all who rocked it with impressive solo's throughout the night.
While Aloe was definitely waxing optimistic, it was contagious. His music is hopeful and his conviction is comes through strongly.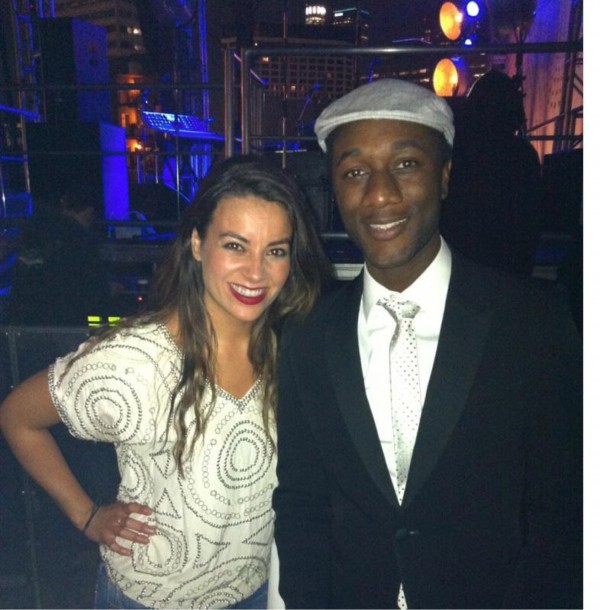 Aloe Blacc and I.
The set (comprised mostly of songs from Good Things) was emotionally layered. You listen to his music, and want to move…your head, your shoulders, whatever…but as you start to really listen you're compelled to identify with the lyrics. You're-pissed-you're-broke, but you get-over-it-because-you're-in-love, tapping your foot all the while. He later improvised some reggae, asked the crowd to form a soul train, and I got down.
I enjoyed the whole experience so much that I went back on Saturday for Major Lazer and Diplo. (un/forgettable/real/believable fucking awesomeness).
All of the musicians I saw this weekend did tributes to the late great MCA, which gave a touch of solemnity but felt sincere, reverent, yet celebratory at the same time.
All in all a fucking slam dunk of a Fri/Sat night in Little Tokyo.
My only regret is that I didn't write this sooner…the festival ended Saturday.
Pitchfork has a great interview with Mike D here
Learn more here:
by Dulce Martinez