When I first met Laura Mckellar, she didn't say that she was an artist right away. She mentioned that she was from Australia, loved to travel, we talked about music, and what it was like to be staying a few months in LA. It was only after I dug a bit that she mentioned that she did design. She handed me a business card and on it was a woman with a bird on her head. I know what you're thinking, Portlandia, put a bird on it. The thing is about Laura, is that she channels a different type of art, it's not kitschy or cheesy. Her work feels so delicate and contemporary, but leaves you feeling as though you've just walked through a room full of historical paintings. Her collages are stunning, and her illustrations remind me of the fantastic books I looked through growing up, magical and surreal.
What are your inspirations for your art?
I am inspired by my surroundings, animals, people, old books & magazines, ink, textures, dreamy colours, analog, handcrafting, travel, love. I collect old photographs and old books, i spend a lot of time at thrift stores. growing up in melbourne with such a great art & design culture means there is always inspiration around the corner. I also travel a lot and pick up bits and pieces, take a lot of photographs documenting flowers, signwriting and lettering.
Where did you learn your technical skills?
I studied graphic design at university. I do spend a lot of free time on photoshop and illustrator and I learnt a lot on my own through failure and success. I tried embroidery after seeing my grandmother, mother and aunties all making beautiful clothing with their embroidery skills. we always played with fabric as children, I don't think I am even close to being successful at embroidery but I try to make pieces with intention and I have learnt basic skills along the way.
Who do you look to for guidance?
I am lucky to have two sisters who are both very creatively talented. we always discuss what we are working on, sending pictures back and forth, they are clever and always about when I need them. my boyfriend is my guiding light for everything and anything, he has a good eye for design and can honestly critique when I am unsure of my direction.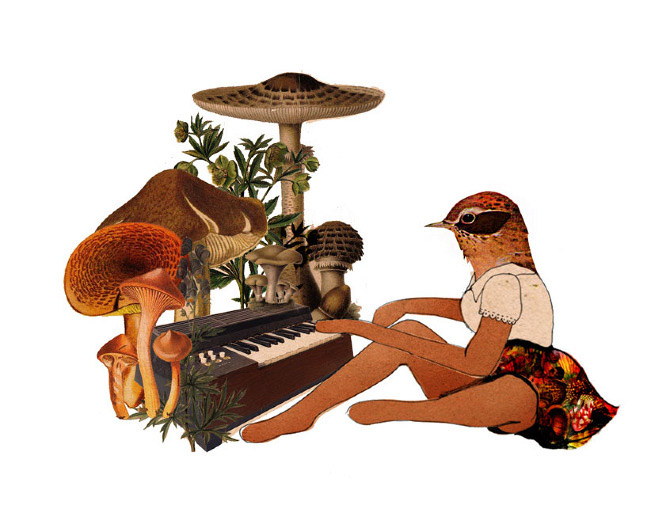 Do you have a preferred technique in order to make your art? If so, what is it and why?
I enjoy working on both the computer and on paper. I dont think I can work without one or the other. I generally will do some work by hand and then put it onto the computer, and continue going back and forth – print & scanning & editing – until I have achieved happiness. with my embroideries I will often paint some elements, scan some photographs, combine them on my computer, print them onto fabric and the piece will end up back in my hands to finish with embroidery. I am very drawn to handcrafted work, I dont enjoy simply working on illustrator or photoshop with flat files.
Have you adapted a technique of your own?
Yes my work has evolved and I have learnt new techniques and ways of making artwork. working as a graphic designer has influenced the way I work as an artist because I have so many skills on the computer it is hard not to continue to move forward and transform how I work. I am learning and making mistakes and triumphs every day. I love trying new techniques and ways of working.
What is the value you see in this type of art? What do you think people like about it?
Embroidery is a traditional form of art and expression but now it is being used in a contemporary way. I get inspired by artists using hand crafted techniques and I think it appeals to our nostalgic memories. I really enjoy making artwork digitally, but by adding the embroidery element it becomes tangible, making it more beautiful and heartfelt. Taking time away from the computer is also very important to me. I love getting hands-on. I think masks evoke the feeling of childhood and playfulness. A childs masks can be so simple, but the masks I like to create have so much detail and intricacy that is appreciated by adults. They can bring child-like feelings back to them.
How do you define your work?
I like to combine traditional and digital techniques within all of my work. I really enjoy using hand drawn and painted illustrations and then scanning them to be combined with photographs, colours and textures on my computer. I also love to use embroidery in my personal work because it gives a picture life with colours that you can touch and feel. With the time and love I put into embroidery, every piece becomes unique.
Since when are you working with embroidery?
I started embroidering my pictures about 6 years ago. I have always been fascinated with the technique and my family embroidered clothing for me when I was a child.
How do you got to the idea of working with masks and crowns?
I love the beautiful women I find in vintage photographs and pattern books. I wanted to use them within my work in a way that didn't spoil their gorgeous faces, so I decided to create some amazing and intricate masks and crowns for them! The last project I worked on was designing a range of wearable masks and crowns to be used in a wedding photoshoot. I enjoyed making objects to be worn rather than a work to be displayed on the wall.