Image courtesy of Galen Oakes Photography
—
These are my own personal thoughts, based on seeing less than 1% of Burning Man, so I hope anything I say here doesn't change your own personal experience. I find that all nearly all posts I see in my own newsfeed are gushing with positivity around Burning Man, but those who don't have a great time generally remain silent perhaps out of fear of going against groupthink or perhaps out of a desire not to bring others down. Personally, I think the spirit of tactful authenticity is more important than the "everything is awesome" approach to social media (and life in general!)
This was Burn #6 for me. I'm glad I went, there were a lot of great moments, but it was definitely the Burn that was my "least good." For context, I went into this burn with 110% excitement, 0 emotional baggage, and 0 physical pain/injury. In short, I was primed to have a great time.
Here are some of the things that are at the top of my mind after having a couple days to reflect:
INSPIRATION.
I wish it wasn't true, but I walked away from this year largely uninspired by the art. While much of the artwork I saw was impressive and thought-provoking, nothing dropped my jaw to the point where I had to keep coming back to it (except the saltine cracker soup kitchen, but I couldn't remember where that was!). Maybe by bad luck I just didn't catch the right installations (it's impossible to see everything) or maybe I just set my expectations too high based on previous years that had knocked it out of the park for me. Perhaps the lesson here is to not come in with expectations? Though I find this to be impossible, since I wouldn't have spent all this money and done all this work if I wasn't expecting something significant in return.
WEATHER.
I love a good dust storm, I love a good challenge, I love some chaos, but this year the cold and repeated dust storms really took it out of me, physically and emotionally…We had to rebuild our camp shade structure (4 times!) after my freshly bought Indian fabric was torn off by the wind, my gig with Carl Cox which I was excited about was canceled due to dust, and some of my beloved guest DJs were too cold to play my own party. All these were really tough for me and slowly chipped away at my spirit throughout the week.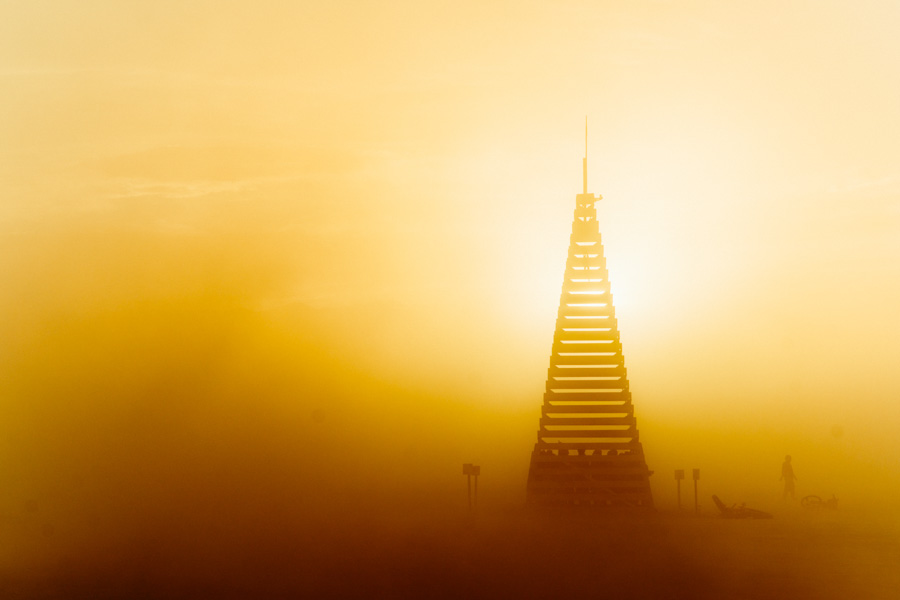 Burning Man 2015 through the lense of Galen Oakes Photography
ROBOT HEART.
The question I was asked the most on the playa was if I'm playing Robot Heart, to which the answer was no. To answer the follow-up question, I wasn't upset or angry about it at all – I had a great 4 year run on that art car with nothing but positivity, and if I was running my own art car myself with the same vision as them, I would likely do the same thing to mix things up, build new relationships and make way for other emerging artists to make a name for themselves much like I was able to do from 2011-2014. I still have a positive relationship with them, so maybe I'll be up there again down the line, or maybe I won't, either way it's ok!
PANDA LOUNGE.
This one hit me the hardest. My dear friends at Panda Lounge dealt with a lot of shit. Some was from the bmorg and some from neighbors due to noise complaints, and from what I gather, completely undeserved. These guys put so much work and love into what they do, and they create so many positive magical experiences for people through their venue and vibe, it just killed me to see them off to a delayed start then permanently shut down by the rangers.
From a purely selfish perspective, the 10+ hour Panda session Slee and I historically play Saturday night during the burn and through sunrise is really important for me artistically. It's the gig I spend hours on end preparing and digging music for and sets like these are so rare. It's my favorite DJ gig of the year. Walking up to the Panda Lounge on Saturday and seeing it shut down was really hard for both Slee and I. I still haven't fully gotten over that one.
If you know anyone from the crew who was insistent on shutting them down, please put them in contact with me – I'd love to hear their side of the story.
PARTY VIBES.
Throwing a party is competitive out there. There were some nice parties I attended, but there were also a lot empty dance floors. Perhaps we just have an overstock of this sound right now – I do feel like the "deep house" (for lack of a better term) sound has gone Burning Man mainstream. Maybe we don't need this many parties playing this kind of music or maybe the "deep house" trend will pass soon enough. Just a thought.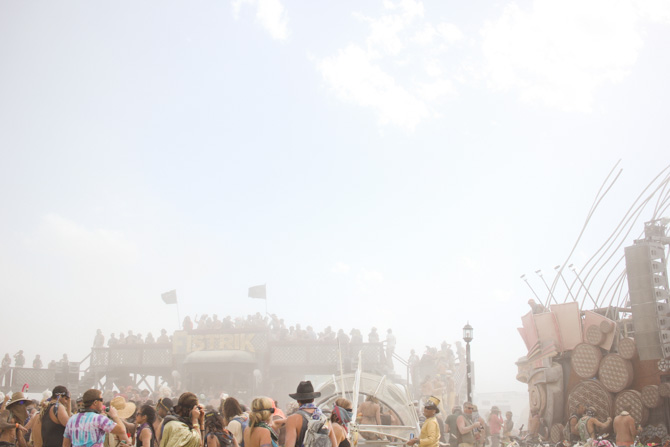 Photo by Emma Trim
This isn't new to 2015, but something I started thinking about a lot this year: one point a lot of sound camp/art car leaders miss is that throwing lots of money at a problem doesn't necessarily create something great. Even if you have the fanciest sound system with the flashiest lights, if your intention comes from a place of ego rather than love, the hundreds of thousands of dollars you spent won't stand a chance in party vibes against a camp with a rag-tag sound system in a small dome with an unknown DJ whose intentions are pure. Don't get me wrong, there are cases at Burning Man where you find a group of people who come from a place of love who do spend a fair amount of money, and that's something truly amazing. I definitely saw this positive amazing side of things working with the Kalliope crew this year, which was one of my highlights.
THE EXPERIENCE OF OTHERS.
Without going into detail, some close people in my life were having a pretty rough burn (Panda Lounge included). The experience of others is a contagious thing and something I'm sensitive to, so it did bring me down when I already had a few things not going my way.
Photo by Emma Trim
CONNECTION TO PEOPLE.
While many points in this post make it seem like my experience was a total shitshow, the big picture had lots of greatness too. It felt great seeing and hearing some of my closest friends showcase how great they are as DJs and also hearing others start growing into their potential.
I loved spending hours of quality time with my friends, laughing my ass off for hours on end with them, and having deep meaningful conversations that don't as easily emerge in the default world.
Beyond that, I received so many words of love, positivity, and encouragement from friends, acquaintances, and strangers throughout the week about my path as an artist. For every person who stopped me to say hi, give me a hug, or tell me how much they are touched by what I do, I want to make sure you know that that is very meaningful to me as well and inspires me to work hard, produce quality results, and make others happy. I'm a performer as much as I am an artist, so an honest response from an audience (either positive or negative!) is what I am constantly craving, so thank you for that, I do appreciate it.
Also, I spent a lot of time here talking about the music aspect of Burning Man 2015 despite me repeatedly saying that Burning Man isn't a music festival (which it isn't!)…But music is a core part of my identity and a critical place for me to express myself, experiment, and connect with people. So thank you to all those who came to Pink Mammoth, DISTRIKT, Tutu Tuesday, and Kalliope. All four of those gigs were artistically very different, uniquely special to me, and fulfilling.
I have no idea what's going to happen next year – maybe some great things, maybe some frustrating things, likely a bit of both. The anticipation of the unknown is what makes Burning Man and life exciting… so either way, I can't wait to find out. I hope to see you out there in 2016.
—
ABOUT THE AUTHOR.
Atish is a professional DJ and guest writer for WITNESS THIS.
Visit him on Soundcloud or facebook.
—
Images below courtesy of Emma Trim