–photography by Saskia Uppenkamp, words & interview by Philipp Vogt–
—
Every city has its centers of gravity.
Those lighthouse people who attract the cool cats. Who create spaces for the scene to gather. Where the artists pool, and creativity connects. Alex Duve is such a center of gravity, and his hometown of choice is Berlin.
I first met Alex in 2004 when I was an intern in his ad agency account team, and realized only years later that he had been the first real mentor on my professional path.
In 2014, I remembered that Alex had made a career shift in his thirties, crossing from advertising into contemporary arts by founding the DUVE Berlin gallery. And with me at that time being frustrated with selling ad campaigns for products that nobody needs, once again, felt it was a good idea to seek out my old mentor for some inspiration.
DUVE Berlin's focus are conceptual, highly aesthetic works targeting "architecture and urbanism, commercial culture, politics, self-identity, and imagination". The media presented is broad and includes everything from painting to sculpture to video installations – always innovative and challenging the Status Quo.
So in 2015, eleven years later, we meet again, me on behalf of WITNESS THIS for a chat with Alex about life, Berlin, creativity, the art scene, and the perks of being a contemporary arts gallery owner.
WT: Alex, long time no see. We'd like to inspire our readers with some first-hand insight from a modern art gallery owner. In your opinion, what are the three essential skills that one needs to be successful in that profession?
DUVE: I tell you there is more than three skills you need. Seriously, it's an accumulation of many different things. You are running a globally operating business, maybe a small one, but we work with clients on all continents, so you need the business knowledge. I studied economics in Essen and London. It definitely helps.
Then you need to have the eye for what is good art, and what's not… there is lots of stuff out there. But even this is not enough.
There are lots of great artists that are not successful. The artist him or herself has to be able to promote him-/herself these days. And you need to have contacts. In every field… collectors, press, curators. It's really difficult without personal contacts.
But these three skills are only a few in a much more complex structure.
WT: What's your attitude towards the oldest challenge of the artistic realm – making a living with art?
DUVE: The good thing is that there are commercial spaces and non-commercial spaces. An artist shouldn't practice following commercial motivation. When he/she is following this basic principle and is still commercially successful then I think it's ok.
I grew up surrounded by abstract art, mostly post war German abstract painting, and I'm primarily working with that genre. It's the commercially most successful genre in the arts, but it is also what I admire most – together with sculpture.
The paint on the walls of the gallery for the exhibition of Marguerite Humeau contained two grams of real black mamba venom. (photocred: Trevor Good)
—
DUVE Berlin is a commercial gallery, so I need to earn money to live. But there is so much commercially non-successful but wonderful art, that it is so important to have sponsored spaces, e.g. like the Schinkel Pavilion or Import Projects in Berlin! Without spaces like those the art world wouldn't be half as good.
WT: In an interesting QUORA article I've read the other day, the author basically makes artists responsible for low art sales, who in turn often blame the galleries. Bottomline of the article is that contemporary artists nowadays too often make art for other artists. And not for "real people with real requirements" – their client audience. Do you agree?
DUVE: Well, I never heard something like that… artists making art for other artists. Artists simply making art for their clients, their collectors, wouldn't do art any more, and I can also not call those guys artists! Of course, a commissioned work is ok, but generally speaking you should never do art for anybody else than yourself.
WT: In your opinion, what are the biggest challenges that the art market is facing these days?
DUVE: Speculators and art flippers. People who buy art out of base motives, only to make money. This is a very poor motivation. But also the general development of the art market… new markets are developing, more collectors, more artists, more galleries. The whole business is changing and nobody really knows into which direction it is developing… but I'm positive… as usual.
"Speculators and art flippers are the biggest challenge the market is facing these days. People who buy art only to make money. This is a very poor motivation."
-DUVE Berlin
WT: You have successfully crossed over from the professional field of advertising into the field of arts in your mid-thirties. Was there a key moment that sparked the inspiration to do so that you can share with us? What was the main emotional driver behind that decision, and do you remember how you felt during that time?
DUVE: There was no moment, it was my whole upbringing that was the moment. My parents took me to my first art fair when I was seven, and my father started collecting in 1971 when he acquired a monochromatic work of Raimer Jochims, when he was professor for free painting and art theory at the Academy of Arts Frankfurt, the Städelschule.
The thing is, I never really wanted to work in advertising, I only liked Hamburg a lot and thought it would be a good opportunity to get there. And after I couldn't find the right gallery in London at that time, I decided to go to Hamburg for a while.
The real moment to open the gallery was when my former partner Birte Kleemann and me said 'ok let's do it'. Birte is now director at Michael Werner gallery in NYC… I'm still doing DUVE Berlin and I'm very happy about that. It's the best job.
WT: Who are your idols?
DUVE: There is only one … my father. He was the original Duve! A very classy man… and maybe Robert Motherwell. A master of abstract expressionism and minimalism!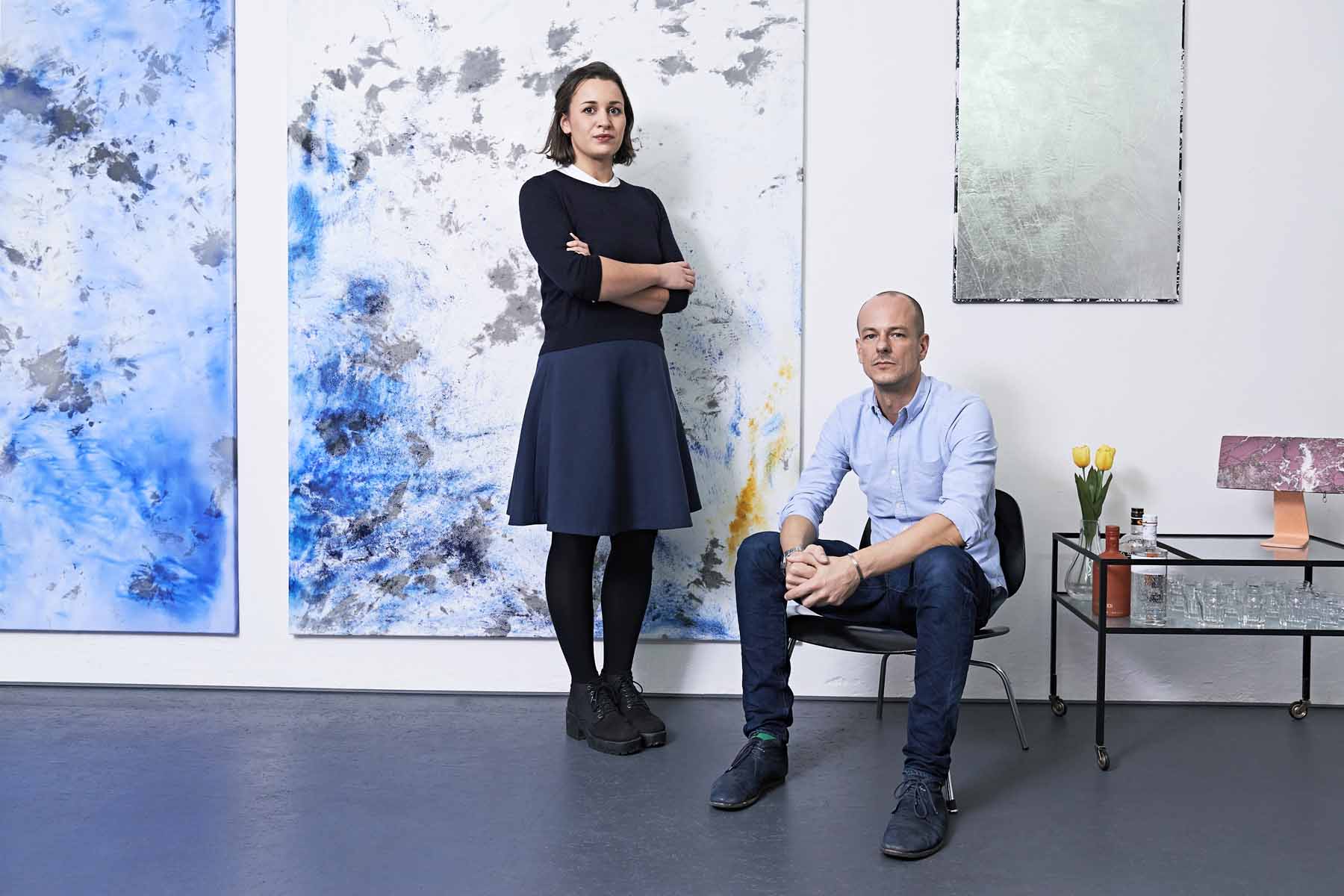 Alex Duve and his director Rachel caught in a picturesque coffee break.
—
WT: Complete the following two sentences: What I love most about Berlin these days is…
DUVE: …its freedom and creativity.
WT: …what I hate most about Berlin these days is…
DUVE: …the grey sky.
WT: Are you religious or spiritual? If so, what are your beliefs?
DUVE: I am. I grew up in a very catholic area and a very catholic family. Until I was 15 I had to go to church every Saturday night or Sunday morning. Then I started my own little revolution. I believe in god, but not so much in the catholic church… I also believe in KARMA … do good things to others and good things will come to you! This is a really cool attitude towards life! Or as Baz Luhrmann said: do one good thing every day. I always try, but unfortunately it does not work out.
WT: Who will you be in your next life, and which planet are you going to choose for it?
DUVE: I really like it here and I am also in good terms with myself… looking back, there is one or the other thing I would do differently, but generally speaking I would like to be exactly me, maybe with a bit more hair, and also be where I am currently am… planet earth in Berlin!
WT: Oh wow. Coming back to planet earth – please let our readers know who are the up-and-coming artists we need to watch out for in 2015/16?
DUVE: Marguerite Humeau, Jens Einhorn, the latter will be on solo exhibition at DUVE Berlin until July 17, and Maximilian Arnold. All three DUVE Berlin artists. Of course, there are also some other great newcomers, but I 100% support the artists I work with!
WT: Last question is our inspirational standard: if you could give ONE advice to young guns in your field what would that be?
DUVE: Always be careful with your own health, you live more than only the next 5 years… it is a long term venture. Don't forget that. Ah, and as Baz Luhrmann said… use sunscreen and do one good thing a day!
WT: Thanks mate. Was good seeing you again!
—
Visit DUVE Berlin in Gitschiner Straße 94,
Opening Hours Tue-Fri 11am-6pm, Sat 12pm-4pm.
You can follow DUVE Berlin here on facebook for openings.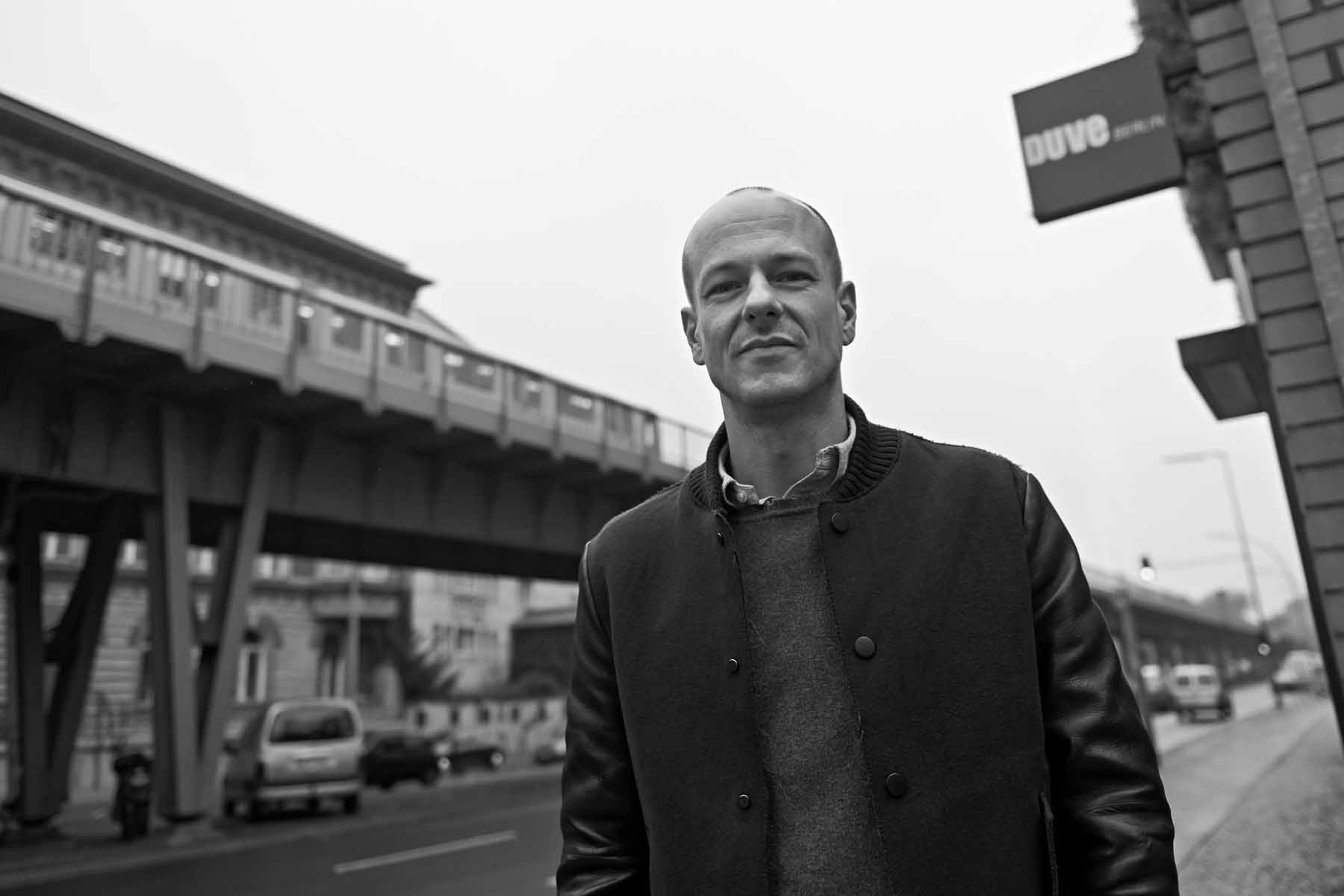 If you liked this feature you might want to check out Ralf Brueck's photography or the art of Amanda Charchian.