Words and interview by Tara Gladstone for Witness This.
Walking into Josefine Widegren's (Jos) apartment in Barcelona, Spain is like walking into a trendy coffee shop.  Hip music is softly setting the mood in the background, and the smell of fresh fruit smoothies leaves your mouth watering.  She has heaps of art on the walls, a space heater that produces images of fake racecar type flames, Mexican blankets that keep you cozy, and an extremely kitschy shrine-like glass case filled with hundreds of Hello Kitty figurines (sounds creepy, but it's actually cute).
Although Hello Kitty may seem like child's play, Jos is certainty not a child. In fact, she's only 28 years old and is already the country manager for Cirque Du Soleil's preferred make-up brand Make Up For Ever.  When Jos went from make-up artist to make-up manager she lost a big part of her creative outlet and looked for something new to do with her artistic hands.  This is when she started painting her nails.
Sounds simple enough, but her nail art isn't like anything we've ever seen before.  It's an expression of what inspires her in a mini-format.  Her ability to remain patient as she diligently makes little creatures and patterns come to life on her nails is nothing short of inspiring. Check out the photos of her work below and follow her on instragram @hellokittycupcake.  Also, if you're looking for something new to do, perhaps while waiting for planes at airports, read below and learn how to do nail art yourself.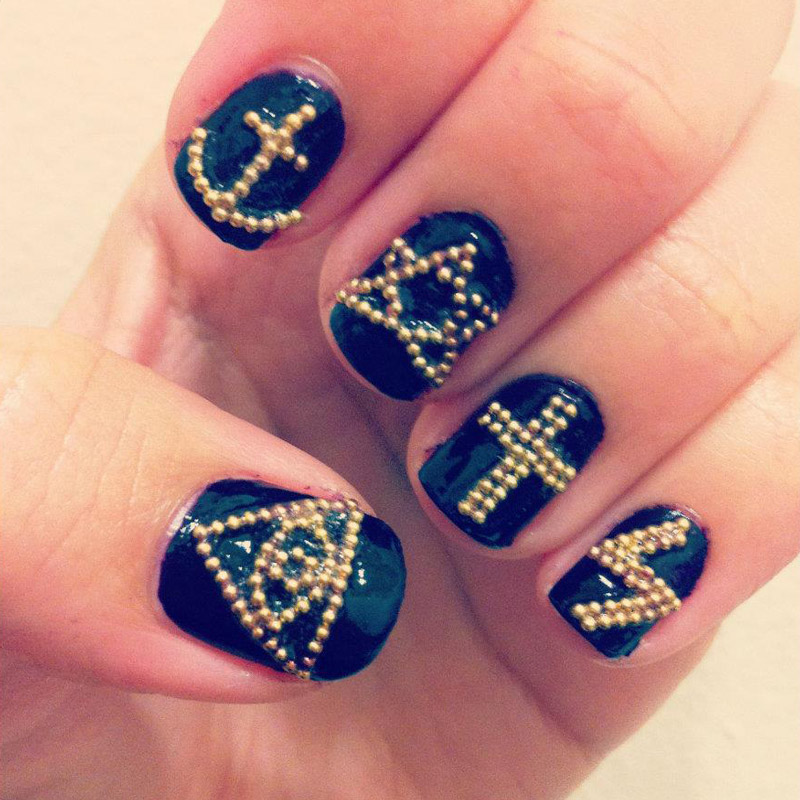 Tara Gladstone: Where do you get your inspiration for your art?
Josefine Widegren (Jos): Everywhere. I mean I obviously look at nail art online on blogs and pictures and everywhere. I get it from just anything like a piece of art, a flower I see or maybe some clothes.
Why did you start with nail art?
Well, I used to do my nails when I was in middle school and high school. Obviously not what I do now, but I started back then.  And then I guess I stopped. When I became a manager at Make Up For Ever, I basically stopped doing makeup from one day to the next. So I think I had this artistic need to be creative and do something creative in my life and not just sit in front of the computer – being the boss, answering emails, answering the phone.  So at first I started making bracelets and doing silly things with my clothes and then I just started painting my nails and then it got a little bit more intense and now it's at least once a week.
What are you favorite kind of things to paint?  What's your style?
I would say it's cute little things, like cute little animals and stuff definitely for sure.  But, I also like the ombre effect of the nails when you sponge layers of color and colors turn into another color.  This is probably because I'm a makeup artist so I'm used to doing it in makeup and I like seeing different colors on the nails, like a scale.  I like doing everything I would say.
Who do you paint? Do you just paint yourself or do you like to paint your friends?
Well, I normally just paint my own nails because right now it is just something I do for fun and because I feel like I need to do something artistic. But every now and then I'll do my friends'.
Do you normally paint them at home?
Yes. I have done them in hotel rooms and stuff when I'm traveling with work.
Where's the weirdest place you've painted your nails?
At an airport.
Not on the plane though?
No, I was about to one time. I opened the nail polish bottle.  I think it's against the airplane rules because there's not really a lot of air inside an airplane so all of a sudden the whole airplane starts to smell like nail polish.  So you can't paint your nails in an airplane, but I have painted my nails in the Atlanta airport. I don't remember what the reason was but I think it was because I didn't have time because I was packing until super late.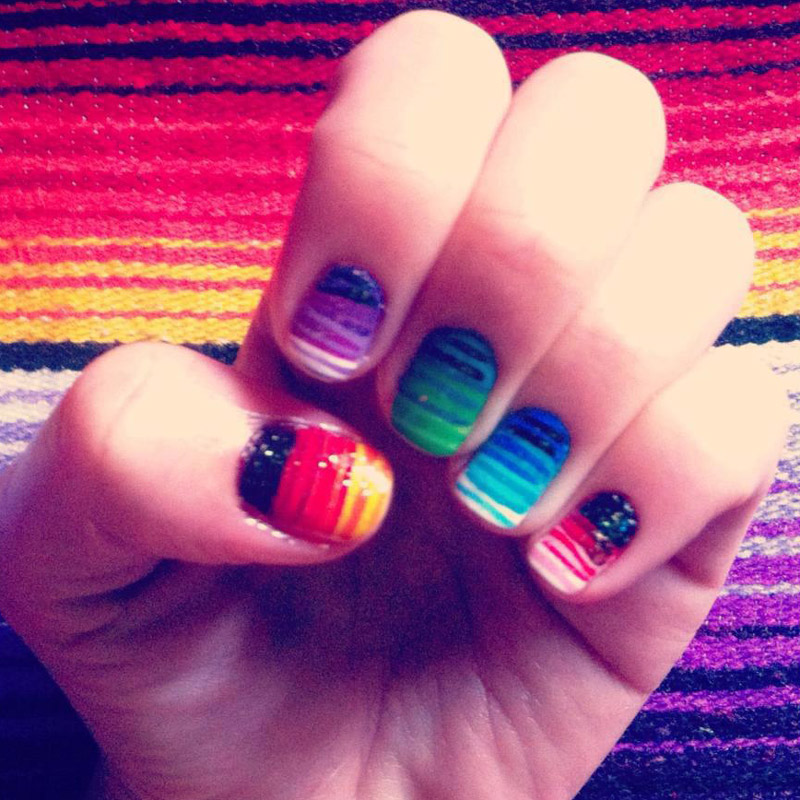 How do you do it? What skills does one need to have to do what you're doing?
First of all, you have to be very patient. I think that is the most important.  I'm a very calm person and so painting my nails is like my therapy and relaxes me. So, if you're an extremely nervous person you're probably not gonna be good at it because it takes a lot of patience and time. You actually have to sit there and be very concentrated.
Since I'm a makeup artist I'm used to drawing lines with eyeliners and stuff so that really helps.  My right hand is never as good. It's not how I do it with the left hand but how I move the right hand to make it easier. That's kind of the key.
What tools do you use?
I use a lot of different tools.  I use dotting tools, those are extremely necessary.  You can find those on eBay for $1.  Lots of different nail art brushes.  My favorite one right at the moment is one that is very, very thin and the bristles are kind of long.  Cause when the brush is too short and too hard sometimes it makes it more difficult. I used to buy all these nail art pens and nail art things but now I basically just have a lot of different nail polish. I prefer the ones that are not shimmery and not glittery.  Nail art is easier with normal matte colors.
Is there a brand you would endorse?
I prefer OPI because they're pretty.  But we have a cheap brand here called KIKO that is super cheap and they have a lot of colors and the quality is actually pretty good.  So I have a lot of KIKO as well.
Do you have any other advice?
Practice.  I look at the nail art I did maybe one year ago and I think it's horrible compared to what I do today. You just have to keep on practicing.  I mean obviously I didn't just start one day and I was really good at it or anything like that.  It's something that everyday you have to try to get better at and improve.
Are there any nail artist that inspire you?
Supa Nails and Sophy Robson.
There's this girl who became a nail artist a year ago. She was an artist and she did all this crazy stuff.  She really liked little things, little art which is what is kind of what I did when I was little which is why I think I like doing nail art.  Her name is Madeleine Poole, she does really amazing things and just kind of became a nail artist out of the blue.